'We're going to get in on every square inch of this space': Branded sponsorships took over BravoCon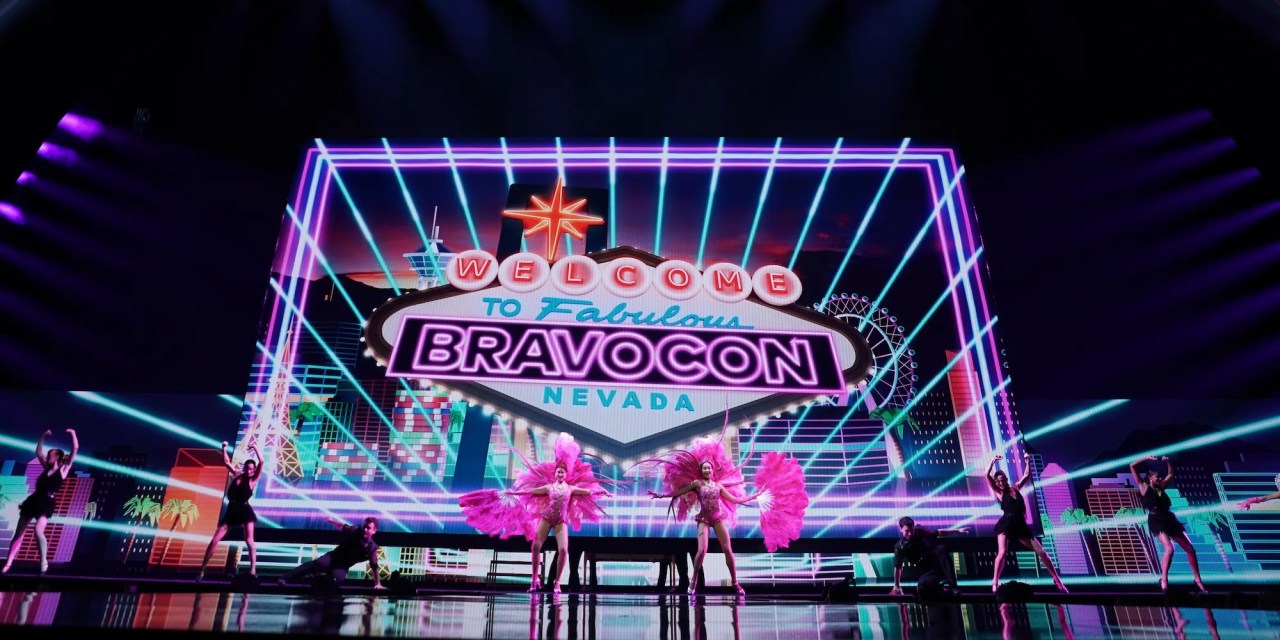 NBCUniversal
Convention season is in full swing and popular events like San Diego Comic-Con and New York Com-Con have been taking place. But emerging fan gatherings like BravoCon — which took place over the weekend, from November 3 to the 5th — are also becoming popular destinations primed for brand sponsorships.
Bravo puts on smaller sponsored events throughout the years that helps drum up buzz, but BravoCon has quickly become its biggest fan-attended event. The first BravoCon took place in 2019. It then paused in 2020 and 2021 due to the pandemic. But it returned in 2022 and moved from New York City's Javits Center to Caesar Forum in Las Vegas this year.
The 2023 convention has reportedly generated an estimated $13.75 million in ticket sales from over 25,000 attendees that sold out within minutes. In 2022, the event resulted in 18 million minutes of video watched and generated a total of 56 million social media engagements, up 64% from 2019. This year's event featured 160 brand participants — along with dozens of panels, meet-and-greets, installations and the Bravo Bazaar market. Participating brands ranged from DoorDash, Wendy's and Wayfair to Ulta Beauty, Juvéderm and Shark Beauty.
While fan events are nothing new, the rise of BravoCon showcases a new way for entertainment companies to directly partner with brands — as well as for these companies to find new ways to market and sell products to customers. Some of the brands, for example, sponsored content like panels and exclusive digital offers, while others hosted physical pop-ups and installations at the three-day event. For these companies, BravoCon is a way to target a highly-engaged audience to not only promote products but align themselves with the growing reality TV IP.
Aside from buying up Bravolebrity merch, BravoCon attendees can purchase many of the partner brands' exclusive products on-site; For instance, Lay's exclusively handed out its grilled cheese & tomato soup chips flavor at the pop-up of "Vanderpump Rules" stars Ariana Madix and Katie Maloney's sandwich shop, Something About Her. Piercing brand Studs sold exclusive "Bravosphere-inspired" sets that reference memorable quotes from popular Bravo shows. But on-the-ground pop-ups are where these companies are hoping to engage with thousands of attendees. 
Kim Francella, svp of content and talent partnerships at Bravo's parent company NBCUniversal, told Modern Retail that this year the event featured over 70 marketing sponsors, having added 12 new brand partners. "It's not just about Bravocon, it's about who has been leaning into this IP in a bigger way," Francella said. These include major companies like presenting sponsors Lay's and State Farm, along with retail brands like Wayfair and Studs.
"When we set out to look at the Caesars Forum premises, the restrooms were an unlikely place for product placement," Francella said. "We thought: we're going to monetize every square inch of this place."
NBCUniversal aimed to work with a diverse group of sponsors to offer attendees on-premise experiences and products. "[Bravo fans] come to expect sneak peaks and exclusive offers from our partners," Francella said.
Francella said NBCUniversal works with each brand to figure out how best to incorporate a pop-up experience for them into the event. For example, Clorox sponsored the event for the first time. "Clorox came to us and said we're getting near cold and flu season," Francella said — and so the company wanted to use BravoCon as a stepping stone for a bigger partnership with NBCUniversal. Reality TV tie-ins are a new foray for Clorox, but Francella said participating brands have embraced the opportunity to target this specific audience.
Clorox leaned into the idea that 'Housewives' stars "have their messiest moments and take selfies." And so the cleaning brand built its sponsorship in the venue's bathrooms. The activation included housewives trivia on the stalls, content via QR codes, shopping offers and giving out thousands of samples of Clorox disinfecting wipes; Outside the bathrooms, Clorox also sponsored panels and worked with talent on social media campaigns.
"Bravolebrities have shown fans that things can and do get messy and we are here to join in the celebration of tea spilling and take the drama out of cleaning," said Rita Gorenberg, senior director of marketing, brand experience at Clorox. "From iconic Bravo quotes on bathroom mirrors for the perfect selfie, to 'The Real Housewives' trivia and coupons with exclusive offers."
Another sponsor brand was Wayfair, with a BravoCon installation called "Your Home for Housewives," featuring curated spaces inspired by Housewives franchises like Beverly Hills and Salt Lake City. The idea was to showcase living spaces where fans can settle in and watch their favorite show.
Paul Toms, chief marketing officer at Wayfair, said in a statement that "through partnerships like BravoCon, we're tapping into the energy of fans in a highly expressive moment." Toms added, "we are excited to power their fandom through spaces and interactions designed by Wayfair, all shoppable for their own homes." Wayfair already currently has a spokesperson deal with singer and talk show host Kelly Clarkson, which was brokered by NBCUniversal.
Toms said the goal for the tie-in with BravoCon is "to bring their own unique expression of home to life, from the perfect couch and throw to watch their favorite show to the wine glasses and cheese board for talking about it with friends."
Aside from the on-premise activity, BravoCon also spurs lots of user-generated content on social media. Francella said BravoCon has been trying to further blend the digital and physical aspects of the event — including streaming events on Peacock and running social media campaigns
Ryan Glick, founder of CNC creative agency, which works with brands on pop-ups and installations, said fandom events are becoming a more popular marketing outlet for companies trying to align themselves with zeitgeisty IP. This is especially true as fan conventions like BravoCon become more mainstream by generating online buzz. Glick's agency has worked with a number of national brands in the past, including Clorox and NBC Universal.
BravoCon is unique compared to other conventions in that it is put on by its own TV network and parent company. Comic-Con, on the other hand, is run by a nonprofit.
Fan conventions can generate serious revenue — not just through ticket sales, but also through sponsorships, and by generating hotel and restaurant revenue for the local economy. New York Comic-Con — whose latest sponsors include Disney, McDonald's and Marvel — has been estimated to generate over $100 million in revenue. Given that these are multi-day affairs, in which people fly in from all around the world to be immersed with fellow fans for a few days, brands have a lot of opportunities to reach new customers.
"With these celebrity and entertainment IPs, it helps brand sponsors to have a captive audience," Glick said, along, the talent-brand partnerships "have to make sense beyond the physical experience itself" and translate well digitally. And for major conglomerates that want to reach younger customers, Glick siad "it's important to strike a balance" between obviously branded sponsorships and supporting fan-created organic content on-site.
For next year, Francella said getting more into partnerships and adding more companies to the sponsorship roster. "I'm already looking ahead to the next iteration of BravoCon," Francella said. "There are always brands that were always on the cusp that didn't pull the trigger; challenge accepted."