Q&A
// May 9, 2023 ■ 6 min read
Vital Farms CMO Kathryn McKeon on strengthening the egg brand's 'bullshit-free' ad strategy for 2023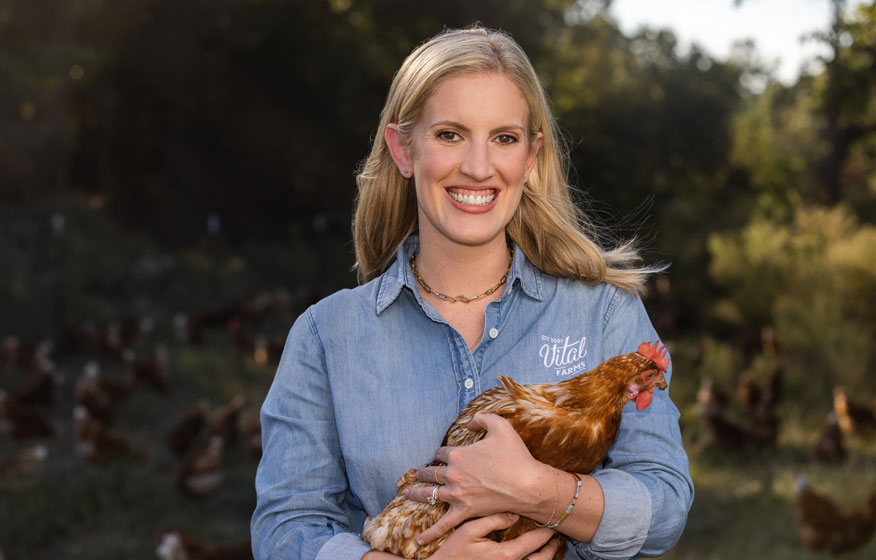 Last week, Vital Farms — which produces pasture-raised eggs and other products like butter — appointed Gut as its new creative advertising agency to usher in what the company described as a "new chapter of bold and bullshit-free storytelling."
In a phone interview Kathryn McKeon, chief marketing officer at Vital Farms, told Modern Retail that at a high level the company will be investing in "quite a lot of digital media" advertising this year. As a marketing leader, McKeon acknowledged that, "there are [macro] uncertainties in this year ahead, I suppose all years have that to some degree. But this year, it feels perhaps a little bit more." In turn, Vital Farms says it is focused on introducing the brand to more people this year.
In doing so, Vital Farms' ads were spotted on HBO's popular drama series Succession. The last season of the show has just two sponsors: Vital Farms and Mercedes-Benz. McKeon credited its media buying agency, dentsu X, for finding unexpected ad placements for the brand. The 15-second ad spot titled 'Keeping It Bullsh*t Free' launched last year and challenges viewers to rethink widespread practices including misleading labels like cage-free, hollow corporate initiatives and poor worker conditions.
Founded in 2007, Vital Farms is now a national consumer brand that works with over 300 small family farms. Vital Farms' products are sold in 22,000 stores nationwide including Whole Foods and Target as well as on grocery delivery platforms like Instacart, Thrive Market and FreshDirect.
"One of the principles that we have defined for ourselves by which we operate in the Vital Farms marketing team is real humans make great marketing," said McKeon. That, combined with Vital Farms' "disruptive mindset," allows Vital Farms to approach marketing in a different way than most other companies, said McKeon. "I couldn't be more excited about the team we have internally and these partners that we have in dentsu X for media and Gut for creative," she added.
This interview has been edited for length and clarity.
What does Vital Farms mean when it says it is beginning a new chapter of bold and bullshit-free storytelling?
I would say this is very much a continuation and expansion of what we've been doing. We've done work that has not only won awards, but more importantly resonated with our consumers and helped drive our business. So this is the next era of that.
The way we think about bullshit-free is that that is a phrase that really represents the way that we operate at Vital Farms, far beyond just the way that we communicate to consumers. And in fact, it is language that we use on a daily basis. We use it as a way to check ourselves on our work. We use it as a standard and we talk about: 'is this bullshit-free?' and it's a great anchor in the way that we operate. So that when we tell stories, the boldness comes from our ability to be very transparent in what we do, and that is resonating with consumers and that is building trust with consumers.
How did the Vital Farms' Succession ad placements come about on HBO Max?
I will first say that we are all fans of the show Succession. What a fantastic show.
What we thought was really interesting is that we have this [ad] spot that talks about corporate bullshit and here is a show that is about corporate bullshit and what an interesting juxtaposition we could create. And what a bold way of bringing an unexpected brand into a new advertising platform. So, not only was it an interesting thing to be one of the first to try from a pure media standpoint, but the storylines and the interest of that tension, made it so much richer of a place for us to bring our message.
Part of how this came to be was through our phenomenal media partner, our media agency, dentsu X. They have done an incredible job of helping us find places to build awareness in a truly Vital Farms way.
Can you talk more about your new partnership with ad agency Gut?
We have very big goals around introducing ourselves to a lot more consumers. We had really significantly large goals last year. We have big goals again this year. When we think about how we're going to achieve those, that's rooted in the fact that we are truly working to disrupt the food system and truly working toward our purpose of improving the lives of people, animal and the planet through food.
And so the job of marketing becomes this incredible work of not making up stories or creating stories, but just telling the stories of our stakeholders. These are people we know and we work with, we are out on farms, we know the community. We are working with all of these people and so it is not only an honor, it is fun to tell these stories of our stakeholder community.
We also need a really good team internally and really fantastic partners to help us do that. So, as we thought about setting some new standards and who our partner might be, we really thought holistically about who is bold and brave, who approaches work with a great deal of humanity — both the work we do interacting with them and the creative work that's put out into the world. And as we went through the process, we just really found fantastic chemistry with Gut. We don't do things in a typical manner. So we need people who think differently, think bigger and are brave.
Can you tell us more tangibly what are some of the goals Vital Farms has set for itself this year?
We are very focused on awareness. We like to think of that very much as introducing ourselves to people. But from a pure media standpoint, we are very focused on growing our awareness. What we have found is that when we build awareness, it is translating to not only sales, but loyalty.
How has the business grown and evolved over the years?
From our beginnings with our founder, Matt O'Hayer, he started with one farm and he truly set out to think about and prove that American consumers could get eggs in a better way. And we have built on that and our essential purpose to improve the lives of people, animals and the planet through food with a strong foundation in conscious capitalism from day one.
We have scaled now to be the number one retail brand in pasture-raised eggs by dollar sales, working with over 300 family farms, all across the pasture belt. And in many ways, we're still just getting started. We have big ambitions and it is all rooted in our desire to improve the lives of people, animals and the planet through food really focused on our purpose. The true ambition is actually rooted in fundamentally disrupting the food system.
Vital Farms' ad campaigns have previously tackled themes like accountability and animal welfare. Please talk about the brand messaging that will dominate creatives this year.
The evolution that we've been on for several years is, we truly focused on the fact that we were producing bullshit-free eggs. That has expanded for us to be able to speak much more broadly about the bullshit-free way that we operate across the entire business and with all stakeholders. You see that much more in the creative work that we do and in all the touch points across the consumer journey, paid, owned and earned. What we will continue to focus more on is showing up in culturally relevant moments that are directly related to our business.
The best most recent example of that is our Valentine's Day campaign, where we were able to, in a very light-hearted way, join the conversation about eggflation. That's something that as the brand grows, and as we want to be where the consumer is enjoying those conversations, we will too, in a much more real-time way.