Valentine's Day collabs are back in full swing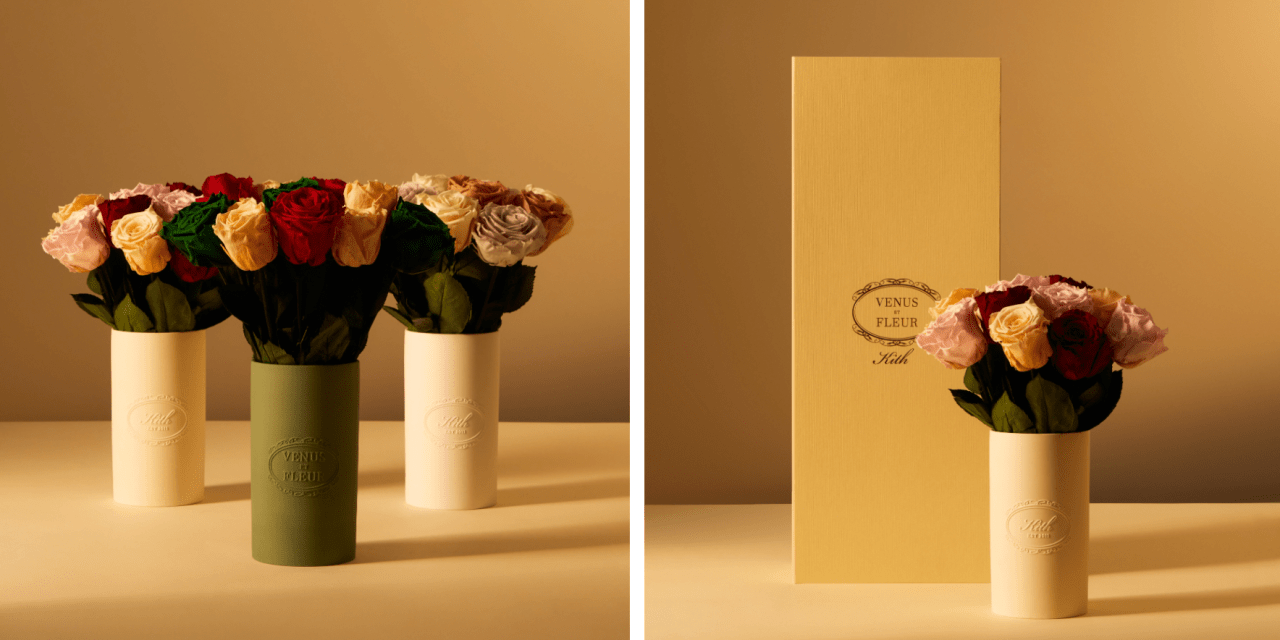 Venus et Fleur x Kith
Love is in the air — and so are brands looking to cash in on Valentine's Day through unique, sometimes unexpected collaborations.
Floral company Venus et Fleur teamed up with streetwear apparel retailer Kith for two Valentine's Days in a row. The brands collaborated on a selection of floral arrangements, which sold out in minutes. Meanwhile, cookie dough brand Deux Foods and Setty, a lifestyle brand by Bachelor and Bachelor in Paradise fan favorite contestant Hannah Godwin, released a limited-edition Valentine's Day cookies and cream flavor, which is on track to be sold out this week.
Valentine's Day is one of the prime seasons for brand collaborations with companies offering novelty items fit for gifting purposes. If the brand partnership is done well, companies can gain marketing benefits even during seasons when their products aren't typically considered by shoppers. Additionally, they might even gain a cut from people's Valentine's Day spending. 
"When you're talking about like the holidays or Valentine's Day, there are so many products out there vying for the same space. It's hard to break through that clutter," said Kimberley Ring Allen, founder of Ring Communications and adjunct professor at Suffolk University. "When you do a brand collaboration, especially around the holidays, you're tapping into two different audiences. So you're increasing the chances of having something that [shoppers] would want to either click on or buy."
Valentine's Day means big business
It appears people do like to show their love through material things. In fact, consumer spending is projected to hit $26 billion this year from $23.9 billion in 2022, according to financial services firm Credit Summit. 
For Venus et Fleur, Valentine's Day is the floral industry's version of Black Friday. "It's super busy across the board," said Sunny Chadha, co-founder of Venus et Fleur. "We actually plan for it almost a year in advance."
The company, which is known for its long-lasting roses, developed floral arrangements in three colorways with Kith this year. The first installment of Kith for Venus et Fleur sold out in under three minutes last year. Their second installment sold out within 17 minutes. The arrangements are priced at $329.
Chadha said Venus et Fleur was attracted to Kith's ability to show unique products through its collaborations. The collab was the subject of several Reddit threads, signaling the hype it was generating among people. "Both companies figured this is something that makes a lot of sense, and if timed right, through one of our key moments, being Valentine's Day, it'd be something that people would like," he said. 
Collaborations also serve as a gateway for brands to appeal to the Valentine's Day crowd. Beer brand Budweiser also teamed with floral delivery company UrbanStems for a Valentine's Day bouquet in a Glass Budweiser Pitcher, dubbed This Bud's for You. Krispy Kreme and Hershey's banded together to release a selection of heart-shaped doughnuts filled or dipped with Hershey's chocolate.
Even the more unusual collaborations can benefit from the shock value, Allen said. "We're barely paying attention to half of the things that we're looking at," she said. "When we're not looking for something, it tends to grab us."
A sweet V-Day product offering can also give brands a sales boost. In Deux's case last year, it gets a 20% to 30% sales bump during gifting holidays like Valentine's. Sabeena Ladha, founder and CEO of Deux, said the spike in sales during these seasons is part of the reason why it launched a limited-edition product this year. The limited-edition cookies and cream flavor in collaboration with Setty went live online on Feb. 1.
"One part of it is being able to take our products and market them as gifts because they are a good self-care, treat yourself gift," Ladha said about the goal of the collab. Additionally, she said that she hopes to tap into new audiences by teaming up with Hannah Godwin's Setty. "The Bachelor audience is fairly new for us."
She said the collaboration with Godwin seemed like a good fit. Godwin, Ladha said, was a "perfect example" of love and the Setty brand centered around self-love. Deux marketed the collab through channels like TikTok and Instagram.
What makes a collab work
To make a collab that works, both companies have to be strong individually before coming together, said Melissa Minkow, director of retail strategy at digital consultancy firm CI&T.
"It's like they're each bringing in their own fans and audiences and then there's this aggregated kind of exponential impact that can come of it because of that," she said. 
Not all collaborations are a hit, however. 
Nike and Tiffany & Co. haven't even launched their limited edition drop but it is already drawing criticism from sneakerheads, some of which called the designs lazy. The sneaker, called the Nike Air Force 1 Low Tiffany & Co. "1837," is all black and suede with the classic Nike swoosh in Tiffany blue.
"The quality of the merchandise, I think, is the most important thing that cannot be overlooked because there often is so much excitement and anticipation with these collections," Minkow said. "If their expectations are shattered by disappointment in the product, that's a horrible fail."