Sundays co-founders Barbora and Moe Samieian on taking a Canadian home goods brands international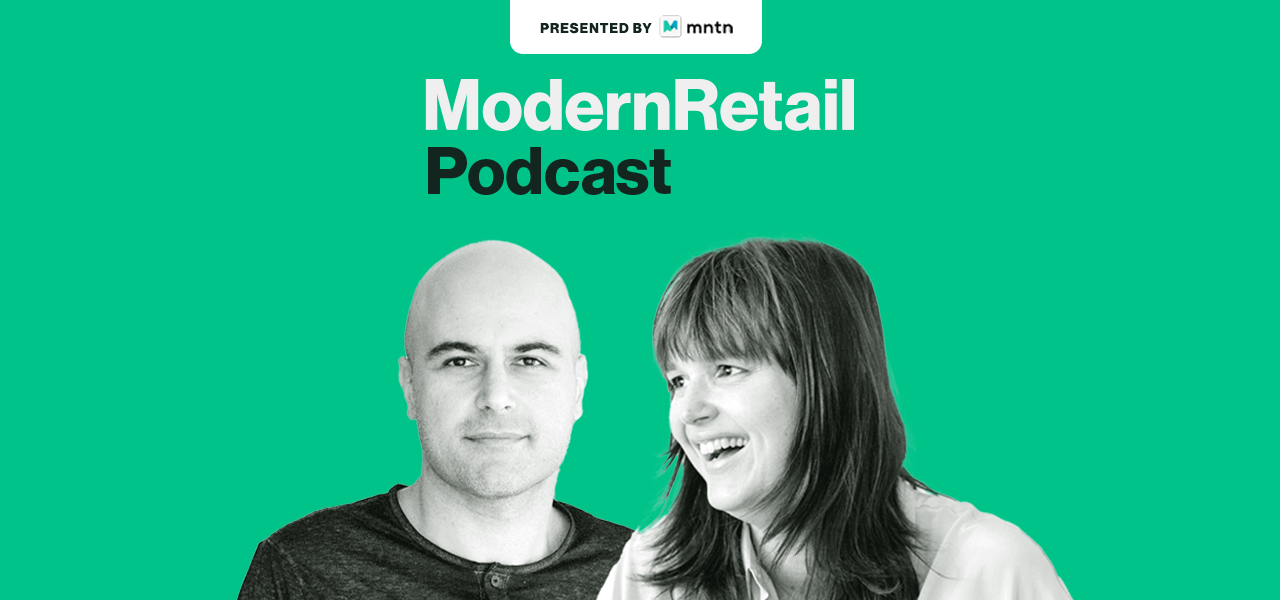 Subscribe: Apple Podcasts • Stitcher • Google Play • Spotify
Sundays is trying to become the leading DTC home furnishings brand in Canada, but it also has its sights set on international expansion.
The company started as a side hustle of two married entrepreneurs and has snowballed into a full-blown international business. While most of its business is in Canada, Sundays has been slowly building out its U.S. business — and has plans to open a pop-up in the country hopefully sometime in the next year.
"We started just with living room pieces, and over time we moved into dining room and bedroom," said co-founder Barbora Samieian. "But what we really stayed committed to is that curated line. So, not going very broad in any of those categories, but really selecting the best pieces for our customers and iterating on those pieces."
Barbora and her husband Moe, also a co-founder, joined the Modern Retail Podcast this week and spoke about the company's growth plans.
Sundays first launched in 2019, and after about a year of trial and error — along with a pandemic-induced home goods boom — started seeing sales consistently grow year-over-year. Sundays sells a variety of home furniture including sofas, end tables, beds and chairs. While it has expand its product-line, the co-founders insist that its focus has been on curation over expansion.
Much of its growth was thanks to leveraging social media and local influencers to grow its presence in key cities like Vancouver and Toronto. But now, with rising customer acquisition costs and changing digital dynamics, Sundays is trying to diversify its digital marketing to include a variety of channels including podcasts and Pinterest.
While the co-founders admitted that the last six months didn't have the same growth as the previous two years, given the changing economic landscape, things are still looking good for Sundays.
"We're still able to have growth numbers even in q3 and q4 of 2022," said Moe Samieian. "But we've been we're going forward cautiously."
Here are a few highlights from the conversation, which have been lightly edited for clarity.
On the Canadian DTC furniture landscape
Moe Samieian: "In Canada, what we find is that some of these DTC retailers that are in the U.S., they don't necessarily make the experience in Canada as seamless — like, you may need to buy it from the U.S.; you may need to bring it across the border yourself; there might be some fees that you won't be aware of at the time of purchase for getting it across the border, etc. All those players are still here within Canada, it just might be a little bit more difficult to buy from some of them. And then you have the other DTC retailers who do have a presence in Canada."
Sunday's approach to delivery
Moe Samieian: "As we started the business, one of the things we wanted to do, which we felt wasn't the norm back then and still isn't necessarily, is standard white-glove delivery. So anytime someone's buying something that is a large parcel, it's not a UPS or FedEx item, we want to be able to deliver it into the home, remove the packaging, do all the assembly. And that's just our standard that we don't want to charge extra for. We feel like that's the only way that the delivery should happen — so that the customer could have a great experience. And so it's always a challenge in our industry. We do outsource. What we did at the beginning is we tried to partner with a national freight company. And I think the learning that we had from that was, we're not necessarily a big enough player to get their attention. And so we don't necessarily get that service — or our customers don't get that service — that we think they deserve. So what we've done is we've started to partner with local carriers in each of the markets that we operate in. So someone who we can build a great relationship with that we can escalate things that they need to escalate — and we can kind of get the service that we think our customers deserve. And that's been a successful model for us."
Sundays' pop-up strategy
Barbora Samieian: "So we started with pop-ups and Vancouver and Toronto that have now turned into permanent showrooms. And we're going to be opening a couple of other showrooms going into 2023 in Canada — and hopefully in the U.S. as well, stay tuned for that. But yes, it's a great way for our customers to see our products in real life. It's a big investment when you're buying a piece of furniture. And so to really see the quality of the fabric. We have a lot of performance fabrics; [customers can see] the quality of our solid woods, chat with our teams. And then the other benefit is our own customer care teams are able to view the product in real life [and] interact with it. It really helps with product knowledge for customers that they're assisting online."
How Sundays is diversifying its digital marketing
Barbora Samieian: "I would say we have a multi-digital marketing channel approach. So we're dabbling and most of them. We're starting to actually dabble a little bit in podcasts. Pinterest has been a fairly successful one for us. So we've grown advertising in the Pinterest space over the last six months. And [we're] just really watching that performance very closely on a weekly basis, adjusting our strategy, uploading new content. We know that new creative is what tends to perform well. And so that's something that our creative team is really focused on."