Retailers are adding incentives to encourage impulse purchases for curbside orders ahead of the holiday season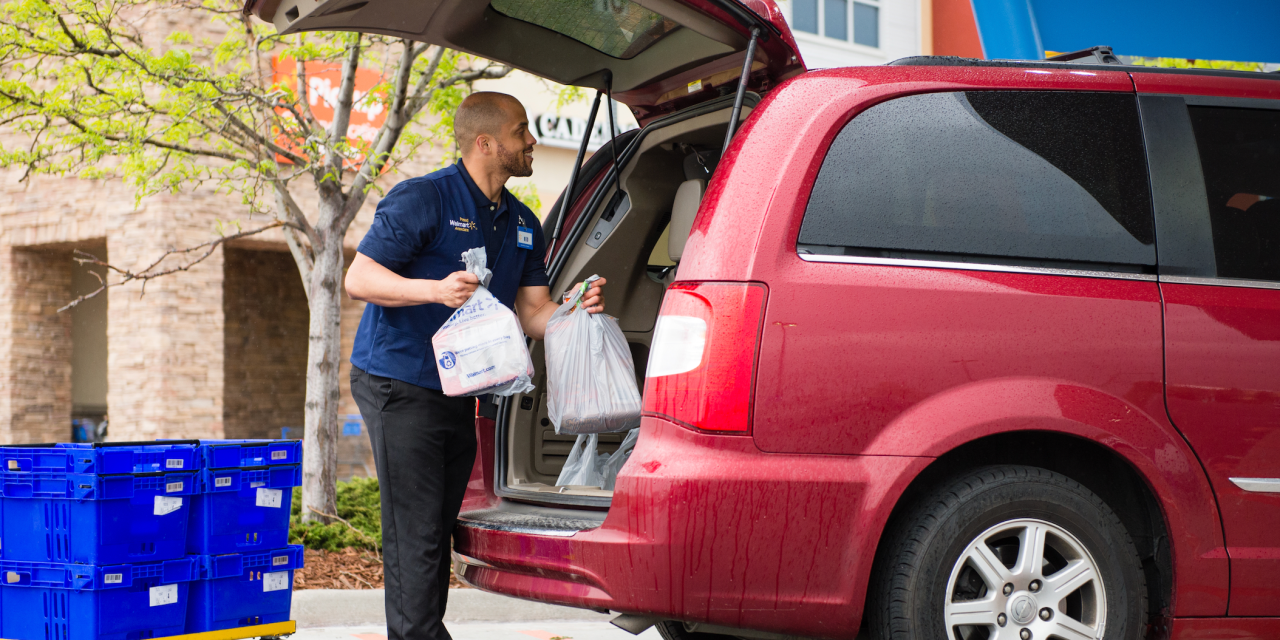 Walmart
Retailers are adding new incentives to boost their overall curbside shopper experience for customers.
Last month, Target said it will rollout its drive-up with Starbucks program across the country and offer customers freshly made Starbucks coffee and food items among other things. Target first piloted this service with Starbucks last year at select stores. This summer, Kroger started giving out free sample boxes, which include products from brands like Oreo, Snack Factory and Ghirardelli, along with its online delivery and curbside pickup orders. And Walmart is now offering late night online pickup and delivery as it builds out its suite of pickup and delivery options that prioritize convenience, speed and putting the customer first.
Over the past few years, curbside delivery orders have developed into a lucrative revenue stream for retailers. It is one way to attract consumers who may not physically go into the store, but may have an appetite to drive to a store to pick up items. Pick-up orders accounted for 49% of grocery e-commerce sales according to June 2023 stats from Brick Meets Click and Mercatus. Now, retailers are looking for more ways to encourage add-ons and impulse purchases to curbside orders, especially ahead of the all-important holiday season.
"Adding additional services for holiday shopping is part of a longer term strategy to improve the hybrid shopping experience for the consumer," said Kassi Socha, director analyst at research firm Gartner. "And holidays is a key time to rollout these value added services because of the ample visibility and traffic that retailers have to showcase a best-in-class experience."
These value-add services help with higher adoption of curbside services, said Socha. "This is beneficial to the retailer because it helps turn store inventory a little bit faster. And it's beneficial to the consumer because it provides them a quicker and more convenient shopping experience," she added.
"It also reduces the last mile delivery costs on the part of the retailer if someone's willing to pick up the item versus having the item shipped to them. That's a reduction on last mile cost for the retailer and better utilization of their store employees," said Socha.
The way Jason Goldberg, chief commerce strategy officer at Publicis, sees it, all these new offerings help maximize the curbside pickup experience and get consumers to choose each retailers curbside experience versus another retailer. "It's less about enticing people to do curbside pickup instead of go into a store," said Goldberg.
Kroger, for example, is doing sampling to help customers discover "new products or make unplanned purchases," said Goldberg. "And in Walmart's case, they're offering more slots and more extended hours to be more convenient because consumers have told Walmart that that's one of the way they want to be able to shop Walmart."
Customers who have tried curbside delivery want to continue shopping that way. Target Executive Vice President and COO John Mulligan said that "drive-up receives the highest satisfaction rating of any service we provide," at its latest earnings call. Target has also started offering curbside returns to shoppers from April this year.
"And as proud as we are of what we've already accomplished, we continually push ourselves to find new ways to further differentiate drive-up," added Mulligan.
Goldberg said that he heard both Kroger and Walmart executives say curbside delivery is the "highest NPS score they've ever tested" at Groceryshop last week. NPS or Net Promoter Score is a way of judging customer satisfaction.
Still, Socha suggested that retailers need to think about ways to get consumers to make impulse purchases when they're utilizing curbside experiences or else they will lose out on those sales that happen when a customer is shopping in-store.
"The more that you add to the curbside shopping experience, the less likely the consumer has to go in-store. And oftentimes when a consumer goes in-store, the ability to upsell them or get them to purchase something they weren't planning to purchase when they made that trip is higher," she said.