Oh, baby: More brands are launching expensive fragrances for infants & kids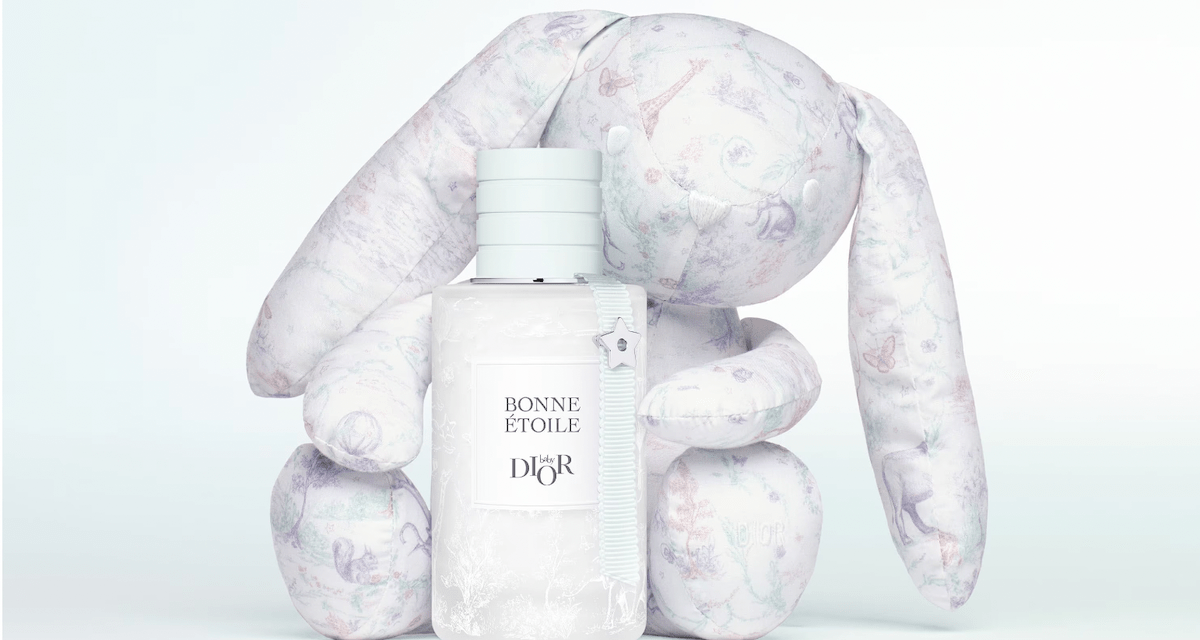 Dior.com
Bottle, check. Diaper bag, check. Baby perfume, check?
Brands, especially luxury ones, are putting a spin on the so-called "new baby smell" with fragrances geared towards infants and children.
This month, Dior unveiled its $230 Bonne Étoile scented water fragrance for babies. Last year, Hermés released a $116 fragrance called Cabriole for those ages three and up. Jacadi Paris sells a baby girl fragrance for $59, a baby boy fragrance for $59 and a baby scented water set for $99. Bulgari sells a child-based perfume called Petits et Mamans for $76. Meanwhile, Macy's sells Disney-themed sprays under the tag "kids perfume," while Walmart sells Air Val children's perfume based on Cinderella, "Monster High" and emoji.
While scented baby products like lotions and shampoos have existed for years, baby fragrances like perfumes and colognes are relatively new compared to other beauty products. (An exception seems to be Dior, which first launched a baby perfume in 1970 as part of its Baby Dior division, but discontinued it.) The category is growing and has "definitely expanded over the past few years," Mary Lou Gardner, associate partner for consumer goods, retail and logistics at Infosys Consulting, told Modern Retail.
The market research on baby fragrances is young. Several marketing and consumer behavior firms that Modern Retail contacted for this piece said they did not track baby fragrances or did not have enough data on the topic to speak to it. Rather, baby fragrances are a status symbol. Luxury brands are rolling them out to accompany the other outrageously priced clothing and accessories they sell for the one-and-under set, and are catering to parents who want to splurge for their babies.
But, even with the introduction of new baby perfumes, it is likely to remain a niche market. Approximately 3.6 million babies are born each year in America, meaning that some 11 million Americans are between the ages of 0 and 2. "Assuming a $100 spend and 100% adoption, that maximum annual potential [for fragrances for that age group] would be around $1 billion," Pauline Mexmain, senior manager at Kearney's Consumer practice, told Modern Retail. "That's an unlikely target to achieve."
What is a baby fragrance?
Many of the brands rolling out baby perfumes — including Dior and Jacadi Paris — classify them as "scented water" or as part of the category "eau de senteur." "Eau de senteur" products are usually alcohol-free, although not always.
No matter what they are called, baby perfumes need to be gentle, with ingredients that are appropriate for infants, sources said. "It is extremely important that babies not be exposed to harsh chemicals and strong adult perfumes," Gardner said. At the same time, she said, "a baby's sense of smell is well developed early on and a subtle fragrance can be comforting to them. It also can provide a nice sensory experience for mothers."
However, while a product may be labeled "scented water," if its ingredients contain the words "parfum" or "fragrance," that means "thousands of ingredients could be in that fragrance," Julie Rice, founder of Inner Beauty Cosmetics, told Modern Retail. That is a problem, Rice said, especially considering the push towards transparency in beauty.
Rice, whose skin became reactive to fragrances after she gave birth to her son, said she "can't say anything positive" about baby fragrances. "I think that it's something that's very irresponsible of a company to do, because the baby's skin barrier and immune system are still developing in those first few months, and their skin is more vulnerable to irritants and potential allergens."
"To me," she added, "fragrance and baby do not go together. Like, I would not even wear fragrance around a baby."
While these products are labeled as baby perfume, their marketing typically includes the parent and emphasizes that they can wear the scent, too. With Cabriole, for example, Hermés Parfums director Christine Nagel said that she "sought to create a comforting and highly distinctive scented water that signifies the bond between parent and child."
Meanwhile, Bulgari's product description of Petits et Mamans says it is "a delicate fragrance dedicated to the relationship between mothers and children." And, Dior's product description of Bonne Étoile says the scented water "brings sweet childhood memories to life."
Mothers and babies do share pheromones while the baby is in the womb. In addition, scientific journals have published research about the power of scents like lavender and citrus in affecting stress and mood.
But, "when you look at the marketing surrounding [these products] and the messaging, it doesn't feel science heavy," Melissa Minkow, director of retail strategy at digital consultancy firm CI&T, told Modern Retail. "So that's kind of interesting to me that they're not leaning into that more… I think if they can prove something like that [for their product], I could see there maybe being demand."
Why make one?
Fragrance as a whole is on a roll in the U.S. According to Circana, U.S. sales of prestige fragrances between January and September were up 12% year-over-year, while sales of mass fragrances were up 8%.
Smelling dollar signs, more beauty brands are entering the category. This month, jewelry and accessories brand Kendra Scott and Harry Styles' nail polish brand Pleasing launched their first fragrances. Apparel brand LoveShackFancy launched its first fragrances in stores and Sephora in August, and Italian luxury brand Brunello Cucinelli debuted two fragrances in March.
Today, perfumes come at all price points, but many of the baby perfumes on the market are in the double or triple digits, making them "small, extreme luxury items," Minkow said. "It's a 1% of the 1% type of thing," she added. "I think the biggest thing is it's a status symbol… I cannot imagine the volume on this would be that high."
Minkow said perfume companies likely rolled out these products as a way to connect with their highest-income consumers. They could also be used as presents for new parents, she pointed out.
"I thought a registry is fine and works well, and there's pretty utilitarian stuff on there," she said. "But maybe this is for the baby who has everything already."