New patterns and promotions: How travel brands are approaching summer marketing and sales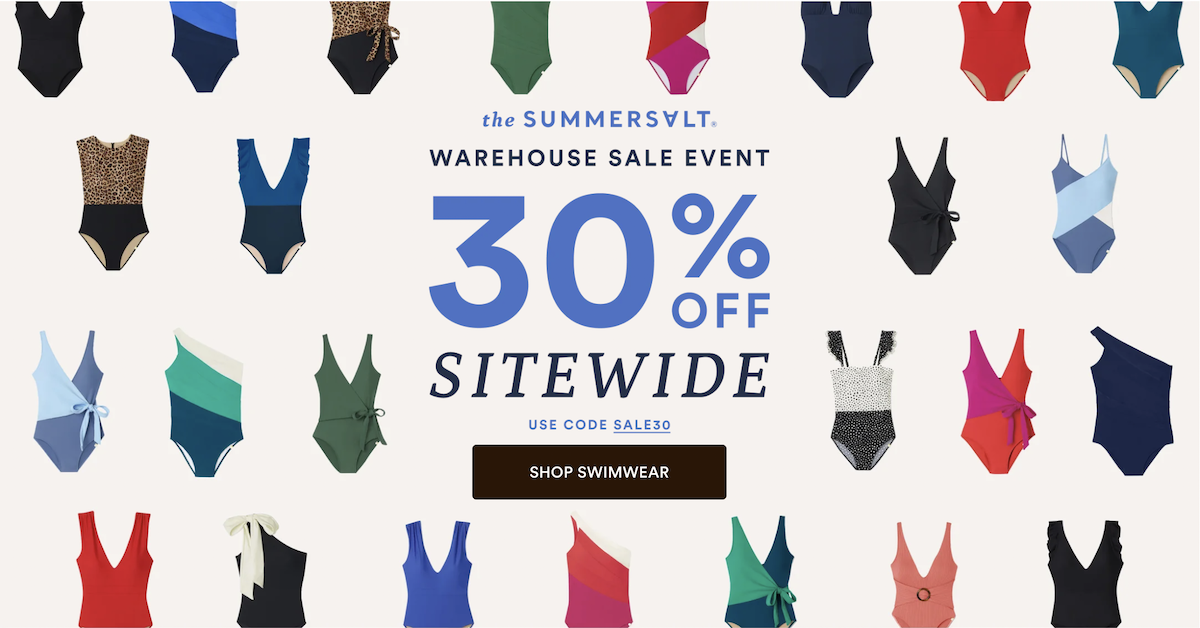 Summersalt
As the summer weather heats up, so too do retailers' plans for seasonal marketing.
For travel-adjacent brands, the summer season is the ultimate time to shine. Many people taking vacations will buy new swimsuits, beach towels, flip flops and suitcases. At the same time, competition is tight, and retailers are up against last year's strong 2022 travel numbers. Brands are having to get creative about their summer marketing. A look through several companies' marketing campaigns reveals that travel-related brands are focusing on new products, new storefronts and new promotions to keep shoppers coming back.
The swimwear brand Summersalt — which launched in 2017 and has gone on to include other apparel — considers summer its "absolute peak" for swimwear sales, with the most activity in May, June, July and August, CEO Lori Coulter told Modern Retail. At the same time, many customers tend to buy swimwear year-round, she said.
In addition to swimwear, Summersalt sells loungewear, cover-ups, activewear, pajamas and lingerie. Summersalt has sold 3 million garments to date, Coulter said, while its compound annual growth rate since launch sits at 175%. In both 2020 and 2021, Summersalt grew sales 100% year-over-year, according to AdAge.
During the summer, Summersalt wants to offer "freshness and newness on an ongoing basis," Coulter said. Summersalt has added new products to its site about twice a week since mid-May and will continue to do so through July. Some of its new styles include the Gulf Side Gathered Keyhole One Piece and the Seaway Square Neck One Piece. In addition, Summersalt is testing a mix of new silhouettes and colors that, if popular, could be integrated into Summersalt's core line. Earlier this summer, it released a collection with Diane von Furstenberg that largely sold out in a week and a half, according to Coulter.
Right now, Summersalt is offering its second annual warehouse sale, which discounts the whole site by 30%. Summersalt is promoting the sale on its social media channels, as well as through its 500-member-strong ambassador network. Last weekend, ambassadors posted 400 pieces of sale-related content on social media, according to Coulter. Summersalt uses direct mail and paid marketing to promote its products, as well.
Béis, a luggage brand founded in 2018, is also expanding its offerings for the summer. In May, the company launched its first-ever line of luggage and accessories for kids in bright shades like berry and citron. Earlier this month, Béis dropped its new Béisics collection, which features backpacks, duffle bags, totes and laptop cases in popular colorways like black, grey and beige. The Béisics collection tends to be at a lower price point than the regular Béis collection.
Actress Shay Mitchell launched Béis when looking for "amazing, affordable pieces for travelers like myself," she wrote on the company website. The brand has come a long way in five years. Béis surpassed $120 million in profitable gross revenue in March, according to WWD, and the brand is expected to break $200 million in its next fiscal year.
Béis is investing more in physical retail, too. The brand held its first-ever warehouse sale earlier this week in Rancho Cucamonga, California, according to its Instagram. Béis is also teasing an activation it calls "Béis Hotel" in three cities this summer: Los Angeles, Vancouver and Dallas. The Los Angeles activation, the first one to launch, is set to start July 7. Béis ran a similar activation called "Béis Motel" in Los Angeles in the summer of 2022.
In the meantime, Away, a luggage brand founded in 2015, is making physical retail more of a priority, too. This summer, Away is opening a new store in the Georgetown neighborhood of Washington, D.C., one of many new locations it has slated for 2023. Away also held a two-day AI-powered pop-up in Venice, California last weekend to promote its new "Extraordinary Is Out There" campaign. Participants filled out questionnaires to create their ideal AI world and later received a curated postcard showing their ideal destination. Some of the postcards represented actual locales, such as the Northern Lights, to show that real-world travel could be just as exciting. Away took out a full-page ad in the New York Times to promote the campaign, put up out-of-home ads near Away's stores in Los Angeles and New York City and created a dedicated landing page on its website.
Away continues to invest in new products, too. More than eight in 10 consumers at Away are planning to travel more, according to Carla Dunham, chief marketing officer. Away launched a Canvas Collection of totes, bags and pouches in golden hues in early June. This summer, it rolled out a new collection with the Brooklyn-based fashion designer Willie Norris. Fans could enter to win a "My Baggage" Bigger Carry-On, custom luggage tag, sticker pack and note from Norris herself.
While every travel-adjacent brand knows what strategies work best for its business, there are some commonalities among sectors. When it comes to luggage brands, for example, many direct-to-consumer companies tend to resist discounts and promotions, Andrew Lipsman, principal analyst at Insider Intelligence, told Modern Retail. At the same time, Lipsman said, "I definitely saw some swimwear brands discounting and looking to move product and take advantage of the opportunity, but overall, it's a more competitive space with a lot more players."
Amazon, too, can play a role in retailers' marketing and promotional strategies, Lipsman stressed. Amazon Prime Day, which falls in July, generates sales for many companies, and brands may be more interested in venturing into wholesale because of that. Victoria's Secret, for example, expanded its partnership with Amazon earlier this month to sell apparel, including swimwear, directly on the platform.
Ultimately, even though retailers may be concerned about lapping 2022 summer sales, "I think most of the travel-related companies are sitting in a pretty strong position," Lipsman said. "It's not like all that demand evaporated when people got back to travel last year."
Indeed, the AAA expects a record 51 million people in the United States to travel over Fourth of July weekend. AAA also predicts record-setting crowds this summer, more broadly.