Messi mania is fueling demand for fan merchandise retailers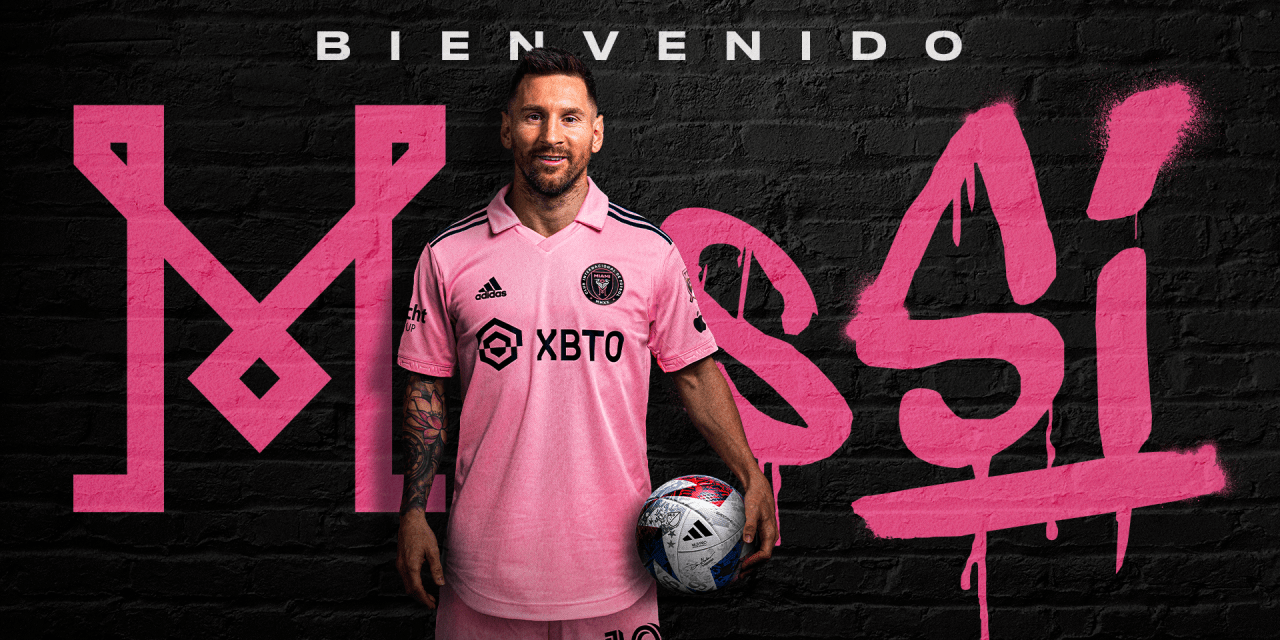 Inter Miami FC
As seven-time Ballon d'Or award winner Lionel Messi makes his Inter Miami debut this Friday, sports merchandise retailers are set to benefit from fans who want to get their hands on number 10 jerseys and fan items.
Sports Endeavors, the parent company of soccer equipment and merchandise e-commerce site Soccer.com, said it sold six months' worth of Inter Miami jerseys in just 24 hours as soon as Messi's entry to the league hit the news. Messi's official MLS jerseys from Adidas are still on backorder until October for all wholesalers, a process that has already been accelerated. Billy Lalor, senior director of merchandising at Sports Endeavors, said getting these jerseys ready for sale in the market typically takes six months, but Adidas has cut that time down to less than three months. 
U.S. retailers selling fan merchandise are positioned to cash in from Messi's presence in Major League Soccer as the Argentinian soccer star has repeatedly raked in significant consumer dollars for fan items. After his first FIFA World Cup win, Adidas completely sold out of Messi and Argentina team kits globally. Goal reported in 2021 that Messi's former team Paris Saint-Germain FC sold a total of nearly a million Messi-printed jerseys at that time.
Any time a star athlete moves to another team, it usually does trigger an influx of sales for fan merchandise, said Dan Lobring, senior vice president of marketing at sports marketing agency rEvolution. In Messi's case, this sales trend is further amplified. "He's arguably the biggest athlete in the world," he said. "A player of that magnitude that has so much star power kind of creates its own merchandise category beyond just the individual team."
Inter Miami's owner expects Messi's arrival to double the club's revenue over the next year, per CNBC. Already, Inter Miami ticket prices have soared 459% for home games and 558% for away games, according to TicketIQ. On the MLS' online store, authentic Messi jerseys retail at around $180, while jerseys of other players' authentic jerseys cost lower at around $165. 
The organic attention that Messi gets has helped usher traffic at Soccer.com. On Soccer.com's page that specifically features Messi fan merchandise, pageviews were up 400% since before the announcement and its landing page for Inter Miami was up 866%. The company also saw a 74% increase in sales within its licensed/fan category on Monday compared to the same period last year, driven largely by a range of jerseys with Messi number 10 written on the back. 
"As soon as the news broke, we were basically sold out of or sold out a bit the jerseys that we had bought to last us the entire season within 24 hours," Sports Endeavors' Lalor said. He said Adidas, among other retail partners, was quick to respond. "Within two weeks with a collection of Messi t-shirts that were Miami themed." In addition to the organic traffic Soccer.com has been getting, it also invested in paid search marketing and social media marketing.
Thanks to the demand, the company plans to double its investment in the MLS. A major part of the investment will be on Inter Miami jerseys with Messi's name on the back. The company expects to get a 10% in its "fan category." As Soccer.com preps for the demand in the fourth quarter, the company also said it is basing its forecast on how many Messi jerseys it has historically sold when the athlete played for FC Barcelona, PSG and when Argentina won the World Cup. 
Despite the significant tailwind Messi's MLS entry could bring, one of the biggest challenges for retailers is managing their inventory, Lauren Beitelspacher, associate professor in marketing at Babson College. She said that it can be hard to find a benchmark to compare this phenomenon to. Additionally, she cautions that stocking up on inventory could lead retailers to markdown items if the demand doesn't meet projections. 
"A lot of retailers might feel inclined to order excess inventory to really capitalize on the moment and I just worry that there could be too much [products]," Beitelspacher said. "You want to take advantage of the moment but you want to do it in a way that you don't [use up] all your inventory dollars and then have to put all this stuff on sale."