How pandemic darling Jiggy Puzzles is plotting its next growth phase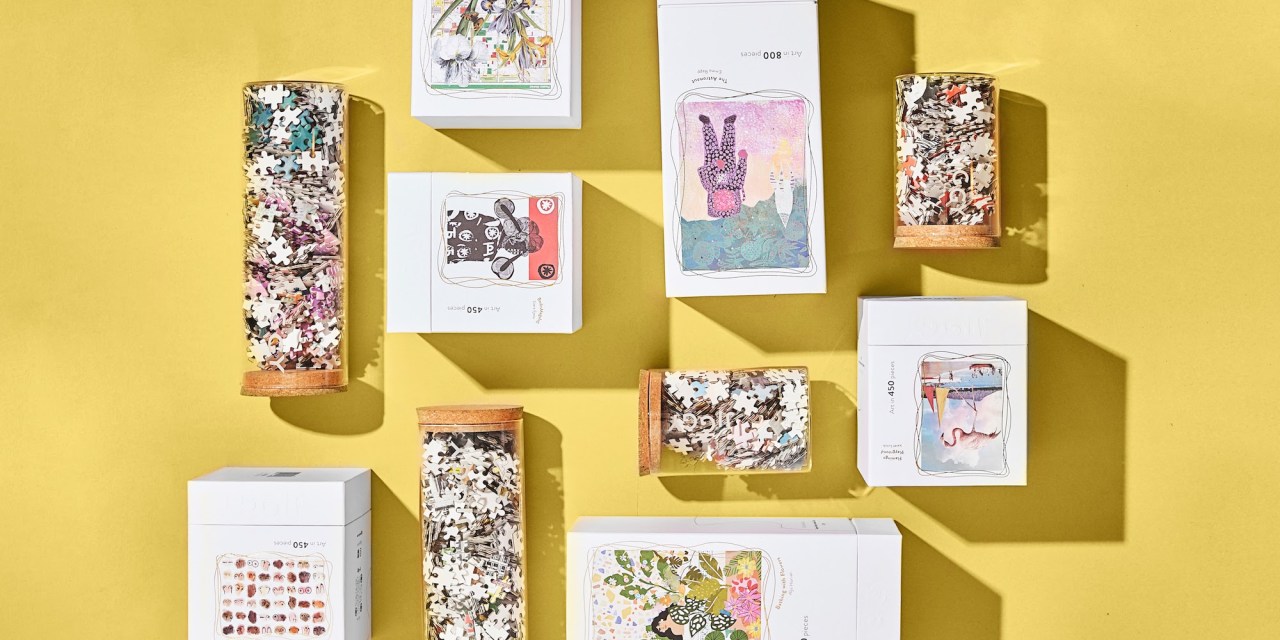 Jiggy Puzzles
Jiggy Puzzles, a direct-to-consumer company that sells frameable art-focused puzzles, saw huge sales growth during the pandemic and is trying to find ways to sustain customer interest.
This week marks Jiggy's three-year anniversary, having launched at the end of 2019 and has since sold over 250,000 puzzles. The then-bootstrapped brand exploded during the pandemic, when 2020 became the year of at-home hobbies. The company saw huge organic growth in 2020 and 2021. But Jiggy has spent 2022 working on wholesale partnerships like retailer distribution and custom corporate gifting, along with retention tactics like new products, a membership program and an artists marketplace. All this has helped the company generate $1 million in sales annually.
Founder and CEO Kaylin Marcotte credited Jiggy's new product launches, physical retail expansion and unique programs like an artist marketplace to Jiggy's sustained sales. Marcotte said the brand is still seeing strong repeat purchases — at a 31% customer retention rate — which she credits to "the addictive nature of puzzles." However, the organic spike in sales from the early pandemic has naturally plateaued, prompting Marcotte and her team of two employees to get proactive. 
Following a Shark Tank appearance in 2021, where Marcotte raised $500,000 from investor Marc Cuban in exchange for a 15% stake in Jiggy, Marcotte said the company has been trying to build out a flywheel of programs to fuel its post-Covid growth. Much of this flywheel revolves around puzzles being wellness and mindfulness tools, as well as decorative home pieces. 
Wholesale and product expansion
This year, Jiggy struck distribution deals with retailers Bloomingdales, Nordstrom, Anthropologie and Macy's, as well as independent gift and novelty boutiques. Currently, the majority of Jiggy's sales still come from its DTC channel.
The company has also been expanding into adjacent categories to complement the core puzzles collection. For example, in 2022 Jiggy launched frames, which can be bundled with a jigsaw puzzle, a kids line called Jiggy Junior and a rewards program that rewards habitual puzzling.
Marcotte said the company has been trying to emphasize the decor aspect of its products.
"Our biggest differentiator is our glue that binds the puzzle together, which can be turned into framed art," Marcotte said. Through customer surveys, Jiggy's team identified demand for more items to cater to this part of the puzzling process. That's how the ideas for frames came about, Marcotte said.
"We want to make sure new product lines are consistent with the mindfulness and art themes, – as opposed to just releasing random products like a candle," she said, adding that upcoming collaboration will focus on like-minded female-founded brands. For example, this holiday season the company is releasing a new line of greeting cards, to build on its popular gift card puzzles. 'These have been popular because the receiver has to put a mini puzzle together to unlock the redemption code," Marcotte added. 
In 2022, Jiggy also debuted its rewards member program, a puzzle club where members receive redeemable points for recurring purchases and get early access to new designs and collaborations. Another perk is getting points in exchange for user-generated content from hosting puzzle parties. The monthly membership, which can be gifted, has been a big retention play for Jiggy's direct-to-consumer site.
New partnerships
Jiggy is aiming to be a decor brand by collaborating with artists and other brands.  
The brand's latest initiative is a marketplace for independent female artists looking to work with the brand. This fall marked the debut of the Jiggy Studio marketplace, which lets the artists sell Jiggy-produced puzzles using their art, with the artist receiving a 25% cut of net sales. "We had a waitlist of a couple of thousand artists, and it was impossible to release all their collaborations on our own," Marcotte said. "The studio platform got us to start producing hundreds of designs overnight."
These efforts, Marcotte said, are helping position Jiggy as a lifestyle and decor brand, instead of the usual toy and game category. "Our goal this coming year is to push for higher volume-per-unit, whether it be through bundles of adult and junior size puzzles or add-on frames," Marcotte said.
Past collaborations include a puzzle merch release for Kacey Musgraves' latest album, which Marcotte said helped bring a new group of customers to Jiggy. Nonprofit partnerships with Michael J. Fox Foundation and Nick Jonas' Beyond Type 1 have also helped increase Jiggy's brand awareness, said Marcotte. 
"After getting sold out during supply chain delays, we diversified our supply chain to produce small-batches domestically," Marcotte said. "This also allowed us to have more control over partnership orders with quicker turnarounds." This move also unlocked an opportunity for custom collaborations and corporate gifting. Clients participating in Jiggy's corporate gifting program include Spotify, Warby Parker and Meta. "We're getting a lot of requests for puzzles as team-building exercises," Marcotte said.
Trying to grow beyond the Covid bump
Alex Greifeld, an independent e-commerce growth consultant and former marketing executive at Tapestry, said brands like Jiggy are a great example of "the right product at the right time." But now that these quarantine-friendly activities have tapered off, brands in these categories have to find creative ways to continue engaging their customers. "It's hard to replicate those conditions because CAC is much higher," Greifeld added. "The advantage these brands have is an increased cash flow and lower marketing costs for a while." 
The challenge for e-commerce brands now is to broaden that audience, and continuously find acquisition avenues with lower costs, she said. "Because the reality is that you're always going to have to acquire new customers." 
For brands like Jiggy, which happened to benefit from the pandemic's consumption patterns, Marcotte said this holiday season and 2023's sales will rely on unique marketing efforts and product selection – especially with inflation-conscious shoppers. 
To execute a sustainable acquisition and retention model, Marcotte said "going forward, we want to be consistent with collaborations and new releases."