How one kids food startup is partnering with the show 'Daniel Tiger's Neighborhood' on allergen education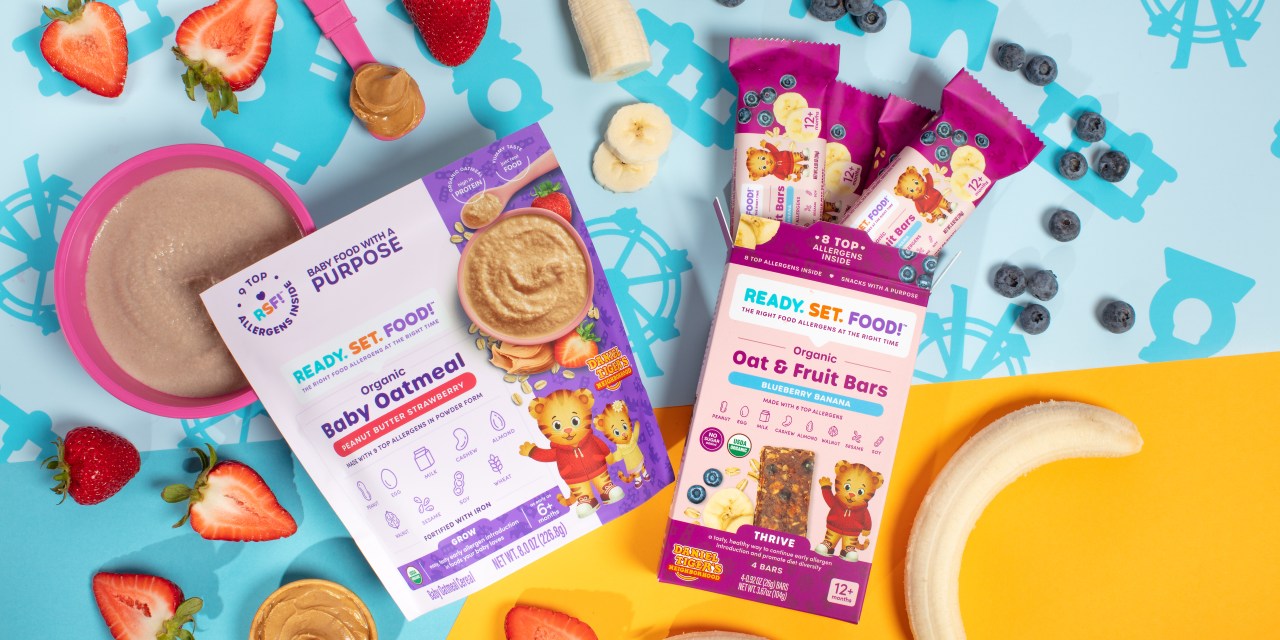 Ready, Set, Food
Founded in 2018, Ready. Set. Food! has carved out a CPG niche with its line of allergen-inclusive toddler and baby food, and is now ramping up marketing efforts to reach more parents of young children. 
In 2021 the company received investments from Mark Cuban, Edward-Elmhurst Health and Danone Manifesto Ventures to support product line and retail expansions. This year, the company is up 160% in sales over last year, and launched in several major retail chains since the beginning of the year — including Walmart, Target and Kroger. This week, Ready. Set. Food! is releasing a new line of products co-branded with PBS Kids' "Daniel Tiger's Neighborhood" – which includes Organic Baby Oatmeal and Organic Toddler Oat & Fruit Bars. The partnership with the popular PBS Kids animated show is part of the company's efforts to align itself with educational shows and establishments already talking about food allergens. 
According to Ready. Set. Food! the company makes conveniently-packaged foods for parents to gradually introduce kids to common allergens, starting at the recommended age of four months. The company's lines cover three stages of exposure, starting with bottle mix-in supplements that increase in allergen levels each month. The following stages are geared at solid food eaters, with packaged foods like oatmeal and bars.
Adam Rockmore, chief marketing and strategy officer at Ready. Set. Food!, told Modern Retail that as the company expands to foods for toddlers, "we realized that it's important to borrow some equity from shows like Daniel Tiger to reach wider audiences." 
Until this year, the brand was primarily sold direct-to-consumer, but "we've gone from 400 to 9,000 doors in the past six months, so this is a great time for us to test more marketing channels," Rockmore said.
Now Ready. Set. Food! Wants to drive sales through strategic collaborations, both with medical professionals and entertainment franchises like "Daniel Tiger's Neighborhood." In the past couple of years, the company has begun working with pediatricians to talk to parents about allergy reduction and the brand's products. Last year the company announced a partnership with Providence, a not-for-profit health system geared at families in need.
The new partnership was partly inspired by the company's CEO's daughter, who told him that the character Daniel Tiger had a peach allergy. The PBS series, which teaches toddlers various life lessons, even dedicated a 2016 episode to the importance of alerting adults of allergic reactions and using an Epipen. Rockmore said the brand cold called the licensing company of "Daniel Tiger's Neighborhood." Ultimately, the launch took about a year to execute from start to finish. 
For the first phase of the partnership, Daniel Tiger and his sister Margaret will appear on some packaging and retail displays. The new products are rolling out in retail and on the company's Amazon store and DTC website. Over the next year, the brand will develop SKUs based on the characters' favorite flavors, Rockmore said.
As part of the long-term partnership, Daniel Tiger's Neighborhood will promote the products on the show's social media accounts. Along with social media ads and PR, Ready. Set. Food! is also working with influencers to promote the new branded products. "We've sent out boxes that have both our products and other products from licensed partners, like a Daniel Tiger lunch box," Rockmore said.
These types of partnerships are on the rise, particularly among children's brands that want to reach both kids and their parents. In 2020, children's food brand Cerebelly collaborated with Entertainment One's Peppa Pig to launch low sugar, vegetable-filled snack bars. Last year, YouTube channel CoComelon partnered with baby food brand Sprout Organics on a co-branded line for Walmart.
According to clinical studies, gradual introduction of popular allergens to kids — such as peanuts, milk and eggs — can help reduce allergies by up to 80%. So while there is demand for the company's CPG line, Rockmore said it can be hard to parlay the medical messaging. The trick for Ready. Set. Food!'s marketing approach, said Rockmore, is to strike a balance between educating people about the concept's category while also creating fun campaigns. For example, the brand recently experienced viral success with its "baby gibberish decoded" Instagram campaign, in which a character called The Baby Interpreter translates baby talk. The posts have generated over 6 million views to date, according to the company.
"These days social media requires working with algorithms to generate engagement," Rockmore said. "So we can bring people in through the funny content, then show them our medical and parent-focused posts." 
Indeed, emerging brands are trying to stand out among the noisy CPG field with creative campaigns, which are increasingly featuring IP licensing deals. 
Frank Riva, vp of marketing at retail analytics firm 1010data, said as there are "more new items and categories attempting to address a growing list of health and dietary issues, there will continue to be a battle for establishing a brand." 
Riva said that for a specialized brand like Ready. Set. Food!, a multi-channel approach like this leverages both niche influencers and popular pop culture entities. "We have seen these promotional tie-ins for quite some time with varying degrees of success, and there's no reason to think they won't continue for CPGs," Riva said. 
For Ready. Set. Food!, the PBS show partnership is part of a portfolio of collaborations to help the company scale beyond DTC subscriptions. "We're excited to have these partners supporting us in reaching a lot of kids and their parents," Rockmore said.