How energy drink C4 is working with NFL, WWE & student athletes to build brand awareness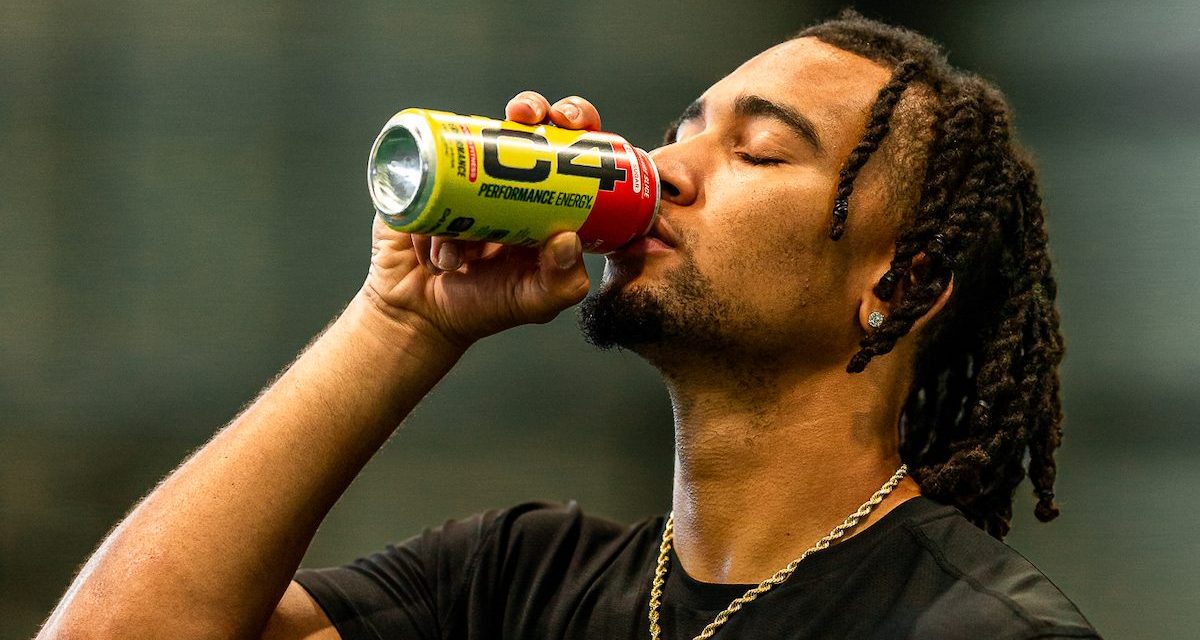 C4
Energy drink brand C4 Energy is stepping up its partnerships with professional and college athletes as it works to build brand awareness.
This year, C4 decided to deepen its marketing investment for three sports: football, boxing and wrestling/sports entertainment. C4 has partnered with a variety of NFL athletes for about five years and the WWE for three, but it wasn't until 2023 that it invested in boxing — in part to reflect Gen Z's growing interest in the sport. C4 has also signed name, image and likeness (NIL) deals with college football players across the U.S. This year, it's working with USC wide receiver Zachariah Branch and University of Texas quarterback Quinn Ewers.
According to Katie Geyer, vice president of talent, partnership & experience at C4 parent company Nutrabolt, the increased focus on these sports is because the brand considered it "the best way for us to make an impact with a highly-relevant consumer."
C4 is part of the growing group of energy drinks that purport to be healthier than the legacy alternatives. Companies, too, are taking an interest in what C4 can bring to the table. Last December, Keurig Dr. Pepper (KDP) invested $863 million into Nutrabolt for a 30% share. Under the deal, KDP distributes and sells C4 in most of its "direct store distribution territories." In July, KDP's CEO said the company remained "confident in the growth potential of C4" and spoke of "continued velocity and momentum" for C4's zero-sugar, zero-calorie and zero-carb drinks.
C4 and other so-called better-for-you energy drinks have gained more attention and market share over the past few years, especially among the 30% of young people who consume energy drinks on a daily basis. According to Circana, energy drink sales for the 52 weeks ending May 21 totaled $18.5 billion, a 12.2% increase from a year prior. While C4 does not disclose revenue, the company has grown year-over-year, Geyer said, and "all signs point to us continuing to do so in 2024." According to an estimate last year, Nutrabolt's sales are expected to hit $650 million in 2023.
So far, C4 says its sports campaigns — several of which took place this summer — have resulted in an overall brand lift. For its WWE event in August, C4 saw a "statistically-significant lift in all KPIs," as well as a 57% jump in unaided awareness of the brand, Geyer said. For its work with Overtime Boxing (a deal that is multiyear and will continue in 2024), eight out of 10 fans surveyed knew about C4's partnership with OTX by the end of August. In the past two years, C4's brand awareness went up 13 points, and it "almost always see[s] a jump" in social media engagement and impressions when posting content from partner athletes such as Chicago Bears quarterback Justin Fields, Houston Texans quarterback CJ Stroud and Atlanta Falcons running back Bijan Robinson, Geyer added.
More brands today are tapping college athletes as influencers, thanks to revised 2021 rules by the NCAA allowing players to make money off of their name, image and likeness. Last year, Adidas announced an NIL network for 50,000 student-athletes to become paid affiliate brand ambassadors. Then-Fresno State basketball players Haley and Hanna Cavinder inked a deal with Boost Mobile in 2021, and Athletic Brewing has had NIL deals with at least a dozen college athletes and 50 professional athletes.
C4 has ramped up its NIL strategy by partnering with 100 collegiate athletes per month, according to Geyer. C4 sends the athletes product, and the athletes share the product on their social networks and channels. "That allows us to continue to double down on that conversation and then further the relationship with anyone that rises to the top," Geyer explained. This past spring, Stroud and Robinson — both C4 athletes, the former of Ohio State and the latter of University of Texas — were top 10 picks in the NFL Draft.
The campaigns — particularly their focus on college athletes — represent a shift in marketing messaging for energy drinks. Historically, energy drinks "have been a tool for staying up later, a tool for fighting fatigue, fighting sleep," said Marcus Collins, clinical assistant professor of marketing at the University of Michigan and author of "For the Culture: The Power Behind What We Buy, What We Do and Who We Want to Be." Using athletes, however, changes the message, he said.
"It's not about lasting longer or staying awake, but maybe it's about optimizing performance," he told Modern Retail. "I think that kind of frame gives the category new meaning and potentially more legitimacy. It's not like being hopped up on Red Bull. Maybe this is akin to a performance drink like Gatorade."
Collins said that because NIL partnerships with college athletes are so new, everyone involved is still figuring out the ideal terms. For college athletes in their late teens or early twenties, "these are still kids in a lot of ways," Collins said. "Their prefrontal cortex isn't fully developed, and there's a lot of uncertainty that they have to navigate. I don't think it's a slam dunk for anyone… [but] the upside far outweighs any potential downside, I think."
C4's next major step in its athletic partnerships is a co-branded beverage with the WWE. To mark the new product, C4 launched a "Not Safe For Work" creative campaign with WWE's Seth "Freakin" Rollins during the summer. Dr. Pepper will roll out the cans nationwide in January 2024. The drink has had "really high early indicators of performance," according to Geyer.
Ultimately, as the new year nears, "we're really proud of what we've been able to do in the pro sports world," Geyer said. "We're always making sure that everything we're doing is top-tier and tested ingredients and flavors, and we really use that as a differentiator when we're speaking about athletes who take so much care about everything they put in their body."
Correction: An earlier version of this story misstated that C4 was working with the NFL. It has been updated to clarify that its partnerships are with some of its athletes.