How compostable cutlery is becoming more mainstream in retail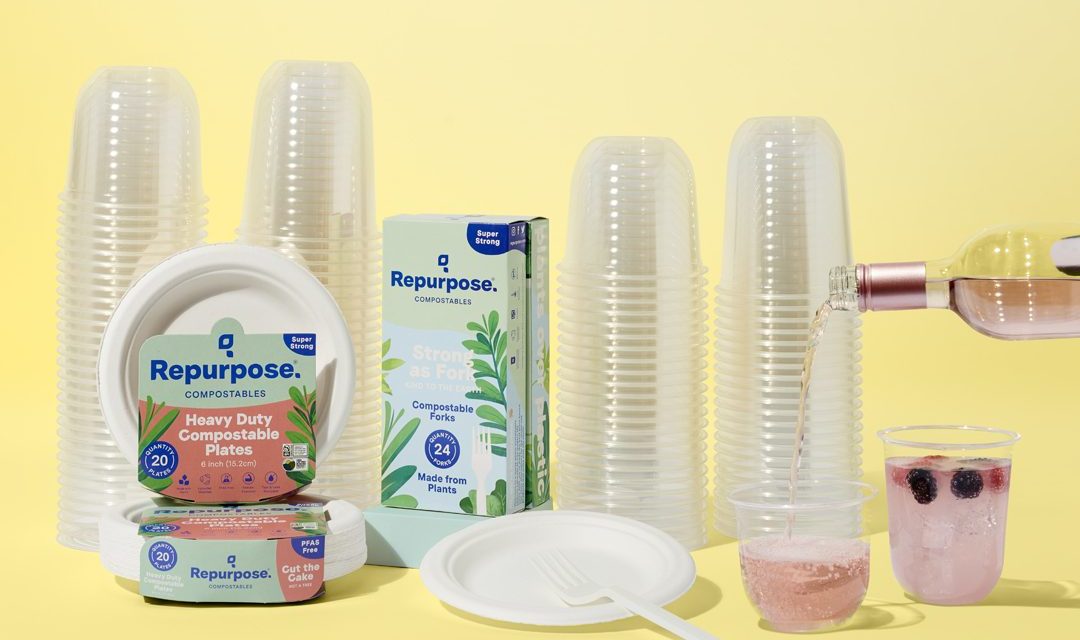 Repurpose
Startups and major retailers alike are pushing compostable cutlery and drinkware as awareness grows around the concerns of single-use plastic.
Repurpose, founded in 2010, has seen sales double year-over-year as composting becomes more commonplace. Its products are available in more than 15,000 stores including Target and Whole Foods. This year, it will embark on its first multi-channel advertising campaign ahead of the holiday hosting season, spanning social media, online promotions and influencer ads.
Repurpose Founder and CEO Lauren Gropper ties the company's growth to shoppers wanting to use more non-toxic, plant-based products, as well as the concerns about plastic harming the environment.
"Plastic is actually designed as a material to last forever. It's super durable, yet we're using it one time and we throw it away," Gropper said.
But Repurpose is far from alone in seeing the potential for compostable cutlery at the retail level. Recent years have seen major CPG players jump on the trend: Walmart in September rolled out a compostable line of its Great Value cutlery in 1,400 stores. Target's Everspring line added compostable products in March 2022, while Hefty launched a compostable line that summer. Online, eco-focused brands like GreenWorks and Greener Settings are available on Amazon.
Part of the rise in products is a response to policy changes. California has a new law requiring organic waste collection services to run in every community, making it easier for shoppers to compost products like cutlery. A similar law is set to roll out in New York City. Currently, in the U.S., just 5% of all food waste is composted, according to the Environmental Protection Agency. Meanwhile, bans on polystyrene and plastic straws in food service are becoming more common across the country.
There's also a widespread aversion to plastic: roughly three-quarters of people around the world want to see single-use plastic banned, according to a poll from Ipsos in February 2022 that surveyed more than 20,000 people. But that figure is the lowest in North America at 66%, where single-use plates, forks and cups are standard fare for many.
In turn, companies looking to market alternatives to single-use cutlery must rely on wooing the "sustainably curious," Gropper said, or those who know plastic can be harmful but are still accustomed to single-use products for large gatherings. The idea of creating disposable products, to begin with, has many stringent environmentalists raising their eyebrows, while other consumers may associate "eco" brands with ineffectiveness.
"The deep greens are kind of like, 'we don't even buy disposables,' and the other end of the bell curve, 'eco doesn't work.' So we're kind of in the middle," Gropper said.
Further, since food-soiled items cannot be recycled, dirty plates may wind up in the trash if composting isn't available. But Gropper maintains that plant byproduct ending up in a landfill is still less harmful than plastic — and that getting shoppers educated on the differences between materials may help them feel better about using a disposable product.
"We're saying, 'we're not going to try to change your behavior. We're trying to mimic your behavior. We're trying to give your behavior a lighter footprint," she said. "We know there's no silver bullet, but we believe that composting and compostable products are a big piece of this puzzle."
Walmart did not make a team member available for an interview about its new compostable line, but told Modern Retail in an email that plans to get into compostable products have been on the table "for some time." It developed the products in 2022 with assistance from Beyond Green, a biotech company that makes plant-based materials as an alternative to plastic.
"We know our customers are seeking more sustainable products and packaging options without sacrificing quality or convenience," a Walmart spokesperson said in an email.
Barak Bar-cohen is the founder and CEO of Sojo Industries, a company that works with CPG brands on packaging. He said many brands are looking to find ways to reduce what they're putting into the waste stream in part because of the growing interest from younger demographics.
"Gen Z and Gen Alpha are the medium to long-term investments," he said. "They're inheriting a world in crisis from a climate perspective. There's going to be less of a debate in their lifetime."
Walmart's play is particularly notable because it's validating that trend on a bigger scale, Bar-cohen said. He said there's also a role for companies in food service to play in making the transition away from plastic, such as Starbucks vying to eliminate disposable cups altogether by 2030.
"It's a matter of resources and prioritization," he said. "I think they have a chance to lead. Walmart is demonstrating it, and they have the chance to be more aggressive."
Gropper from Repurpose said that moving into the food service and events space is part of the company's future growth plans.
"We've entered through the retail channel and been really focused on getting into people's homes. But we understand there's a bigger need and a broader need at some of these big venues, " she said.