How Coach used global retail activations to popularize a hero product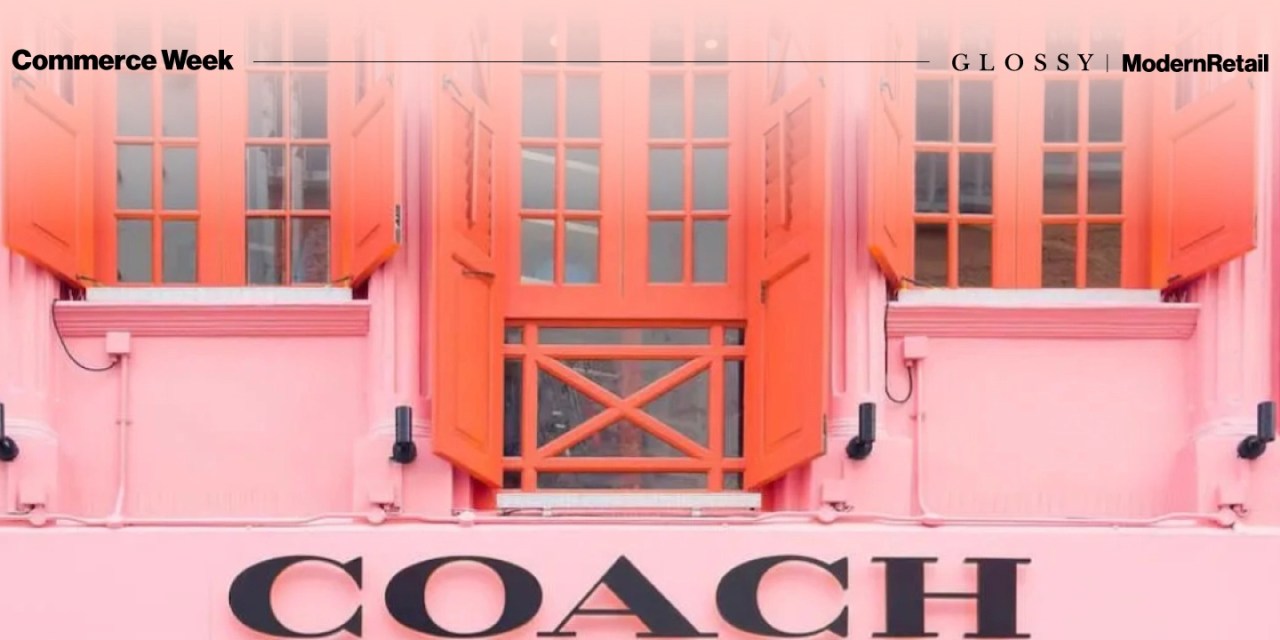 This story was originally published in Modern Retail's sibling publication, Glossy.
Coach's Tabby bag is on a global Tabby Tour.
By hosting immersive retail activations around the globe, the 82-year-old leather goods brand is aiming to maximize the popularity of the hero product. Among the Tabby-focused retail locations that Coach has launched since February are themed pop-ups in Japan featuring toy vending machines, several themed cafés, ice cream trucks at college campuses, digital immersive rooms and AI-generated Tabby shops.
On the earnings call of parent company Tapestry on May 11, Coach CEO and brand president Todd Kahn said that Gen Z's recent feedback on the brand has been: "It's not just a brand for my mum, but it's a brand for me now." Overall, Tapestry reported net sales of $1.51 billion for the first quarter, compared to $1.44 billion in the same period last year. Tapestry also owns Kate Spade and Stuart Weitzman.
The original Coach Tabby came out around 50 years ago. In the years since then, Coach has revitalized the product with new colorways, designs and customization options. The bag has decidedly been a cult favorite since its official relaunch in 2019. The #CoachTabby hashtag has more than 23 million views on TikTok.
The retail experiences are meant to build upon the bag's buzz, having been promoted by brand-enlisted celebrities including Lil Nas X and Ice Spice. The "Tabby Tour" retail experiences are intended to push the envelope of design, while also incorporating gamification, sensory experiences and localized content, according to the company. Creating a sense of community and facilitating phygital integrations are also among the focuses.
"Especially after the pandemic, with consumers shopping more online, there is a sense of urgency to rethink physical retail, hence our pushing into immersive experiences that feel hyper-physical and multi-sensory," said Giovanni Zaccariello, svp of global visual experience at Coach. "We want to give our customers a memorable experience and create a strong emotional connection with them." Zaccariello noted that all pop-ups and immersive stores play into Coach's other, related marketing idea for the season: ice cream. The Tabby bag comes in various ice cream-like colors.
In Bangkok in April, Coach opened an experiential pop-up that included a 3D NYC subway station and a series of traditional ice cream shops. The same month, in Singapore, the brand launched a store featuring an immersive digital room, a Coach café with an exclusive menu, as well as a craftsmanship bar with bespoke vintage bags. Coach pop-ups are currently being hosted at various beaches across Asia, with each featuring ice cream and local themes.
"We are making efforts to do less but go bigger, to really push innovation and create global visibility," said Zaccariello. "For example, the Tabby campaign has been much longer than previous campaigns — it started in February and is still going." At the same time, the strategy allows the brand to cater to regions based on holidays. For example, it popped up around Mother's Day in North America and around Ramadan in Malaysia, she said. 
The immersive elements have made many of the Coach stores, like the one in Singapore, popular tourist attractions in the city. 
In North America, the Tabby Tour ice cream truck stopped at select college campuses as a means of targeting younger consumers. According to its latest earnings results, Tapestry acquired over 1.2 million new customers in North America in the first quarter. Approximately half were Gen Z and millennial consumers.
"We are seeing a much younger consumer interact with our immersive retail experiences across the globe," said Zaccariello. "The engagement time spent with the brand is also much longer. Consumers stay,  interact,  ask questions and spend valuable time with our brand." So far, Coach's North American Tabby experiences have largely attracted a Gen Z audience, making up 95% of visitors. They've waited 60-75 minutes to get in and have stayed for an average of nine minutes. 
"We've been concentrating on pushing a global idea with a strong local touch," said Zaccariello. For example, in Tokyo, the brand created its immersive pop-up within a local temple in Harajuku. It served local ice cream and featured lanterns and murals designed by a local creative.
While brands like Prada and Ralph Lauren have also opened cafés, Coach wants to take its activations several steps further. "With Tabby, we have continued to push the five senses," said Zaccariello. Different ice cream flavors appeal to taste and smell, while the stores also feature bespoke soundtracks for sound, bold visual colors and oversized Tabby bags made for touch. Together, the features seem designed for social media.
All of the immersive experiences are "part of a larger marketing orchestration" around the Tabby bag, said Zaccariello.
Along with the retail stores, Coach has been busy activating in digital spaces. For example, to promote Tabby, the brand developed a game focusing on the Tabby "flavors." Its setting mimics an ice cream shop, pointing to the brand's ice cream-like colors. The game can be accessed at the brand pop-ups, as well as through the brand's website and social media. The brand also launched a popular, Tabby-focused space in Decentraland during the Metaverse Fashion Week in March. In addition, it collaborated with technology company ZERO10 to turn its NYC Soho storefront into an AR-powered virtual mirror on May 8.
"During the week we featured the AR storefront, there was a constant crowd in front of the store," said George Yang, founder of ZERO10. According to Yang, the activation drove 93.5% more pedestrians to pay attention to the window, compared to a traditional store window. Plus, it boosted in-store traffic by 49.4%.
"We strongly believe that brands should prioritize innovation over size when making investment decisions around brick and mortar," said Gabriel Theis, innovation advisor and founder of web3 startup Cobalt, praising Coach's small-footprint Tabby pop-ups.
So far, the results of the Tabby stores have been promising. "We've seen triple-digit increases on Tabby branded search interest year on year, and double-digit increases on Tabby branded search interest week on week," said Zaccariello. "For the first time, new keywords directly related to the experiential activations, such as "Tabby Tour" and "Coach Tabby Tour" are emerging in our search results, which is a direct result of consumers searching for what the brand is doing."