How brands like Safely and Happy Hour do in-car sampling with rideshare app Alto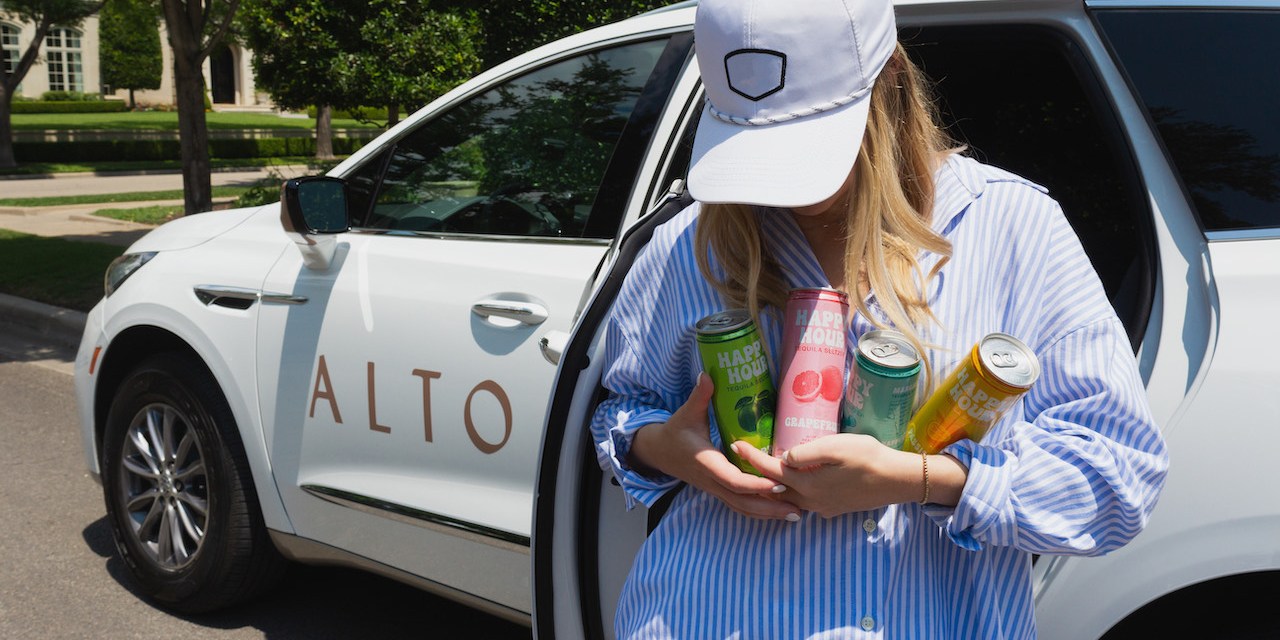 Alto
Rideshare services have become billboards in the last few years, with Uber ramping up ads on various customer touchpoints.    
One emerging rideshare startup, Alto, is foregoing launching a media network and is instead working with brands to build customized in-car marketing campaigns, such as by giving away samples of products. The company launched in 2018 in Dallas, and has expanded in the last couple of years. The premium rideshare company currently operates in six U.S. markets, launching in Dallas in 2018 and later adding cities like Los Angeles, Miami, Washington D.C. and most recently San Francisco. Alto charges guests a $6 base fare for booking rides, while a monthly membership costs $12.95 and includes access to perks like priority booking and 30% off every ride. 
As it expands across the country, the company — which owns and operates its own vehicles — is working with startups and small businesses to promote their products to riders. Recent examples include in-car promos and giveaways with Winc wine club and Après Hours canned espresso martinis. For Mother's Day, one mom in every Alto market received a gift from Roe Caviar and a Venus et Fleur flower arrangement during her ride. A similar giveaway was done by menswear brand Rhone for Father's Day. Alto also works with local establishments, like California's McConnell's ice cream chain and Tex-Mex restaurants in Dallas, on exclusive discounts and gift cards for Alto customers.
For Alto, these brand partnerships are a way to build up its advertising business and hopefully attract more paying members who get access to the freebies. For the brands, Alto campaigns are a unique, relatively untapped way to drive awareness in select markets, at a time when out-of-home advertising is becoming more popular.
Morgan Miller, senior manager of partnerships at Alto, said the majority of brands are looking to target specific markets with Alto, like Dallas or Miami. She added that Alto works with each brand to create custom in-car promos, which can range from product sampling to giveaway contests. Additionally, Alto also offers car wrap ads for brands interested in an out-of-home component. Businesses pay Alto an undisclosed flat fee for these types of campaigns, while also providing the products and marketing materials.
"[Brands are] able to get their products directly in the hands of a target audience," Miller said, which she said leans higher-income due to Alto's luxury pricing model. "Customers are usually surprised and highly-engaged because they're sitting in a car with not much else to do but check their phones," she said. In one week in May, Alto saw a 200% increase in Instagram visits due to multiple partnerships running with brands like Safely, Venus et Fleur and Roe Caviar. During these promotional runs, Miller said Alto also typically sees double the amount of influencer activity on social media.
Miller said it helps that Alto's markets overlap with cities that are popular for out-of-home and sampling events. She explained that unlike Uber and Lyft, Alto is able to do brand sampling "because we manage the vehicles and have a location where products are housed for drivers to pick up." Drivers are also trained on explaining the products and hand out other accompanying marketing materials; Alcoholic beverages are only served to 21-plus riders. Another perk Alto does email marketing partnerships with brands, pushing them out to riders.
Alto also considers these campaigns a part of its customer acquisition strategy, since riders are willing to pay more for perks like discounts and gifts. In addition to ride-focused perks, Alto members get access to exclusive discounts with the brands the ridesharing service works with, like 25% off a purchase at Rhone. 
Another Alto client is canned cocktail brand Happy Hour, which launched in April 2022 and is trying to stand out from the crowded market by doing unique on-the-ground promotions. A recent out-of-home campaign featured 7.5-feet tall can replicas as billboards. 
Happy Hour's creative director, Charley Borquez, said the company is focused on promoting brand awareness in-person and rely less on expensive digital ads. "We were spending the same amount on Meta ads as we do now on Alto campaigns, but couldn't track whether people were going out and trying the product," Borquez said. Borquez said the company was inspired by the Alto sampling run that beverage brand Hop Wtr and Wonderful Pistachio had done. Happy Hour has also been selling its drinks at music festivals and beach clubs to drive trials as it adds distribution in more states.  
Since first testing Alto last year, Happy Hour has locked in six in-car sampling activations for 2023. The most recent one ran over the July 4th weekend. Miami and Texas sampling runs are coming later this year. On average, the weekend-long Alto sampling runs lead to 2,000 to 2,500 cans distributed. 
"The in-car samples are a great play on our name because people have different definitions of what 'happy hour' is," Borquez said. "So we can hand cans to riders on their way home from work or going to dinner."
There are limitations in scaling Alto campaigns, Borquez said, such as the limited slots that Alto can fit brands' proposed campaigns throughout the year.
Alto's Miller acknowledged the company is trying to limit these sampling campaigns to select companies for. now "Not every brand's advertising will make sense since we're trying to maintain a luxury experience," she said.
Borquez said that it's currently difficult to track whether Alto sampling is bumping sales locally. Currently, she's primarily using these promotions as a way to gain customer insight and tie them with influencer partnerships to promote Happy Hour to their followers. "I can see the number of people tagging us saying they're excited about getting handed a drink during their car ride," she said. "To increase digital engagement, we'll start adding unique promos for riders that follow our social accounts."
Cleaning brand Safely also ran its first promotion with Alto over Memorial Day weekend, in which riders received a free bottle of Safely's hand sanitizer on the go. Along with the free product, each passenger received a note card from Safely co-founders Kris Jenner and Emma Grede with information about the company and an exclusive Alto discount code for 20% off Safely products.
Safely CEO Mike Forbes told Modern Retail "our main goal in partnering with Alto was to generate further brand recognition and allow people to test out Safely products in person."
Forbes said the company considers the gifting partnership a marketing success. "We distributed approximately over 10,000 units of product to riders in all Alto locations over the long weekend," he said. "Overall, we saw an uptick in social media engagement and are pleased with the organic nature of the partnership."