Grocery stores are using grab-and-go food to inch into restaurant territory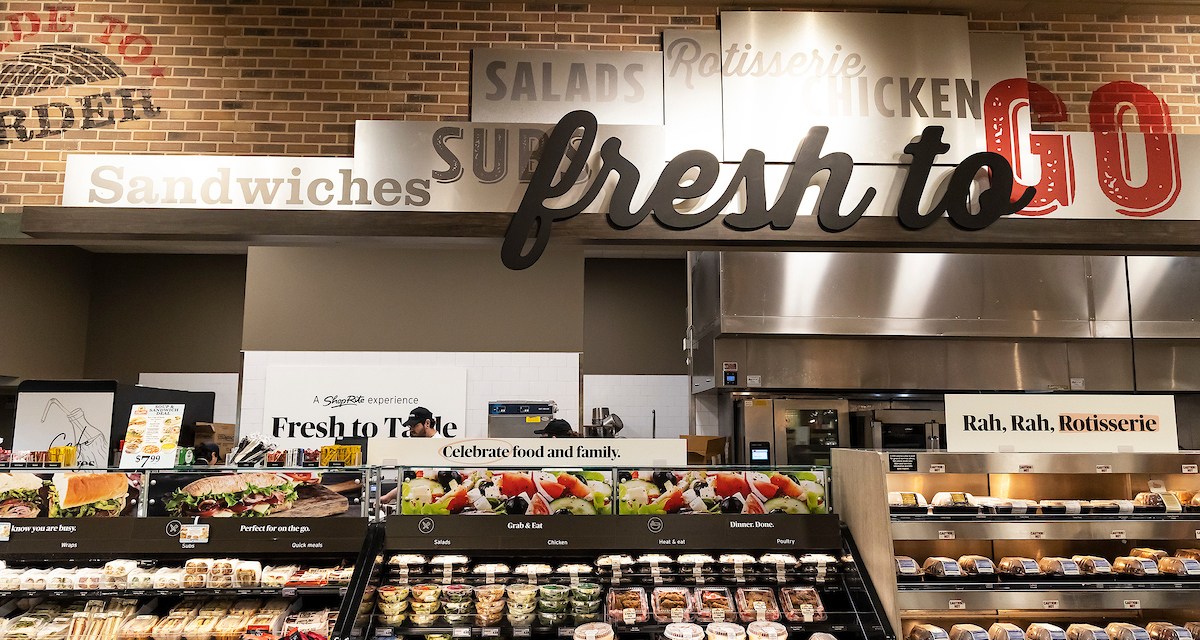 Wakefern Food Corp
The next hot takeout spot could be the local grocery store's grab-and-go section.
Wakefern Food Corp. member RoNetco Supermarket debuted an in-store concept earlier this month, called Fresh to Table, that offers grab-and-go meal solutions to shoppers at five RoNetco ShopRite stores. Meijer also came out with a new line of single-serve heat-and-eat meals in August. Schnuck Markets, on the other hand, partnered with DoorDash to deliver its prepared food from 25 stores in Missouri, Illinois and Indiana. 
In search of higher market share, some grocers are adapting a restaurant-like model by investing in ready-made meals, or prepared food, that consumers can grab on the go. As the cost of food items on restaurant menus has gone up, grocers are hoping that shoppers will turn to prepared food options in grocery stores as a cheap and convenient alternative to takeouts. Sales in the category rose 18.4% to $21 billion in 2021 from 2020, according to data from market research firm IRI.
"We're always looking for time-saving and cost-saving ways to feed ourselves and our families," said Shannon Wu-Lebron, corporate vice president of global retail industry strategy at software and consultancy company Blue Yonder. "Prepared food is a great alternative to quick-serve restaurant meals or even home-cooked meals that we make from scratch."
During the pandemic, when people were stuck at home, cooking had been one of the hobbies many picked up. Now that people are beginning to settle back into their pre-pandemic routines, including commuting to work or school, Wu-Lebron said that they are increasingly looking to quick meal options. Compared to traditional restaurants, menu items in the prepared food section are typically cheaper. 
Grab-and-go meals are leveling up
The concept of prepared food in grocery stores is by no means new. But in recent months, this section of the grocery store has been getting some upgrades beyond the classic rotisserie chicken and club sandwich.  
Meijer, for instance, described its new prepared food line as "restaurant-style." The line offers meals like chicken asada, chicken alfredo and pesto chicken. Meanwhile, The Giant Company also introduced a ready-to-eat meal solution for families last year, called All Set in a Box, which replicates the meal-in-a-box option available at quick-serve restaurants. 
"[Grocers] are in the meal business," said Barry Thomas, senior thought leader at Kantar. "A lot of grocers have really stepped back in the last few years and just thought of it a bit differently." 
Thomas added that grocers have the opportunity to capture a similar audience as fast casual or fast-food chains like Panera. Services like curbside or in-store pickup at grocery stores, in some ways, also emulate the drive-thru experience. Whole Foods, for instance, gives people the option to order their prepared meals like cheese pizza and salmon avocado rolls in its app and have them either delivered or picked up to go.
Get the latest news and analysis with the Modern Retail daily newsletter. Sign up here.
Other companies are inching further into the meal delivery space with partnerships. For example, Walmart and Blue Apron teamed up to offer people the ability to shop for meal kits on Walmart.com starting in June. Instacart, which built its business around delivering groceries, made ready-made meals from grocery stores available for same-day delivery beginning in January.   
"I think it will help grocers grow the overall fresh, prepared segment of their business to continue to partner with these delivery providers," said Rachel Dalton, head of retail insights at Kantar. "There is a segment of consumers that opts for delivery… and so grocers that enable these freshly prepared meals to be delivered by these partners will just an opportunity to increase their share in that space."    
Hilding Anderson, head of strategy for retail in North America at Publicis Sapient, said that prepared food is another way for grocers to become more of a one-stop-shop.
"You can think about it as almost like a beneficial flywheel that these stores are able to use the prepared food section to help encourage people to come in and get the food while it's fresh," Anderson said. "That drives additional basket sales and higher basket sizes."     
However, because of its shorter shelf life, Anderson said that grocers need to be able to correctly estimate the demand to avoid waste. Experts said grocers may also have to train and hire additional workers for the prepared food section. 
Experts agree that these investments in prepared food likely won't stop anytime soon. In addition to having elevated food options, analysts said grocers could continue investing in the spaces where these prepared food are located or carve out spaces where people can eat in stores. Already, Asian grocery store 99 Ranch Market's newly opened mall location in South San Jose has been drawing in lines for its food halls. 99 Ranch's quick serve counters offers dim sum, Taiwanese burritos and steamed pork ribs.
"We'll see a continued investment in prepared food and as a way of really addressing a profit-challenged environment," Anderson said. "In that environment, you're going to have a consumer that's going to maybe shift down from restaurants."