DTC beverage startups like Sanzo & Poppi are sponsoring pickleball leagues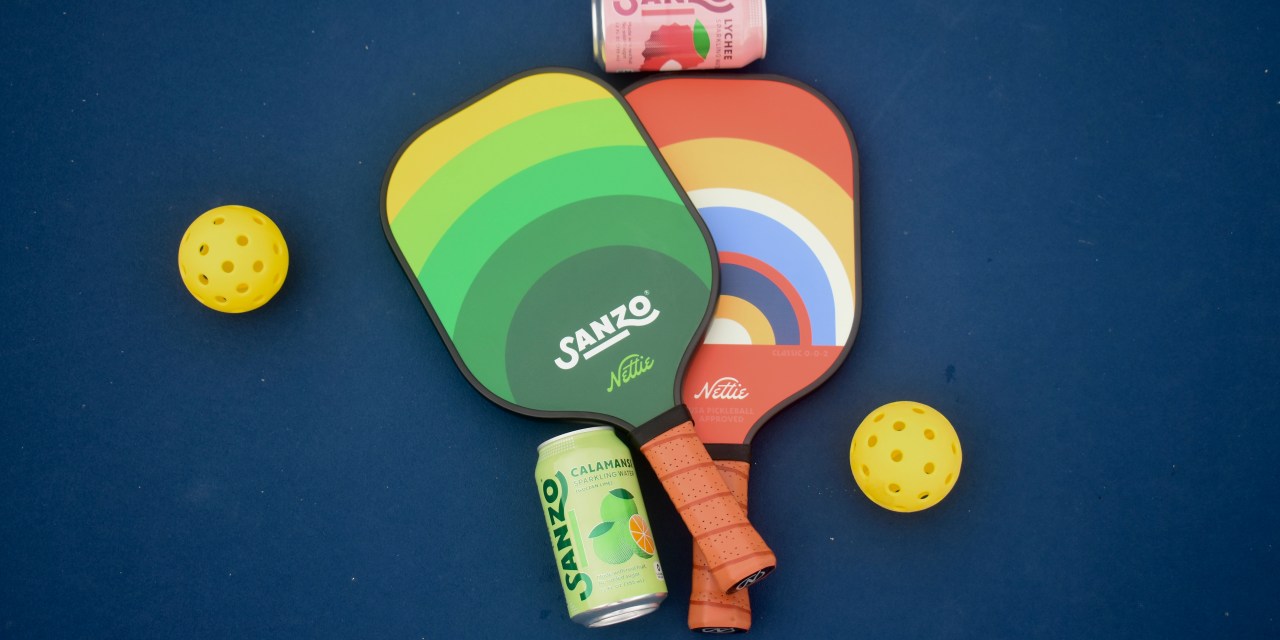 Sanzo
Pickleball appears to be a smash hit among DTC startups looking for a sport to sponsor.
In June, beverage brand Sanzo announced that it became the official sparkling water sponsor of the Professional Pickleball Association. That same month, prebiotic soda brand Poppi announced its partnership with the Miami Pickleball Club, making it the club's official beverage. 
The paddle sport, where players hit the whiffle ball back to the opposing team's side of the court much like tennis or ping-pong, has caught the attention of startups looking to leverage the growing attention Pickleball has been getting. Startups are interested in pickleball for good reason: The Sports & Fitness Industry Association said the number of pickleball players rose by 159% in three years to 8.9 million in 2022. 
Unlike some of the more established sports — like football or basketball — pickleball leagues have a lower barrier to entry for startups. Some sports leagues may already have exclusive contracts with existing partners that would prevent startups in the same category to be a sponsor, said Dan Lobring, senior vice president of marketing at sports marketing agency rEvolution.  
"The nice thing about pickleball is that, because it's new, it kind of lends itself to that startup mentality," Lobring said. He added that sponsoring pickleball leagues isn't as expensive as other established sports leagues but the payoff can be worth it if the sport continues to take off. "You kind of hedge your bet, if it pays off you were first to market." 
Indeed sponsoring established sports come with a hefty price tag. The National Football League earned close to $2 billion in sponsorship fees last year. Partnership deals with the NFL are priced at a minimum of $10 million a year for small companies. In comparison, the Professional Pickleball Association's total sponsorship revenue is estimated to hit about $4 million last year.
Pickleball leagues are also more willing to experiment with marketing activations, said Sandro Roco, founder and CEO of Sanzo. As part of the partnership, the DTC brand will be present at several PPA Tour events, mostly in Southern California. The Sanzo logo will also be seen on the sides of the pickleball courts. 
Just last month, Sanzo participated in its first event with the PPA in San Clemente, California. Sanzo had a booth and a team on the grounds, where they handed out some of its beverages that are inspired by Asian flavors. 
"For more mature sports leagues… there's a very prescriptive way that's been done for decades on how someone might activate a brand. What we love about working with the PPA Tour was their willingness to say, hey, let's experiment," Roco told Modern Retail. "That energy, that real sense of collaboration is what got us very excited to work with the PPA Tour."
Sanzo is further deepening its ties to pickleball by teaming up with a pickleball equipment brand called Nettie to create limited edition paddles inspired by Sanzo's fruit flavors. The paddles will be available for purchase later this summer on Sanzo's website. 
Much like Sanzo, Poppi is also brewing plans to host a number of pickleball events with the Miami Pickleball Club over the next two years. The Miami Pickleball Club itself is a young organization formed in 2022 by celebrities like tennis player Naomi Osaka and football player Patrick Mahomes. To further solidify its partnership, Poppi is also developing a Miami Pickleball Club soda flavor next year. 
Outside the beverage category, other trendy DTC brands like Grillo's Pickles and plant-based supplements startup Ora Organic have also started sponsoring pickleball leagues. Sponsoring pickleball leagues are just one method brands are getting involved in pickleball. Sketchers, for example, signed pickleball athletes Tyson McGuffin and Catherine Parenteau as brand ambassadors last year. Meanwhile, bag and luggage company Vera Brandly teamed up with pickleball gear brand Baddle Pickleball to release a line of pickleball paddles and paddle covers.
REvolution's Lobring said that although the sport is getting a lot of buzz, pickleball still hasn't fully established itself in traditional broadcast media. He added that the sport is yet to be readily available to watch on television, unlike other sporting events. "When we talk about the media reach of any sport, it's how a lot of sports leagues teams can monetize their value," he said.  
Sanzo acknowledges that the strong participation in pickleball is a big draw for the brand. However, Roco added that sponsoring an emerging sport like pickleball allows the company to develop a strong relationship with tour pros. As the company's pickleball sponsorship progresses, Roco said the company is interested in exploring more opportunities with the human side of pickleball.
"I don't know yet what that will manifest into but the ability for us, at a very intimate level, to develop one on one relationships with tour pros is like fascinating to us," he said. Apart from pickleball, Sanzo also had a partnership with basketball player Jeremy Lin last year to celebrate the 10-Year Anniversary of 'Linsanity.'