Athleta's revamped 2024 strategy includes fitness classes & product drops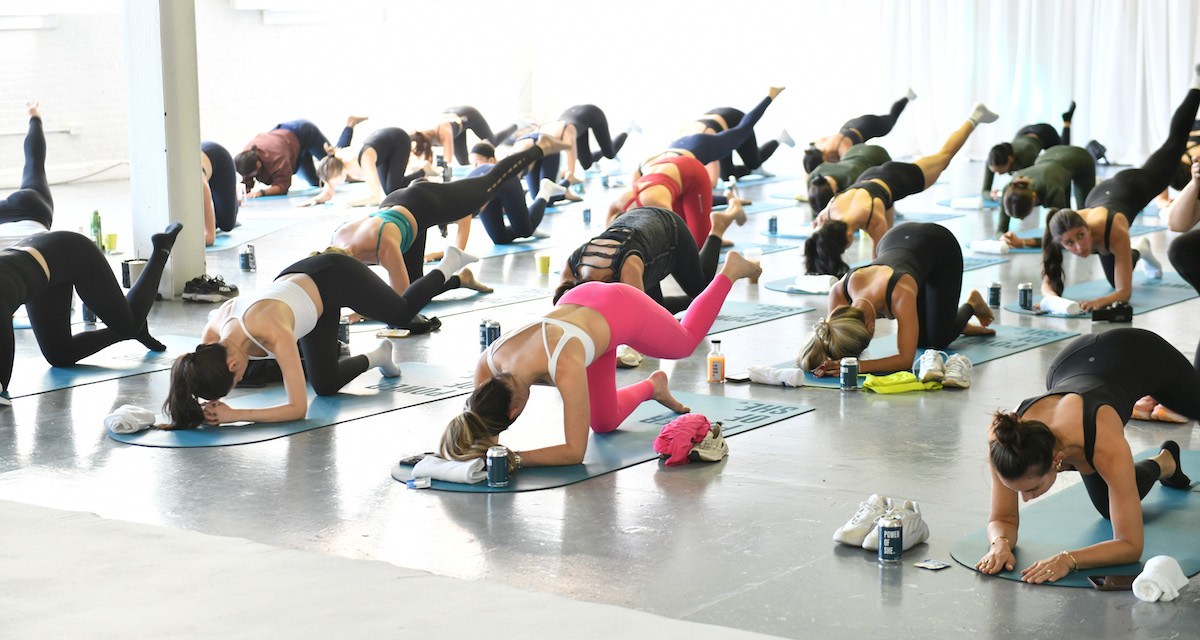 Craig Barritt/Getty Images for Athleta
Gap-owned brand Athleta is heading into the new year with a more refined product and event strategy.
Last week, the brand kicked off the first stage of its new experiential fitness series "Move with Athleta" in New York City. It will bring the activation — which includes private fitness classes for influencers, product giveaways and live music for the public, all in different locations — to cities including Los Angeles, Boston and Miami throughout 2024. In addition, every month throughout 2024, the brand will hold a limited-edition product drop on its website and in its most popular stores. The first drop will happen this December and will include about four to six styles of apparel, CEO Chris Blakeslee told Modern Retail.
It's been a challenging year for Athleta, which reported its fourth consecutive drop in quarterly year-over-year sales on Thursday. Athleta's net sales for the period ending Oct. 28 totaled $279 million, down 18% from the same time a year ago, while its comparable sales were down 19%. In a press release, Gap Inc. said the Athleta team is working to "reengage its core consumer through better product and right marketing." As part of this effort, Athleta — which has more than 230 stores throughout the U.S. — is amping up activations, using more of a scarcity model to generate buzz and rolling out new products for training and running.
These new initiatives come not long after Athleta's competitor Lululemon reported an 18% jump in year-over-year net revenue, $2.2 billion. In September, Lululemon — which also holds experiential events and drops — inked a five-year deal with Peloton.
'Move with Athleta'
With its "Move with Athleta" series, Athleta wanted to spread awareness of its brand, but also help people "understand what is unique and different about Athleta," Blakeslee said. Athleta caters exclusively to women and girls. Its "Move with Athleta" series is thus geared towards women and features its "Power of She" ambassadors, a group that includes Simone Biles and Allyson Felix.
The New York event, which took place on Thursday, had three components: private fitness classes for influencers, public displays on the High Line and an ice skating show in Central Park with figure skater Mariah Bell. The brand expected "thousands of people" to show up to the New York events, Blakeslee said. The "Move with Athleta" setup might look different in different cities, he said, but all will have some overlap in terms of a public aspect, a teaching/wellness aspect and an influencer aspect.
Athleta has held consumer activations before — mostly local fitness classes — but this latest series is the "biggest activation we've ever done in the brand's history," Blakeslee said, pointing to the fact that the series has multiple components and expects more attendees. "Because of how important consumer connection is to the brand, these types of events almost have to be a part of our DNA moving forward," he added.
Athleta does not require people to buy products to participate in "Move with Athleta," but there is a retail component to the series. On Thursday, the first 1,000 people at the High Line portion received a "Stash Pass" for a free pair of Salutation Slash Tights they could redeem at the brand's Flatiron and Soho locations. With giveaways like this, "we hope to drive traffic to our stores," Blakeslee said.
Experiential retail like fitness classes ground to a halt during the pandemic, but more athleisure brands are resuming in-person activities to stay top of mind with consumers. Vuori hosts meditation and movement classes, aura readings and store opening parties, and Beyond Yoga has put on more than 20 in-store events since fall 2022.
More product drops
As far as product itself, Athleta has historically released items on a seasonal basis, averaging about once a month. Going into 2024, however, Athleta will ramp up its number of product releases from 12 times a year to 24. Athleta will hold those additional 12 product releases as drops that will be released in limited quantities. These could include products in different categories or in new colors, Blakeslee said.
Customers will be able to participate in the drops online and in stores. Initially, only Athleta's higher-volume stores will offer the products. The drops will likely start with 12 to 15 locations, then expand, Blakeslee said. Athleta may also tweak inventory of the drops depending on interest. Athleta is considering granting its loyalty members early access to the drops at some point.
Jessica Ramírez, senior research analyst at Jane Hali & Associates, told Modern Retail that she thinks the drops could help drive interest and engagement. When it comes to product, though, Athleta "could do better in the conversation," Ramírez added. "It's extremely competitive and there's a lot of good brands out there."
"If a consumer is going to spend, they will opt for a brand that they trust and that they really like and where innovation is part of that product assortment," Ramírez said. "That [innovation], I feel Athleta has lagged in."
More brands, not just fashion ones, are embracing drops to build hype and gain social attention. Over the last year, the NFL rolled out co-branded products spanning from sweatpants to mini helmets in partnership with Hugo Boss, OVO and Kith. Independent artists, too, are using drops to drive sales on everything from pottery to paint.
Blakeslee, who took over as Athleta CEO in August amid a broader executive shuffle, did acknowledge that Athleta has "work to do." "We have work to do around product design and aesthetic," he said. "We know that. We're focused on it. We have work to do around brand storytelling and just being very clear about who we are and compelling consumers. We know that. We're on it."
"But when I look at the foundation that exists in the company… I'm really optimistic," he added. "I feel even more confident about what we're going to do than I could have as I was coming into the business."