'A marketing ploy that acts as a conversation starter': Inside Manischewitz's merch strategy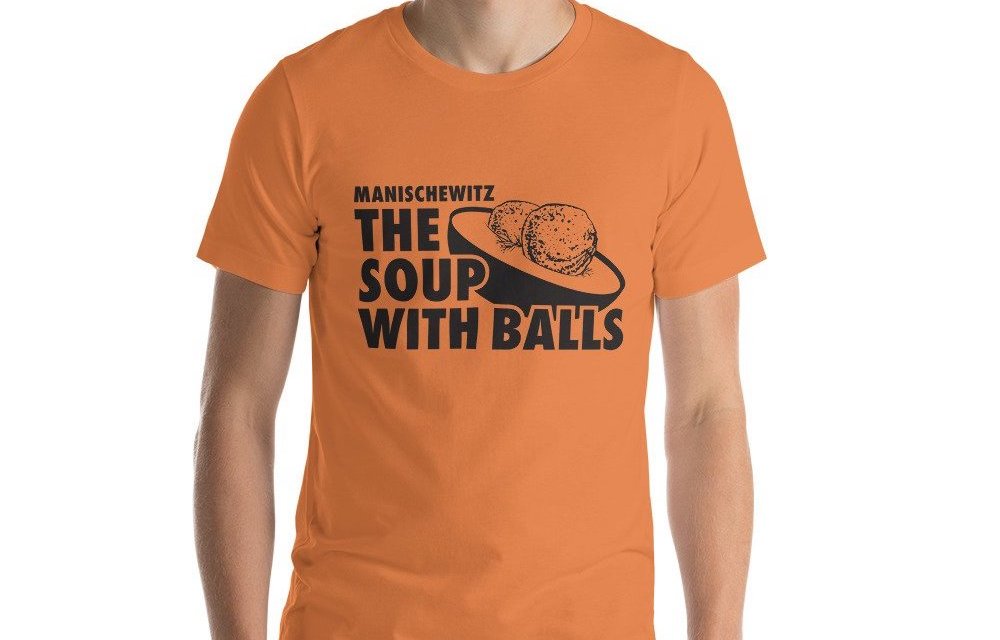 Manischewitz
Manischewitz wants to be on people's tables and in their wardrobes this holiday season. 
This month, the kosher food company released a line of branded merch designed with young, social media-savvy audiences in mind. The clothing items feature tongue-in-cheek phrases like "Home of the Gefilte Dog" and "Manischewitz: The Soup with Balls." The line is exclusively sold through the company's website. 
Branded merchandise has been popular among legacy CPGs for a couple of years. In 2020, Stouffer's released a mac and cheese lounge set inspired by its frozen meal. Meanwhile, Nissin Foods, the parent company of Cup Noodles and Top Ramen, has been on a collaboration streak which included the release of its Cup Noodles x Hello Kitty merch line. A similar playbook is being used by major fast food chains like Chipotle and McDonald's. Now, Manischewitz is joining the parade of beloved grocery brands looking to be worn and memed by young customers.
The new merch campaign was led by New Jersey-based Joseph Jacobs Advertising, Manischewitz's marketing agency which has worked with the company for decades. Joseph Jacobs CEO Elie Rosenfeld told Modern Retail that with the kosher brand being over 130-years-old, "we want to keep our name top of mind," he said of the new line of t-shirts and sweatshirts.
"It's a brand that's relevant to a lot of consumers, for Jewish customers but also beyond," Rosenfeld said. Over the past century in business, Manischewitz has become known for its kosher wine and other popular CPG products, such as matzo soups and gefilte fish. 
"We want people to wear them [merchandise] to dinner and start a conversation around Manischewitz," he said.
Over its decades, Manischewitz has gone from a family-run business, to publicly traded in the 1920s — and, at one point in the 1990s, it was a private equity-owned food corporation. Eventually in 2019, kosher food distributor Kayco acquired The Manischewitz Company for an undisclosed amount. Manischewitz's most recent annual revenue has not been disclosed.
The brand's merchandise is the latest foray into online marketing for Manischewitz. 
Rosenfeld said the agency started cultivating Manischewitz's online voice about a year ago, joining the slew of food brands posting on social media for relatability. The brand's social media voice mainly focuses on satirical humor and recipes. For instance, last spring the Twitter account claimed a recipe of "Hash Brownie Macaroons" will be the Highlight of Passover dinner. The strategy has paid off over the past year, with Manischewitz's gefilte dogs Twitter beef getting coverage from the Wall Street Journal and the Jerusalem Post this past June
This digital momentum made way for Manischewitz's merch rollout. The timing also coincides with Rosh Hashanah and the other upcoming high holidays, where people will be seeing friends and family. "This is the time of year when people think of us most, especially as we go into soup season," he said. 
The brand consistently experiences spikes in traffic around the start of the fall Jewish holidays. According to Google Trends, search for "Manischewitz soup" began spiking in mid September. Similarly, the company's official social media accounts have increased in visibility; for example, the company went viral thanks to its the gefilte dog stunt earlier this year.
Rosenfeld said that the merchandise drop also comes at a time when Manischewitz is gearing to release packaged products that speak to millennials and Gen Z shoppers. While he didn't specify the new SKUs, he confirmed they'll be hitting shelves by the start of 2023. "We just launched a mac and cheese to cater to the kosher space, and have others on the way," Rosenfeld said.
Marketing strategist and investor Nik Sharma said that merchandise is one of the most accessible ways for brands to generate buzz and interest. "Legacy brands, especially those that this generation of consumers has grown up with, will always have an emotional tie to consumers," Sharma said. He pointed to recent examples of companies like UPS and Kirkland capitalizing on this trend. "It's a two-way street — the brands get a walking billboard, and the consumers feel proud and excited to represent the brands they love." 
At the same time, Rosenfeld said Manischewitz has to find balance between being a family-oriented name while appearing relevant to young people. "We're not trying to turn this into a designer sweatshirt, but it's a way to tap into our heritage and create a moment," Rosenfeld said — referring to recent fashion and food collaborations, such as Kith's series of Coca-Cola collections.
Rosenfeld said sales are already coming in for matzo ball shirts, which is driving higher-than-usual traffic to Manischewitz's website. "It's not a huge investment, but it's a marketing ploy that acts as a conversation starter," he said.
The Joseph Jacobs team is hoping that over the next few months, customers will send in images and content featuring their merch, which will be used as part of Manischewitz's user-generated content. "Over the next year, we'll also be expanding the merchandise line based on demand," Rosenfeld confirmed.
"We've been looking to create a voice that's reflective of our history and cultural place," Rosenfeld said. "The idea is to evolve beyond being your bubbe's favorite brand."