Tech companies are racing to make retail stores as measurable as websites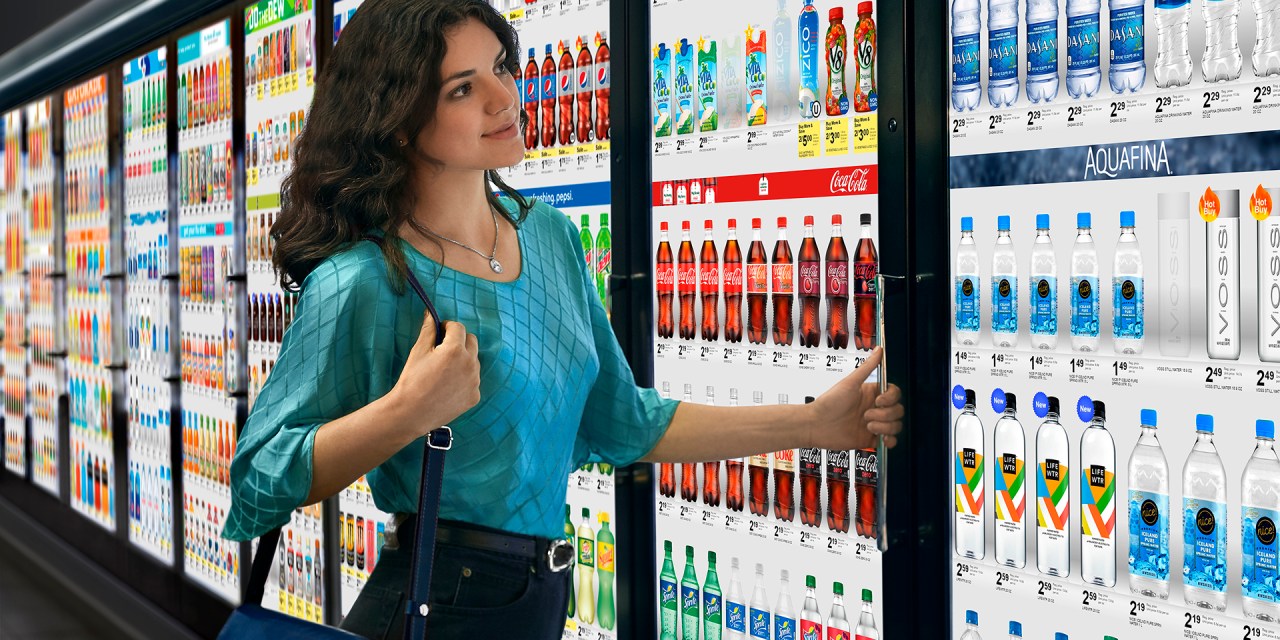 Cooler Screens
Retailers are turning to tech companies to revamp their brick-and-mortar strategies as the relevance of physical stores becomes more crucial post pandemic.
Cooler Screens, a company that turns refrigerated doors into interactive advertising displays, experienced a fivefold increase in in-bound leads at this year's National Retail Federation conference, Chief Revenue Officer Lindell Bennett said. The company has also expanded a partnership with drugstore chain Walgreens, which it first launched in 2019, and is expecting to close ten deals in 2023 with large national retail brands amid increased interest. Similarly, data analytics firm Placer.ai, which is working with over 2,000 customers, said retail is the second largest contributor to its business after commercial real estate and is driving a tremendous amount of innovation with its data.
There are a few industry factors that are driving more retailers to pursue partnerships with retail tech vendors like Cooler Screens and Placer.ai. As the coronavirus pandemic has altered shopping behavior, retailers are finding that they want more data on how their customers are behaving in stores to make the physical retail experience more compelling and efficient. Second, these solutions — particularly in-store advertising displays like Cooler Screens — are helping companies grow their burgeoning retail media businesses.
While tech companies like Cooler Screens are not new, many of them ran into challenges expanding during the pandemic. As some retailers had to close their stores to in-person shopping for months at a time, they weren't as interested in making heavy investments to upgrade their in-store experience. For example, retail-as-a-service platform B8ta attracted a lot of interest before the pandemic from retailers like Macy's, which led a $19 million Series B in the company back in 2018. B8ta took a software approach to retail, charging brands a monthly fee to display their goods at a B8ta store, and offered access to its software which collected data like how much time customers spent demoing a product. The company grew to 20 stores in North America before the pandemic, but shuttered in March 2022 after foot traffic took a nose dive, and the company failed to reach a deal with landlords that would allow it to stay afloat.
But now, there's a renewed interest in these types of services as more people have resumed in-store shopping as Covid cases have subsided. In-store visits to malls rose 40.3% in December last year compared to November, according to data from Placer.AI.
A new in-store experience
These companies help retailers answer questions like: 'Where do I want to put a store?' 'Which products do I want in which locations?' 'How to sell more of this different set of items across the store?' or 'How to draw people to the over-the-counter and pharmacy area of the store?' among others.
"We used to view retail locations as purely a conduit for sales," Ethan Chernofsky, senior vice president of marketing at Placer.ai said in an interview with Modern Retail. "But retailers are recognizing that it's a part of a journey and an experience." Placer.AI is a location data vendor that helps retailers measure foot traffic counts and dwell time, among other analytics. Placer.Ai charges companies on a subscription basis, and says on its website that it customizes its subscription packages on a client-by-client basis.
"The more they can measure it, the more they can understand those impacts, the more they can create a better omnichannel experience," Chernofsky added. "And all of a sudden, your digital activities, your activities in the physical retail world are all working together to create something much better for the end consumer."
"We haven't met a retailer who isn't actively using data like this, or are actively in the process of seeking out data like this," Chernofsky said.
Cooler Screens' Bennettt argued that in the post-Covid era, as more people are going back to stores, there's a greater need to grow retail media specifically in stores, since that's where people are at.
"Brands want to be able to measure what's happening when they're with people. So if they buy a plastic placard, they get some sort of a measurement like two months after it's already been in-store and they try and make some correlation there. But if they're able to do that in a dynamic and digital way, that's a game changer," Bennett explained. Cooler Screens turns freezer doors at stores like Walgreens and Krogers into digital screens with ads and images on them.
Cooler Screens, founded in 2017, had its first major deal in 2019 when it partnered with drugstore chain Walgreens to roll out its Cooler Screens platform to 50 stores in the greater Chicago area. Since then, that partnership has expanded, and Walgreens has had Cooler Screens installed in roughly 700 of its stores as of March 2022. The company is also running a pilot with convenience store CircleK and supermarket chain Kroger.
On its website, Cooler Screens says that over 180 brands are part of the company's advertising network, including Anheuser-Busch InBev, Nestle and PepsiCo.
Bringing digital ads to the physical experience
Bennett from Cooler Screens said the company's pricing model for ads works on a cost-per-thousand basis, where an impression only counts if there is a live human paused in front of a smart screen for more than one second. "So, guaranteeing that it is a 'verified view' of an ad," he wrote in an emailed response. "Retailer agreements will vary, but based on individual agreements – and retailer needs – we will share costs on technology installation and/or ad revenue," he added.
Data from Cooler Screens has resulted in a 5% to 8% sales lift for brands on average, added Bennett.
In addition to Cooler Screens, there are a number of companies that are trying to create engaging types of store signage like Lancom Solutions, Barrows Global and Spatial.AI, which in turn, help retailers create their stores of the future.
Retailers have always wanted to modernize their in-store experiences, but previously there was lack of availability of good offline data, pointed out Chernofsky. "What's happened in the last few years is that there's been this kind of real significant increase in the quality of things like location data and how that enables retailers to think," said Chernofsky.
Outside of in-store sales, Bennett said companies like Cooler Screens provide customer data "in the path to purchase" to both brands and retailers. "The premise of Cooler Screens is actually to a be in the point of purchase. The path to purchase where you can help people make the right decisions, whether that's the cooler door, typically considered a high traffic area in the store, where people are buying beverages, buying dairy, or ice cream etc," he added.
Cooler Screens uses sensors to collect information like the time for which shoppers paused near the screen or their distance from the cooler screen, which theoretically will help retailers attract more customers to the cooler door by changing their digital banners etc. "What you're doing is you're making it a dynamic experience based on what the shopper is doing and how they're engaged to try and give them the right content at the right time," he said.
The demand for mapping in-store measurements is also being driven as a result of the rise of retail media. More retailers ranging from Walmart to Kroger are seeking to emulate the success of Amazon's fast-growing advertising business, which generates roughly $30 billion a year, and in turn build their own advertising networks.
Bennett said, just like retail media networks have the ability to show highly targeted and relevant digital ads to people based on their past online shopping history, Cooler Screens is trying to do something similar for the in-store experience.
Chernofsky added that majority of the industry was under this very mistaken assumption, that brick-and-mortar retail is essentially slowly dying, and being replaced by e-commerce. "What we saw throughout the pandemic was that not only is brick-and-mortar retail not dying, it's more important than it's ever been. It's just the values that we ascribe to it are changing. So, the necessity and the availability are aligning. And that's what's driving this proliferation," he said.
Ultimately, Chernofsky believes this heightened demand will lead to global expansions for retailers based on improved creative decisions as a result of things like location data and foot traffic.
"I think you're going to see this become table stakes, like it's the price of entry is having this level of data. And then there'll be really smart, talented people at Target and Walmart and every other retailer who are processing all this information and making the decisions," he said.