Shopify's latest product updates focus on AI tools to entice smaller merchants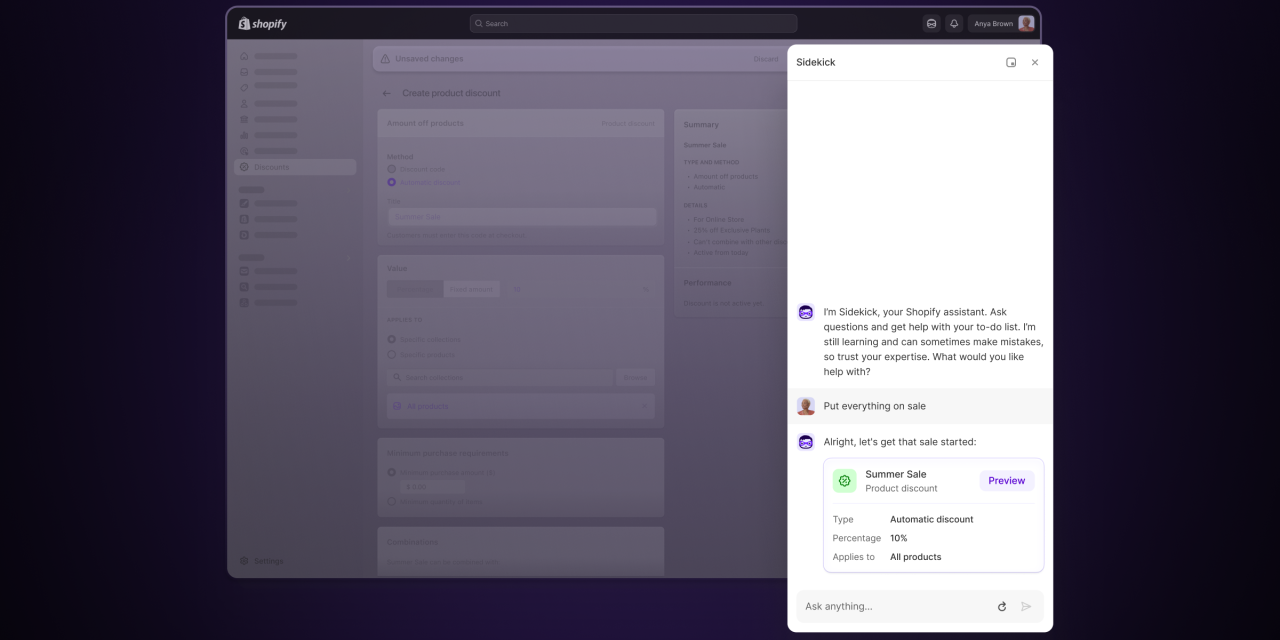 Shopify
AI is becoming a bigger priority in Shopify's product roadmap.
On Wednesday, Shopify held Editions, a twice-annual event where the e-commerce giant unveils a flurry of new product announcements. This time, much of the focus was on releasing artificial intelligence tools to help merchants cut down on the time it takes to complete administrative tasks.
At Editions, the company unveiled Shopify Magic, a collection of free-to-use AI features. Shopify Magic can do things like generate a customized blog post on the merchant's behalf, draft answers to most commonly asked customer questions, make AI-driven email campaigns as well as write product descriptions. Shopify CEO Tobi Lütke already previewed one of the tools under the Shopify Magic umbrella, called Sidekick, earlier this month. Sidekick is a conversational tool that answers merchant queries ranging from "how to set up a discount for a holiday sale," to "why are my sales lower from last Monday?'
Other new tools introduced by Shopify on Wednesday include Marketplace Connect and Shopify Collective, both of which make it easier for merchants to branch into wholesale. The company also unveiled a new business credit card called Shopify Credit. Put together, these announcements show how Shopify's product offerings are evolving to fit the needs of direct-to-consumer merchants, many of whom are looking to expand into wholesale or cut internal costs amid economic volatility. Consultants and developers say that Shopify increasingly wants to become a business hub for small merchants, and appears interested in weeding out their reliance on other third-party apps to do business, while also reducing Shopify's own costs.
According to Shopify President Harley Finkelstein, "the theme here really centers on AI."
"There are a ton of entrepreneurs that are starting businesses and building businesses completely on their own. And, so, this idea of giving them this superpower [AI] is generally a very big deal," Finkelstein told Modern Retail in an interview.
The company has been beta testing Shopify Magic for two months. "We're infusing AI across every product and every workflow across Shopify, and we think that's gonna propel these businesses," he added. Finkelstein said that Shopify's AI efforts can not only help small merchants grow their businesses faster, but also help more established ones to reduce the pain points of running of a large business at scale.
That was the focus for many other product announcements to come out of this year's Editions: how to simplify the many tasks needed to run a modern e-commerce brand.
For instance, Shopify's new Marketplace Connect app will make it easier for Shopify merchants to sell on other marketplaces, including Amazon and Walmart. While merchants can start for free, they will eventually be charged a 1% transaction fee for Shopify synced listings after the first 50 orders, up to a maximum of $99/month, the company said.
But as Rick Watson, an e-commerce strategy consultant and CEO of RMW Commerce Consulting pointed out, most merchants are "already selling on Amazon."
"Shopify had shut down its connector to Amazon several years ago. It hasn't had a replacement product for a while," Watson said. "I thought it was interesting for Shopify to reintroduce this because it is a recognition of the importance of Amazon which we haven't always heard from Shopify," he added.
But according to Watson, everything from Shopify Magic to Marketplace Connect are things that smaller merchants are going to value more than others. Besides that, Shopify continued its efforts to advance its checkout with new customized functionalities like pickup points and delivery dates added in with the help of a checkout editor.
For example, Shopify Credit is designed for young startup owners who may not have access to as many financing tools from traditional banks. It will be available to merchants based on their business performance and not their credit score. Merchants will need to apply for this pay-in–full business credit card, the company said.
"There's very little in there that you could see benefitting a large merchant," he added. "Overall the last 'Editions' release was massive, this seems to a be a bit smaller" and covers products the company has worked on in the last six months, added Watson.
At Editions, Shopify also launched Shopify Collective, a tool that lets merchants club and sell ancillary products sourced from other Shopify sellers in a marketplace setting. Finkelstein said, "it is an effort to turn existing Shopify sellers' catalog of products into available wholesale products for other merchants."
With Collective, the merchant will get a commission out of the sale of these related products placed through its site, but Shopify did not share specifics about it how much that would be. The merchant does not need to buy additional inventory, because all brands will ship its products directly to the customer.
Shopify said earlier this month that Drake Related, the official website to shop for Canadian rapper Drake's products, used its Collective commerce tool. On July 6, Drake Related launched five products in collaboration with other Shopify brands like Funboy, Elder Statesman and Krink. Shopify said 72% of sales from this new product collaboration came from first time buyers.
Watson said the focus here seems to be on Shopify's historical business, which has been to help small digitally-native startup brands achieve scale.
In regards to Shopify's push around AI, Watson wondered exactly "what is the ROI of these AI features for the average small business owner?" Watson said this potentially helps Shopify cut down its own customer support team and employee costs. But, because AI is such a new field, there are few established metrics to measure how quickly merchants are able to grow their business faster because they are using AI tools. "I don't get a sense that this could double sales," he added.
Mark William Lewis, founder and chief technology officer at e-commerce development and design firm Netalico, agreed. He said that his clients that have been using Shopify Magic found it "similar to ChatGPT." Lewis said that while it seems useful, "it's unlikely to be a game changer, but it's nice to have."
Lewis added that Sidekick is targeted towards Shopify's live chat function, which gives additional support to merchants and is aimed at reducing wait times without adding more staff. "It's expensive to staff that team, because Shopify has over a million merchants."
Overall, Lewis said that Shopify's AI tools have the potential to leverage Shopify's admin data, but the question is "whether Shopify will be able to program it to be different compared to what external tools rivals like Google have to offer."
As Watson sees it, Shopify is trying to become a business hub for its small merchants that started their business with the tech company. "Shopify Credit is a push in the same vein," he added.
Ultimately, Shopify is pitching itself to smaller merchants by using AI as a way to help them to save time and money. "These announcements are catered to lower-end merchants and will appeal to them," said Lewis.