Meta announces new 'Promotional ads' tool to highlight deals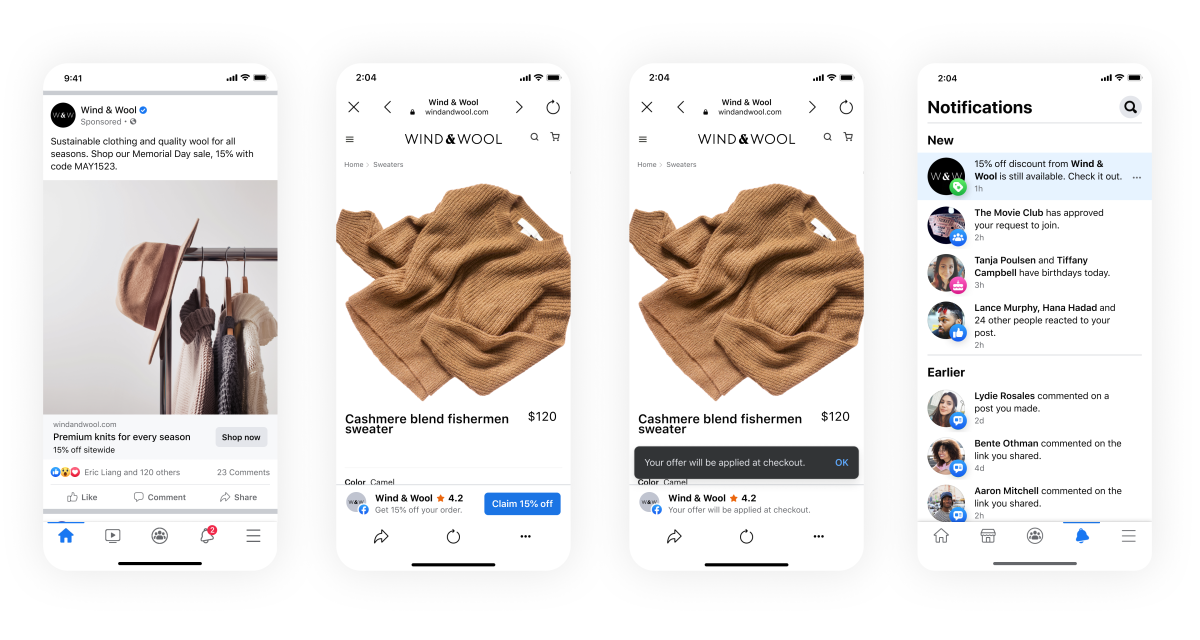 Meta
Meta is testing a feature called 'Promotional ads' that the tech giant claims will make it easier for shoppers to take advantage of seasonal sales, first-time purchase discounts and holiday promotions offered by brands.
As such, when users see an ad with a special promotion on Facebook, they can click through to claim the offer, which will automatically apply the discount code, rather than having to type it in manually at checkout. In a demo, Meta showed that when a user clicks on a Sponsored Post on Facebook, it will take them to a product listing which carries a discount label at the bottom right, that reads "claim 15% off" as an example. The tool, Meta said, is available to select advertisers in the U.S., U.K. Canada and India in this pilot stage.
Separately, Meta also said it is testing adding a new functionality called Conditional Questions to its lead generation tools by updating the advertiser's question and answer forms automatically based on customer responses. These new tools come a week after Meta announced it was testing a slew of new advertising products powered by artificial intelligence. Specifically, it introduced an AI Sandbox, its so-called testing ground for generative AI, with tools that can create different text and image backdrops. All of these offerings feed into the tech giant's post iOS 14 strategy, in which Meta has turned to artificial intelligence and other tools to help advertisers better optimize campaigns.
Conditional Questions, for example, gives advertisers a way to gather information on users and better zero in on their interests. An educational institution could use the tool to ask questions like, "What degree are you interested in?" Based on that answer, the subsequent questions would dynamically update to guide the person to more information about a specific program.
The Facebook parent said soon brands will have the option to "overlay its Instant Forms" feature on their website using its in-app browser. Instant Forms are used to obtain information like name and email address from the people that view Meta ads. The company said both Instant Forms and Conditional Questions are currently being tested in the U.S. market on Facebook and will be offered globally in the summer.
"Anybody who's been advertising on this platform before iOS and after iOS knows that it's been really hard to understand a greater sense of who your customer is, where they're coming from, what products they're interested in. And so I think any type of tools that can allow brands more visibility is fantastic," said Meredith Schoenberger, creative director and partner at Biddyco, an advertising agency in California that works with Magic Spoon, Blume and JuneShine among others.
However, Schoenberger was quick to add that with promotional ads, her big concern was that it pushes brands "that don't really have the margins into more of like this constant sales cycle." Schoenberger said that "not everybody can run a sale every month, nor should they and so that would be my only hesitation with this promotional ad kind of hub. It just worries me that smaller brands aren't going to be able to keep up in terms of running the promotions that are needed to be competitive within that framework," she said.
"And then once your campaigns become more familiar with the sales and attraction and momentum that comes from running those discounts. It's really hard to break out of that," added Schoenberger. "It costs brands a lot of money to run sales on top of ad dollars and spending for that purchase."
Despite this, Shoenberger lauded Meta's pilots on lead generation and said those could be "fantastic" if brands are able to customize and guide customers to the products that they're most likely to purchase.
"I think that's a really creative way that can almost maybe replace the function of a quiz. It would then allow you to just very quickly direct customers to either product categories or specific product," she said.
At a high level, according to Katya Constantine, founder and CEO of agency Digishopgirl Media, this year Meta has made a "big push on creatives," an area that's incredibly important for ad performance.
The AI Sandbox, she said, "helps brands and agencies to be more nimble and not as dependent on design resources." She went on: "Some of these AI tools like Sandbox and all the things that they're rolling out really help advertisers take advantage of Meta in a more efficient way while not being as dependent on design. And, creative is probably one of the most important things from an advertising perspective."
"In today's economic environment, it's important for businesses to find the right customers, and for people to find the best deals so their dollars go further," wrote Helen Ma, senior director of product management a Meta in an emailed statement. "That's why we're expanding our lead ad capabilities and testing this new promotional ads format, so people can gain more information about a brand's product or service as well as access to deals that help them save."
Despite all the new ad changes Meta has introduced, Constantine pointed out that it still has gaps in its ad offering. She said Meta does not have a video generation ad tool "given how important video is for Facebook," while rival Google has a tool to streamline creating YouTube ad assets.
To add to that, BiddyCo's Schoenberger said while Meta is on the right path in terms of incorporating AI, she thinks the tools are just not advanced enough. "The AI Sandbox tools feel a little bit more like we're jumping on the AI trend versus really allowing advertisers and brands to build creatives or ads that perform in 2023," she said. "We know a lot of things to be true about that creative performance pendulum right now."