How Shopify's partnership with Drake lays the groundwork for future celebrity collaborations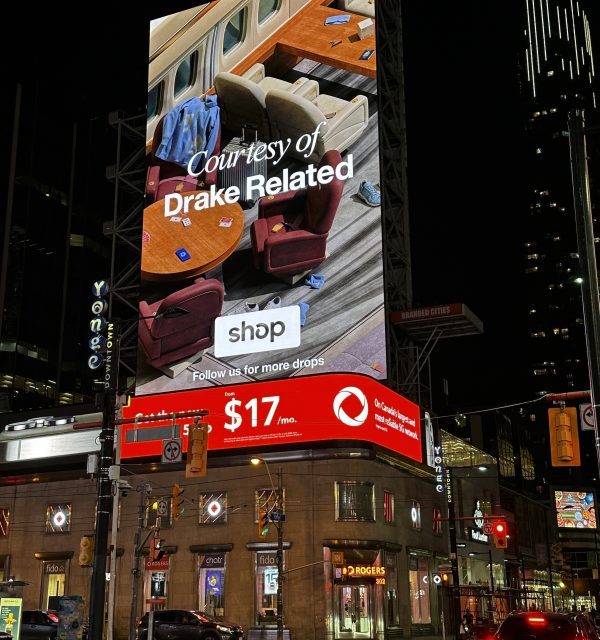 Shopify
Shopify's buzzy partnership with Canadian musician Drake hints at the e-commerce platform's future plans with celebrity commerce.
Since April 2022, Shopify has been trying to expand its horizons beyond powering brands' e-commerce websites to prove itself as a worthy partner for influencers and celebrities. And Shopify's collaborations with Drake in particular serve as a model for how the company is looking to work more closely with celebrities. Shopify looks to not only power the e-commerce site for a celebrity, but also often looks to these celebrities to help them test out features that Shopify plans to roll out more broadly.
Drake Related, an immersive e-commerce site that sells Drake merchandise and related products, was first built on Shopify in 2020 and the store was revamped more recently in July 2023. Then this summer, when Shopify created a native dropshipping tool called Collective, Drake Related was one of the first brands to test it out and use Collective to sell products from other brands on its website. Collective has since been offered to other brands. And in September, Shopify went on tour with Drake in Canada and North America, beaming a 10 foot by 10 foot QR code at Drake's concert venues that fans could scan to go directly into its Shop app to get freebies, including unreleased Nike sneakers.
As Shopify sees it, this entire project has been a way to see how the technology company can insert itself into pop culture. Lindsay Craig, director of brand for the Shop app who led the initiative, told Modern Retail the biggest macro learning while working on Drake's projects has been that people like hybrid online-offline experiences. "I'm excited and eager to do more collaborations like that, where we harness our technology in new ways for those hybrid experiences," she said.
While there are many celebrity-owned businesses powered by Shopify like Kylie Jenner's Kylie Cosmetics and Kim Kardashian's clothing brand Skims, Shopify's collaboration with Drake represents a big shift in how it traditionally works with brands and creators. Shopify's collaborations with celebrities increasingly involve multiple facets of its business, using celebrities like Drake to promote new tools like Collective or test out unique drops. In the past, Shopify has worked with other celebrities like musician Pharrell Williams and NBA star Jimmy Butler through its creator program to help them launch their Shopify stores, but also to assist with other parts of the business like helping them find a manufacturer.
"The magic in this collaboration was creating a hybrid online-offline experience where we harnessed the power of our app to reward fans who were leaving the concert. We were able to geo-gate it to target people on the ground, but they had the seamless checkout experience of using an app in their phone," Craig said.
Much of the partnership focused on creating more seamless ways fans could buy Drake products. For example, once fans scanned the QR code at the end of the Drake concert, they would be taken straight into the Shop app where they could select their size for a gift from Drake Related, explained Craig. Launched in 2020, Shopify's Shop app was originally meant to track packages. But now, its has evolved to encompass more capabilities that, in some ways, resembles a marketplace.
Craig said it was Drake's team that reached out with this "really cool idea" to have a bat signal outside Drake's concerts in the form of a giant QR code that would surprise and delight fans in some way. Put together, Craig said the Drake Related team is very open to experiment together and eager to reward their fans. "They're the perfect partners for experiments in commerce together," she added.
Drake Related was also created on Hydrogen, a relatively new headless framework from Shopify that was unveiled in 2022. The site allows users to navigate to Drake's studio, lounge, bedroom, closet, El Chico Studios, Air Drake, pool, court and garage. Shoppers can browse a curated range of limited edition items room by room via hotspots ready to be purchased in two lightning clicks.
With Collective, Craig said Drake helped Shopify see Collective through "new eyes." The team at Drake Related, she said, wanted a feature to expand their product catalog to support other entrepreneurs at scale. She said it's what music artists typically do to support upcoming talent to help them get more exposure, but that Drake wanted to do the same for upcoming entrepreneurs at scale.
One of the individuals Drake Related collaborated with was an entrepreneur who operates the brand Defective Garments, going to thrift stores and buying vintage Nike hoodies to stitch together to create unique works of art.
Products from brands like Defective Garments were plugged into the Drake Related website and show up in the form of hot spots when shoppers browse through sections like Drake's pool, his lounge and El Chico Studios. But Drake Related also worked to supply Defective Garments with back stock Nike clothing, so he could manufacture a whole run of hoodies. Craig said, "they dropped two different SKUs together. And it was one of the fastest products to sell out."
Joshua Doner, managing director for gaming at Hulk Labs, said the biggest thing that Shopify has done here is "allowed Drake to directly own the relationship with his customers." Doner works with brands like Forever 21 and DKNY to build out their emerging commerce channels through the Metaverse and gaming among other things.
These celebrity collaborations are more bespoke and often involve unique support, a contrast to the templated plug-and-play experience Shopify has been known for. For example, the live drops at Drake's concerts often happened around midnight or later, requiring the Shopify team to operate a little more nocturnally. "It's very uncommon that we'll do projects like this at midnight consistently," Craig said.
Craig said going forward Shopify's celebrity strategy will focus on creating really unique commerce experiences like the Drake tour, that allow fans to connect with brands in new ways. "It's the same theme which is — how do we work with partners who want to surprise and delight their community and help them forge new types of connections at scale through technology," she said.