DTC marketplace The Verticale is relaunching as a sustainability-focused social commerce platform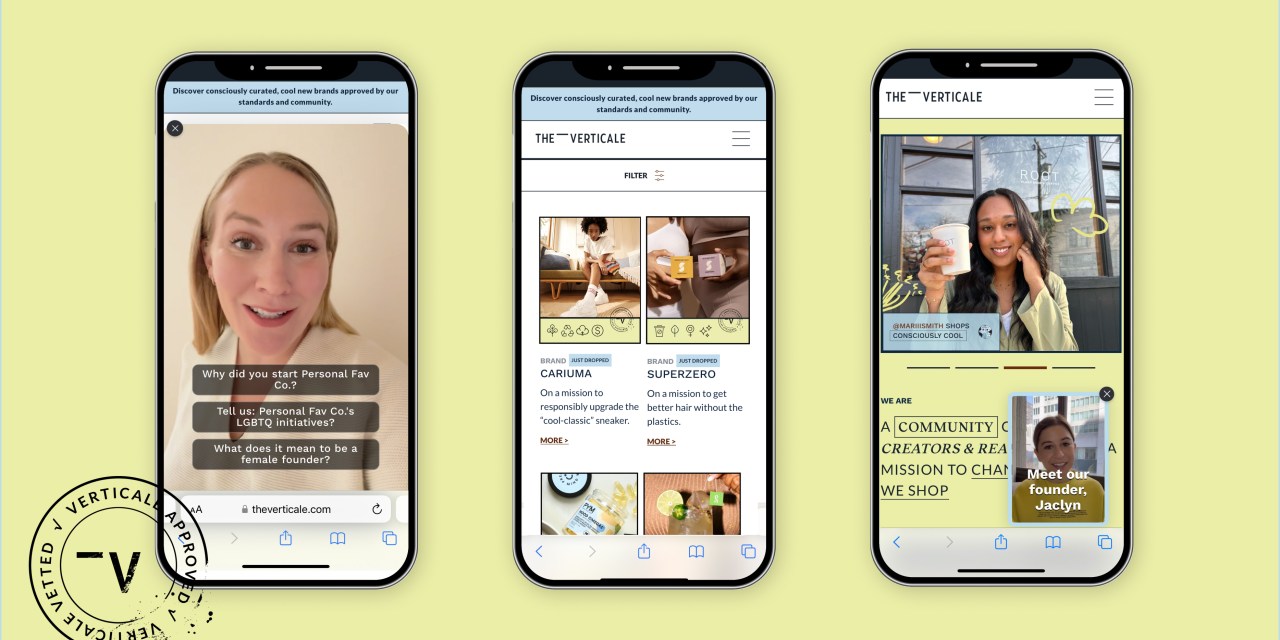 The Verticale
E-commerce site The Verticale is making a shift to social commerce to help shoppers discover socially conscious brands curated on its platform.
The Verticale, founded in 2021, is moving away from the marketplace model — previously, it sold products on its website on a dropship basis. Instead, The Verticale says it will now help its users discover products sold by its eco-friendly brand partners. The Verticale will tell customers more about these products through a designated brand page, through videos from the founders, and through product recommendations curated by influencers — with the hope that all of these various pieces of content will ultimately convince a customer to buy a product. Then, if they click on a product link, they'll ultimately be taken to the brands' website to checkout and convert into a sale.
The Verticale pivot comes at a time when socially conscious shopping behavior is on the rise and consumers are willing to pay more for it, Forrester senior analyst Sucharita Kodali told Modern Retail. A February 2023 study by McKinsey and NielsenIQ found that products making ESG (environmental, social, and governance) claims like "cage free," "vegan" and "eco-friendly" averaged 28% cumulative growth over the five-year period between 2017 and 2022. Separately, a Forrester study found that, before making a purchase, more than half (51%) of Gen Z respondents between the ages of 18 and 23 conduct research on a company to make sure it supports their stance on CSR (corporate social responsibility).
The Verticale will charge its brand partners an onboarding fee and an additional take-rate off of the sale when users go from its platform to the brand's website. The company is relaunching its website with 30 brands including Ayurvedic skin-care brand Aavrani, zero-waste haircare brand Superzero and sustainable sneaker brand Cariuma among others.
According to The Verticale CEO Jaclyn Grauman, the company opted to rebrand itself after discovering through a consumer survey that people preferred checking out on the brand's website. "We found out that when they [shoppers] would get close to checkout, they were very often comparing their experience on our site, to their experience on the brand site," Grauman told Modern Retail.
Grauman said that the consumers' desire to validate product specifics like price and color, as well as their desire to purchase goods from the brand's "hyper specialized" e-commerce stores added to the disconnect. In addition to that, "100% of them perceived us as a place of brand discovery," she said.
"We found that the consumer really doesn't want to be disintermediated from the brand. And as a company, we also didn't want to be competing with our brand partners inevitably. So, we decided to adapt our business model to accommodate for this," she explained.
Grauman told Modern Retail the "the pivot was backed by one of our existing investors." She added that marketplaces can be costly, and "our new business model — especially due to today's market conditions — operates as close to break even as possible."
Grauman said everything about the new social shopping experience on The Verticale is "intentionally designed to feel community-oriented and to drive an interactive and humanized user experience to meet the needs of modern millennials and Gen Z consumers."
The invite-only platform, which sells goods priced between $80 to $100 (on average), is working with 30 creators and tastemakers, including Amy Liu and David Komisarchik, to raise awareness about its rebranding. The company is also giving these creators dedicated pages to promote product recommendations on The Verticale in the coming weeks.
"That's a big piece of it. And then, beyond that, there are a number of additional marketing channels. Our most successful marketing channel has always been our email newsletters. So, that's something that we're leaning heavily into," added Grauman.
The platform's vetting process is based on specific criteria including zero waste, ethical production and clean ingredients among others. The site carries scorecards to show how each brand meets that specific criteria. The company has also added new brand partners to its existing roster with names like multivitamin brand Ritual and swimwear brand Andie Swim. "Some of those are brand partners that we previously worked with some are new that we had existing industry relationships with," said Grauman.
The Verticale has always relied heavily on content to deliver brand stories, added Grauman. For her personally, hearing directly from the founders is one of the things that has influenced her the most as a consumer. "I would say that's a very big leading force as to why we wanted to bring those videos to the platform so that consumers could hear those stories firsthand," she added.
To start off, The Verticale has one "meet the founder" video embedded on each brand page. These are 10- to 15-second-long videos from the founders, where they introduce themselves and why they started their companies. Then, they encourage shoppers to ask questions about the brand and its products.
The company, which has partnered with Tolstoy for its video integration, is planning to add more videos to various brand products over time, said Grauman.
According to Forrester's Kodali "about a fifth of U.S. consumers say that they seek out socially conscious brands," as there is "just more awareness of wastefulness and carbon footprint."
But Kodali warned that, "There's a lot of greenwashing that's happening, [and] I think that consumers are also more conscious of greenwashing," she said. That's a challenge that The Verticale will continue to face as it scales — convincing customers that the brands on its platform are not just greenwashing — though The Verticale does address this through its brand scorecards that dive into exactly how a brand fares in sustainability efforts.
"If there were actual CSR reports that can be put out or some kind of an auditable paper trail, that can be valuable," Kodali said.