Ghost trucks emerge as a potential solution to the disappearance of supermarket product sampling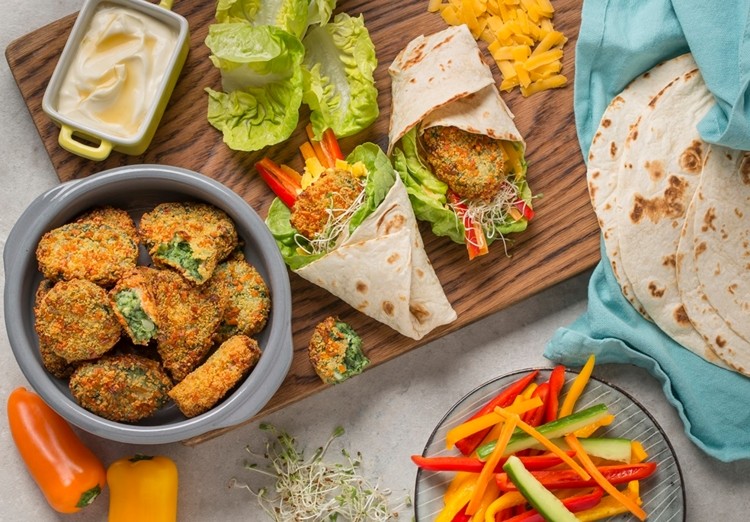 Supermarkets have remained open during the pandemic, but let's face it, a key reason to go to the grocery store is to wolf down free samples.
One frozen food company is testing out a new approach to product sampling — one that occurs outside of grocers completely. Strong Roots, which manufactures plant-based frozen products, began testing out a partnership with a ghost food truck in Jersey City, New Jersey. Ghost food trucks are part of a growing subsection of the restaurant industry; instead of opening a restaurant with seating (pandemic permitting) and in-person service, these kitchens operate online-only restaurants that are distributed via delivery apps like DoorDash and Uber Eats. Individual kitchens often cook for numerous different menus online, creating an almost white-labeled and opaque dining experience.
The Strong Roots experiment a small test that the company is hoping will blossom into a national program. While many CPGs struggle to figure out new ways to get their food into new customers' hands, Strong Roots thinks one avenue may be by selling directly via delivery apps.
The collaboration began in May, and happened simply because Strong Roots founder and CEO Sam Dennigan lived three blocks away from a ghost truck. He had walked by it many times and long considered making a trial partnership. In Ireland the U.K., Strong Roots had tried to ink deals directly with platforms like Uber Eats and Deliveroo. "They didn't see the opportunity with plant-based offerings," he said. "Most of the money earners are [products like] pizza or french fries."
But the New Jersey-based Ghost Truck Kitchen was interested in trying out a collaboration. Dennigan and the truck's founders Andrew Martino worked together to craft a menu that would best showcase the food. Even if it wasn't the perfect marriage, both would get some helpful insight, Dennigan reasoned. "He got a new menu and I got a new channel," he said. The decided-upon dishes include a buffalo cauliflower sandwich as well as a beet and bean burger banh mi.
Martino offered the products on the menu for his online-only restaurant (which also sold meat dishes) and Strong Roots made its own standalone Strong Roots-branded menu too also available on the delivery apps. With each purchase, Strong Roots send out marketing material, including brochures and coupons.
The Strong Roots products on the menus are becoming best-sellers and local supermarkets are seeing an uptick in coupon use in the regions to which the ghost trucks deliver. Menu items sales, the company told Modern Retail, have grown more than 50% month-over-month. Before, Strong Roots had an allotted number of SKUs it would set up in grocery store and other in-person sampling contexts. Now, those products are instead being used for dark kitchen dishes.
"This is giving us household penetration," Dennigan said. The idea is to get the Strong Roots name out to people who otherwise wouldn't have heard of it. In this case, it's people looking for delivered meal options via food delivery apps. "People are getting experience with the brand," he said, "they are choosing the brand over other stuff on the menu and getting a positive experience."
In Strong Root's eyes this is a pure performance marketing play. Instead of giving out free food inside retail stores, it's giving those products to the trucks and having it available in regions where Strong Roots is available. Currently, the products can be delivered to five different zip codes in New Jersey. It advertised the products on the food delivery platforms, as well as ran targeted social media ads to people in those regions. Each post provided a link to the delivery platforms where customers could buy the products, as well as made it clear the food was also available in stores like Whole Foods.
Targeting potential customers outside of the grocery store makes for a harder path to purchase, said Jason Goldberg, chief commerce strategy officer at Publicis. "As people shop online more, [brands] lose the chance for serendipitous discovery." While Strong Roots' program one way to gain greater awareness, "the challenge is that you're getting the customers at a different point in the consideration cycle," he said.
Goldberg noted other brands trying similar ideas, albeit a little more expensive. Some package goods companies, he's noticed, are giving out free samples at stores but they are individually sealed and intended to be tried at home.
The plan, said Dennigan is to try the New Jersey collaboration for six months and then figure out what worked. Right now, Strong Roots is building a case study, and is considering expanding the program nationwide. "I think it's a really sustainable way for brands to market," Dennigan said.