Brands are tiptoeing into Discord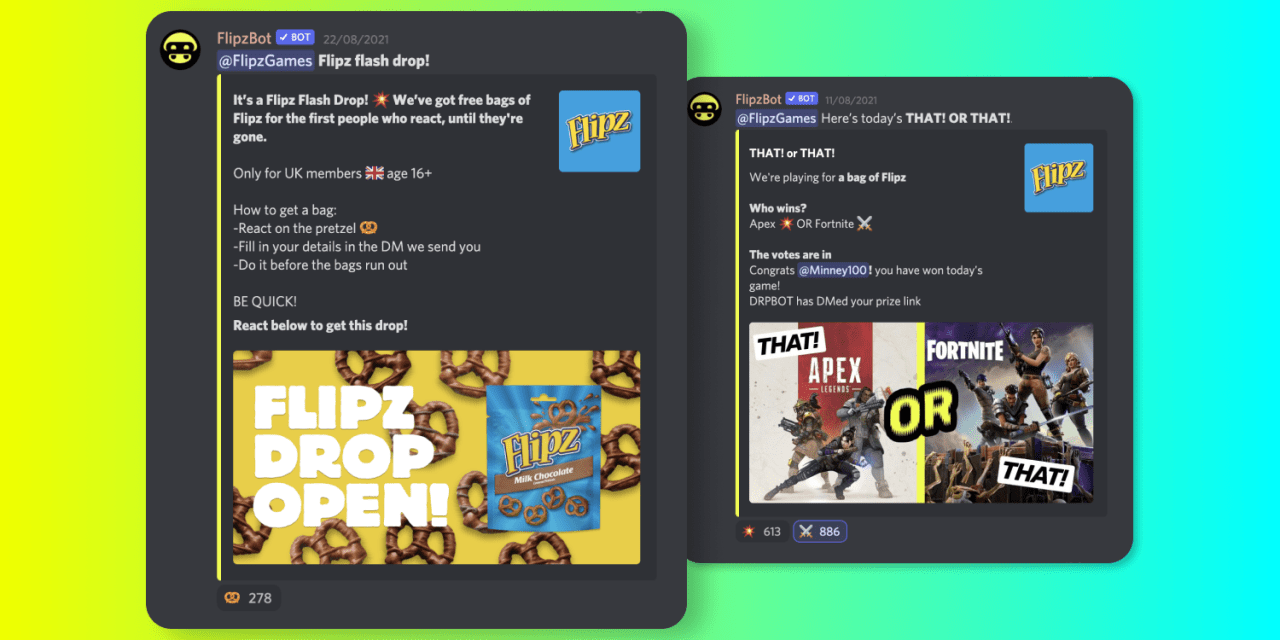 DRPCRD
Discord, the popular chat network that allows a mix of text- and voice-based channels, might not be the most natural marketing channel, but brands have increasingly explored how to use it to promote their products.
Resale site StockX debuted a Discord server in June, and brands like AllSaints, Chipotle and Jack in the Box have all hosted events and Q&As in their own Discord servers. They see it above all as a way to stay engaged with pre-existing fans — but some companies are also, in small ways, trying to get their foot in the door with new audiences, too.
Launching a campaign on Discord is no easy task. The difficulty is that Discord is not designed to be a social network the way TikTok and Instagram are. The platform might boast more than 150 million monthly active users, but they are dispersed across thousands of smaller servers and are therefore difficult for brands to reach. Discord, too, doesn't have any discoverability or virality features, which means that even a well-run brand campaign would not likely gain traction or visibility outside of the servers those brands create. And Discord doesn't allow ads — the platform earns money through users that pay for its Nitro subscription service.
Such a closed, decentralized ecosystem might not seem like a place for brands to, but in recent months, a growing number — including those outside of the gaming world — have begun testing the platform.
"I would say, personally, Discord probably shouldn't be at the top of your list if this is your first foray into doing stuff with gaming [and gamer communities]," said Jamin Warren, founder of the gaming-focused marketing consultancy Twofivesix, but "it tends to be a good tool for bottom of the funnel," meaning to engage a people who are already inclined to purchase from a given brand. Discord isn't built to help brands find new audiences, he said.
Launched in 2015, Discord first became popular in gaming communities as a way to communicate with other players during the course of a game, but the company has since tried to position itself as more than just a conversation hub for gamers. Since last May, the company has talked about courting users with a wider array of interests, hoping to become a platform, as its new CMO Tesa Aragones put it, that "runs the gamut from creative collaborations, to math tutoring, podcasts and avocado smoothies." It recently paid for a TV ad featuring Awkwafina and Danny DeVito as a part of its first brand campaign, and Aragones in July held an "agency day" to introduce marketers to the service for the first time.
The current Discord brand playbook
Most of the approaches that brands have taken on Discord so far have revolved around creating their own servers. These are, essentially, dedicated landing pages with multiple topic channels, split into a mix of text and audio chats. Using these, brands have tried to invite in existing fans.
Cashmere Agency, the marketing agency that ran the Discord campaign for Jack in the Box, has said that Discord's main benefit is its ability to help brands form "relationships around common interests and having discussions in real time." The company, which auctioned off a NFT and teased a forthcoming product exclusively on the server, said it brought in 7,664 members by the end of its first weekend.
Some brands are focusing on their own products, but others have created themed servers that appeal to people with overlapping interests, even if the brand itself is not at the center: notably, Hot Topic recently launched an anime-focused Discord server called Anime & Beyond.
"Your audience is probably already using Discord, so you're not asking them to create a new behavior," said Warren. When he sees new brands creating Discord servers, he said, "you have to have a longer-term plan for it." He added that he questions the longevity of a branded server: "where is this thing going to be a year from now?"
While starting a new server from scratch might be the most logical approach, other agencies are trying other tactics. A marketing agency called DRPCRD has been partnering with creators who run popular Discord networks in order to stage product drops on those servers.
In its first Discord drop, the agency worked with the chocolate-covered pretzel brand Flipz and a limited pool of servers — just six to start. DRPCRD used automated games embedded within each server in order to give away the product. Across the servers, users competed against a Discord bot playing a game of rock-paper-scissors, and the winner received a bag of Flipz. DRPCRD ran the game three times a day, at 3 pm, 7 pm and 9:30 pm, in addition to other in-server games and activations.
"It's not been built to handle brands," Tim Mitchell, co-founder of DRPCRD, said of Discord. "We've seen a handful of brands starting servers," but, of the brand servers he has seen so far, "if you actually look on there, it's not the dream conversations that you're hoping for" as a brand.
A different type of social platform
There are some roadblocks to this influencer-based approach gaining more widespread popularity. Most creators with popular Discord servers source their audiences from other platforms, like YouTube, TikTok or Instagram; they offer Discord channels as a way to interact more directly with their fanbases. A brand that wants to work with a certain creator might not necessarily have a reason to show up on that creator's Discord server when they could, say, appear on their YouTube channel instead.
Even the mechanics of a product drop on Discord can be challenging. It's hard to get data on who exactly is participating. The Flipz activation was limited to the U.K., for instance, and while DRPCRD tried to focus on mostly U.K.-centered servers, there was no way to geo-target the campaign to ensure that only people in the U.K. saw it. "Inevitably you're going to reach people above and below certain age thresholds, in countries you have no interest in reaching," said Mitchell.
Pulling metrics is also difficult. DRPCRD is able to track how many people played a given game and how many times each user played it, the number of weekly active users on a Discord server and the total percent of all members of a server who played. Otherwise, numbers are difficult to come by — but Mitchell considered these early-stage challenges to be part of the appeal of Discord as a marketing platform: "The opportunity now is the fact that it's so rough and raw," he said. 
Regardless of whether or not Discord is the most natural fit for marketing, Will Cookson another co-founder of DRPCRD, said that companies have started asking about it more and more in recent months. "We've got clients saying, how do we use Discord?" he said. Because it is such a personal and decentralized platform, he is cautious of being perceived as an intruder in the space: "Our model is let's go to the party, let's take the brand to the party, but do it in a good way, do it in a fun way," he said.