Why Melissa & Doug's co-founder is using a traditional retail model to launch her new wellness brand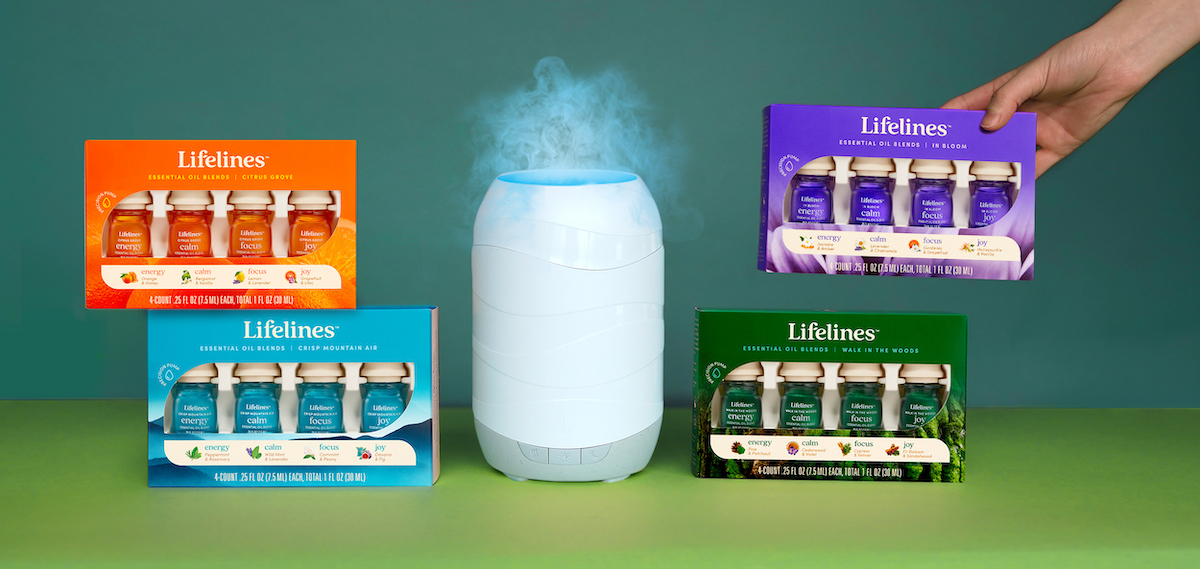 Lifelines
One of the founders of the toy brand Melissa & Doug is using a more old-school approach to launch her new wellness brand Lifelines.
Melissa Bernstein, who created the kids' toy company with her husband more than 30 years ago, is decidedly not going direct-to-consumer with Lifelines. Instead, Lifelines — which sells sensory-immersion tools like shower diffusers, scented pencils and essential oil blends — is only available via wholesale, big-box retailers and marketplaces. Right now, Amazon, Target, Kohl's, Macy's and Barnes & Noble College all carry Lifelines products.
Lifelines' distribution model is different from the increasingly popular startup DTC model, where new retail companies launch through their own websites to gain brand traction and build up a customer base. But, as Bernstein told Modern Retail, some of Lifelines' strategy comes from habit. She and her husband launched Melissa & Doug in 1988 before online shopping took off and needed to form retail partnerships to get their products into families' homes. In fact, the couple would meet with store owners and arrange playdates in stores so parents and their kids could stop by and try the products.
Today, Melissa & Doug is sold through retailers like Target and Walmart and offers many categories, including pretend play sets, learning toys and puzzles. Last month, the toy brand agreed to be acquired by the children's entertainment company Spin Master Corp. for $950 million in cash.
With the company sold, Bernstein is now ready for her next endeavor.
Compared to the '80s, there are more channels to explore with Lifelines, Bernstein said. However, she and her husband want to stick to retail partners because that's what's worked in the past. In addition, many of the retailers that now carry Lifelines carry Melissa & Doug products.
"[Retailers] have such a big platform, and they have so much trust. To build that trust on our own website could take decades," Bernstein said, acknowledging that not all shoppers may be familiar with sensory immersion as a concept.
In fact, Bernstein told Modern Retail that she doesn't see DTC as part of the business model in the future. "We really want to protect our retail partners," she said. "They are doing so much of the heavy lifting for us and getting the word out and building our brand."
Bernstein came up with the idea for Lifelines while taking a walk on a particularly stressful day four years ago. At one point, she realized that she could hear birds chirping and smell flowers blooming. Acknowledging these sounds and smells took her out of her headspace and made her feel calmer. She began to mull over the possibility of creating tools for each of the senses that could help override someone's stress response and help them come back to the present moment.
Lifelines' first batch of items focuses on the sense of smell, although it will eventually roll out items around taste, sight, touch, hearing and the mind's eye. To start, Lifelines offers essential oil blends in five scent families (Citrus Grove, Crisp Mountain Air, Walk in the Woods, In Bloom and Spice Rush) and four well-being blends (Calm, Energy, Focus and Joy). Customers can mix and match these, choosing something like a Calm blend in In Bloom.
Lifelines also sells a shower diffuser, a bath diffuser, scent-infused stones and a pen that diffuses essential oils. All products retail for $5 to $29.99. Lifelines has 16 different patents pending on aspects of the products, Bernstein said, including the Precision Pump used on the essential oils. Bernstein sees the initial run of items — the ones based on sense of smell — being included in aisles with home goods like candles or essential oils. In the future, other products could go in other aisles, or even be grouped together, she said.
Customers can go onto Lifelines' website to learn more about the science behind the products and read reviews. Notably, though, there is no way to shop or add an item to a cart on Lifelines' website. Instead, there is a "find in store" section where someone can punch in their zip code and see which stores near them carry the products. The website also links to Amazon, Target, Kohl's and Macy's.
One of the partners Bernstein is most excited about is Barnes & Noble College, which operates bookstores on college campuses around the United States. "There is a huge epidemic of anxiety and stress in young people," Bernstein said. But, "college bookstores traditionally do not carry any well-being products."
In June, Barnes & Noble College announced a new initiative called "Be Well. Be You" that includes a curated collection of wellness products like fidget toys, vitamins and candles. Lifelines is its first official partner for the collection. Bernstein and the Lifelines team will promote the collection on campuses in the coming months.
Andrew Lipsman, principal analyst for retail and e-commerce at Insider Intelligence, told Modern Retail that it makes sense that the Bernsteins would continue with larger retail accounts, given the success of Melissa & Doug.
Today, Lipsman said, many brands who start off with DTC can have trouble scaling those sales. "Many brands can hit $10 million or $20 million in revenue and then tend to hit a wall," he said. With Bernstein and Lifelines, "she has the scale issue solved because she has great relationships with retailers built over 30 years," he added. "And so distribution is not a problem for her."
However, he added, part of the value of building a brand that's pervasive in retail is that when that brand is strong enough, people will want to buy directly from them. "Down the line, as this brand becomes more ubiquitous, I could see the benefits of having a direct-to-consumer website," Lipsman said. "But I understand why the focus is on leveraging existing distribution to get scale and get it quickly."
Going forward, Bernstein is eager to work with retailers to roll out more products geared towards senses besides scent.
"This is just the first category, and we are going to create hundreds and hundreds of products," she said. "We're excited that we actually might be able to have an entire section [in stores] that's for Lifelines only."