Why Bombas is expanding into bralettes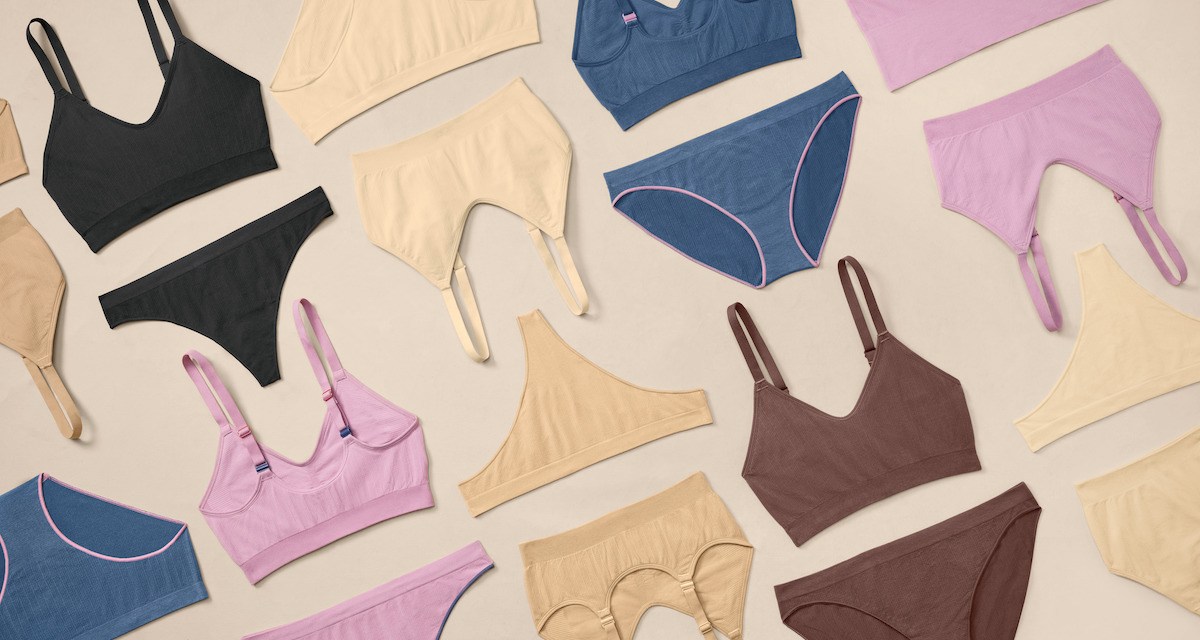 Bombas
Bombas is embarking on its first major product expansion since 2021 as it looks to widen its reach in the apparel market.
On Thursday, the company will debut its first-ever collection of ribbed seamless bralettes. The bralettes come in six colors and in sizes XS-2X. They will be available for purchase on Bombas.com in single packs, packs of two or in a set with matching underwear, and will retail individually for $38.
Although Bombas launched as a buy-one-give-one sock company in 2013, it's steadily expanded its product offerings since then. In 2019, the company jumped into T-shirts, and in 2021, it began making underwear and slippers. While the majority of the company's sales still come from socks, its other categories are slowly gaining market share. Today, 93% of revenue comes from socks and slippers, while 7% of revenue comes from underwear and T-shirts.
"The first things that you put on in the morning and take off at night, they're generally the items that have the biggest impact on your comfort on a day-to-day basis," co-founder Randy Goldberg told Modern Retail. "Your basic things should be your best things. That's something we believe in deeply."
Goldberg and his co-founder David Heath started Bombas after learning that socks were the most-requested clothing items in homeless shelters. Much of Bombas' product strategy revolves around its giving model, which means that for every item purchased, Bombas will donate an item to those in need. It works with 3,500 giving partners across all 50 U.S. states and the U.K. to accomplish this. As of June 2022, Bombas had donated more than 86 million new clothing items, according to its 2022 Impact Report.
Intimates donations are "a huge need in shelters," Goldberg told Modern Retail. In regards to comfort, "this category particularly under-delivers in that area, and that left us looking at this incredible opportunity to provide something great for our customers and something great for our non-paying customers."
Bombas's customers had been asking about bralettes for years, Goldberg said, and the company began work on the category shortly before Covid hit. The pandemic, which spurred a spike in interest in comfortable clothing, only solidified that this was the right move for Bombas, its intimates designer Rachel LeBlanc told Modern Retail. It took about two years to develop the product, which uses soft and stretchy fabrics and acts as a companion to Bombas' quickly-growing underwear segment.
"It was really important that this was an everyday kind of bralette," LeBlanc said. "Something that you could wear to the office if you wanted, go run some errands, fall asleep on the couch — just a go-to, that's what we really wanted it to be."
Bombas' product development strategy involves many tweaks and tests. Bombas's crew socks, for instance, went through 137 different levels of tension testing before going to market, Goldberg said. "We are not the type of people that race to market with products," he explained. "We are obsessed with the little things. We want to get the details right."
To that end, Bombas offered some of its customers the chance to try on the bralettes before launch, because "with bralettes, they're so different person to person," LeBlanc said. "You could all be the same 34B cup, but one person wears it very differently than the other. It was really important that we weren't just sticking to our fit models. We're sticking to people in the office, people who buy our products, making sure we got feedback from everyone who would want this."
In general, intimates sales struggled at the beginning of the pandemic, largely because people were working from home and weren't going outside in public as much. However, sales of bralettes — which are usually less structured than bras and are lined instead of padded — jumped 14% in 2020, according to data from The NPD Group.
Bralettes enjoyed double-digit growth in 2021 as well, although that growth has "slightly come down in 2022 as we have left the home and returned to in-person work and events," Kristen Classi-Zummo, fashion industry analyst at NPD, told Modern Retail. Today, "the consumer wants it all," she said, going from "'comfort only' to 'comfort plus', i.e., 'comfort plus sexy' or 'comfort plus pretty.'"
Bombas understands that each customer might want something different. So for Bombas, the question is, "What does comfort mean to you?" Goldberg explained. "Is it support? Is it softness? Is it invisibility? We have to take all these things into account… We dig in a little bit more and just try to satisfy a lot of different approaches to product."