Earnings
// October 7, 2022 ■ 4 min read
Levi Strauss slashes yearly forecast amid supply chain pressures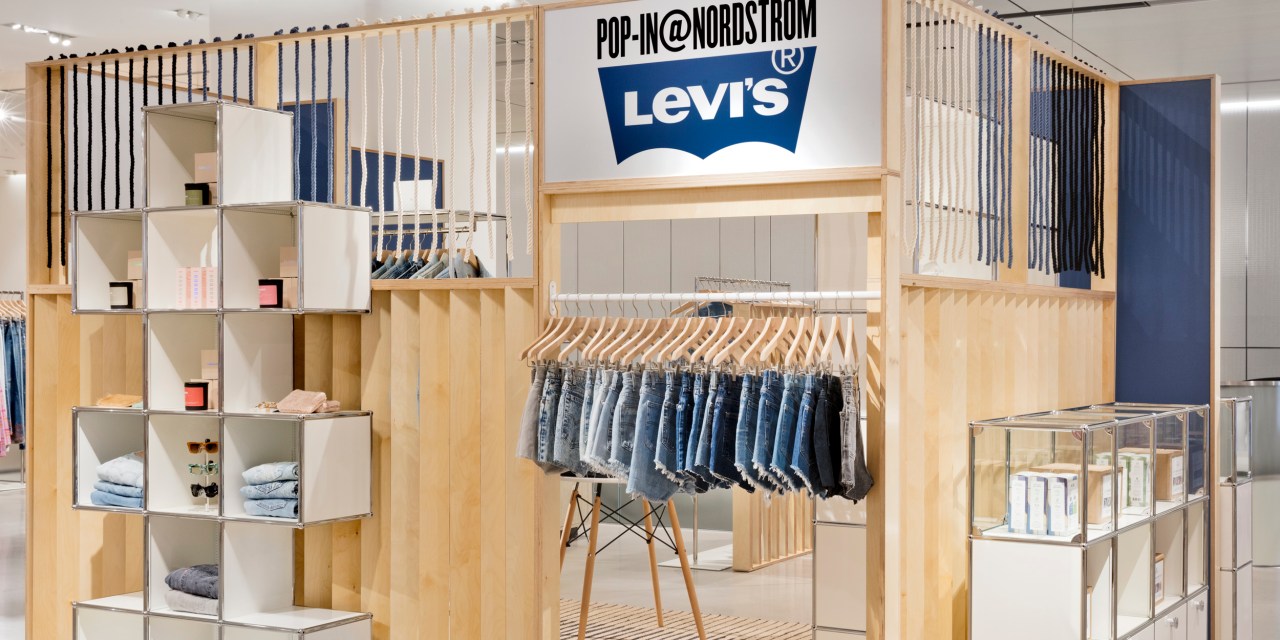 DTC is a leading factor in Levi Strauss's North American sales, but supply chain disruptions are still hampering the apparel brand — motivating it to slash its guidance for the rest of the year.
Levi's had maintained its 2022 growth outlook for its second-quarter earnings report in June. This quarter, the company said multiple macroeconomic factors necessitated a change. Supply chain issues, especially in the U.S., contributed to approximately $30 million to $40 million in missed sales — or 2% to 3% of growth — according to the earnings release. But healthy direct-to-consumer sales led the company's growth in the Americas.
"As we move through the third quarter, a confluence of pressures — from inflation to falling consumer sentiment to rising interest rates — began to result in softer consumer demand, while our industry continues to experience supply chain disruption and a heightened promotional environment," Chip Bergh, Levi's president and CEO, said on the Oct. 6 earnings call. "Not surprisingly, this made for a challenging quarter. Despite this, we were able to deliver solid results with net revenue growth of 7% on a constant currency basis, which translates to plus 1% on a reported basis."
On Thursday, Levi's reported revenue of $1.5 billion in the quarter ending August 28, a record for the third quarter but still $100 million short of analysts polled by FactSet. Levi's net income for the quarter, at $173 million, is an 11% drop from the $193 million it reported a year ago.
Levi's attributes most of its growth in the Americas — where revenue jumped 3% year-on-year — to its direct-to-consumer channels such as its outlet locations and stores. This quarter, sales from DTC stores and e-commerce made up 29% and 6%, respectively, of Levi's total revenue. DTC accounted for 40% of Levi's total sales in all of 2020. Speaking to CNBC last year, Bergh said he wanted the company to be "DTC-led going forward."
Levi's has been building its DTC presence for some time. In 2020, it launched its first NextGen store in North America. The location, in San Francisco, offered shoppers extra services such as a "Tailor Shop" for custom T-shirt designs. Earlier this summer, Levi's added more sizing features to its website and app, including the "What's My Size" algorithm and "See It In My Size" tool.
"Levi's push towards direct-to-consumer sales will drive margin growth and open the door for experimentation with new product lines," Shoggi M. Ezeizat, a consumer sector analyst at Third Bridge, said in a note. "Our experts recommend Levi's focus on a more balanced approach to growing their higher margin full-price business and maintain the growth trajectory of their outlet sales."
Ezeizat added that women's apparel has "strong growth potential for Levi's." On the earnings call, Bergh said its women's business grew 8%, mostly driven by Levi's bottoms, which were up 7%. Within the U.S., he said, the Levi's brand was up "low-single digits, with strong growth in women's new fits." Women today are opting for looser fits, he explained, and are increasingly shifting from high-waisted jeans to mid-rise jeans.
However, "for January through August 2022, total jeans sales (men's, women's and kids) decreased by 1% versus the same time last year, with declines being driven by women's jeans," Kristen Classi-Zummo, a director and industry analyst covering fashion apparel at the NPD Group, said in an email. "Last year, stimulus and increased savings led to a surge in many sought after categories, such as denim. As prices are rising, and consumers are becoming more calculated with their spending, comping to such a high growth year is leveling out the industry."
Still, she added, "it is important to understand the market is 9% higher this year than it was in 2019 before the pandemic."
Levi's saw its biggest year-over-year loss in Europe, where revenue decreased 19% from the same period in 2021. This is likely due, in part, to Levi's decision to pause operations in Russia in March, in response to Vladimir Putin's invasion of Ukraine. "Given the enormous disruption occurring in the region, which makes normal business untenable, LS&Co. is temporarily suspending commercial operations in Russia, including any new investments," the company said in a news release at the time.