Caviar's growing popularity is introducing a new generation to the once-stuffy food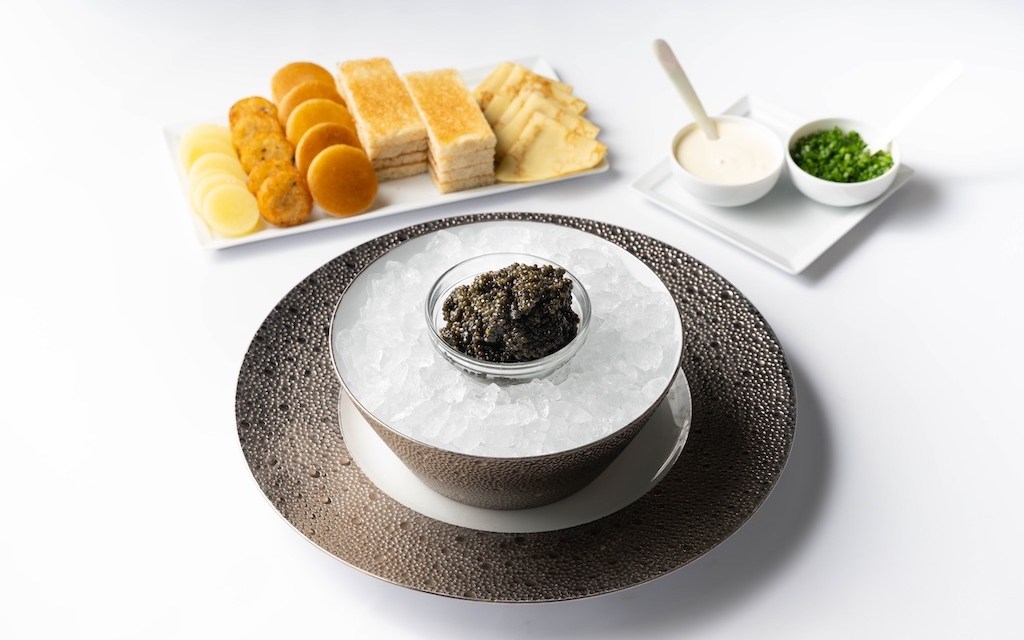 Caviar Russe
On a recent episode of "The Real Housewives of New York City" reboot, newbie Erin Lichy served caviar on Pringle chips, which was met with skepticism among some castmates. But for the past few years, caviar experts and social media creators have raved about the high-low dish, part of a bigger trend to find more casual ways to enjoy caviar.
Demand for caviar and roe particularly exploded during the pandemic, when many looked to luxury foods as a lockdown treat. When restaurants made a full comeback last year, The New York Times declared the "caviar bump" the latest fine dining trend popping up on menus. Caviar sales in 2022 exceeded $100 million, according to market research firm Fact.MR, and are forecast to increase at a CAGR of 7.6% through 2033. The spotlight on Caviar also comes at a time when many Americans are struggling to keep their grocery trips within budget. Still, caviar sellers tell Modern Retail that, at the very least, the current social media-fueled trend is helping expose a new generation to the delicacy. 
New York City-based Caviar Russe, which started as a wholesaler in 1997, operates two restaurants and an online delivery business that's currently booming. Edward Panchernikov, head of marketing at Caviar Russe, said that like many high-end establishments, its Michelin-starred New York City restaurant was forced to close its dining rooms during the Covid lockdowns. But thanks to quick pivoting, he said online sales began to boom as people wanted to treat themselves to luxury foods at home. For both the in-store and online business, Caviar Russe "had a peak in 2021," he said.
The overall business experienced a 50% growth that year, and sales have continued to go up since, Panchernikov confirmed, with sales skewing toward the higher-end varieties like ossetra — a caviar type is known for its golden-jade color and sea salt taste.
"Due to demand after Covid, we also added a second concept to the restaurant and doubled the business with the bar and lounge," Panchernikov said. Age-wise, Caviar Russe's customers have shifted to the age range of late 20s to 50s, from the previous late 40s and up. And now, the real housewives are reaching an even larger audience; Caviar Russe was recently promoted by Bethenny Frankel on her social media pages, after the restaurant gifted her with a tin.
Frankel isn't the only housewife singing caviar's praises. Beyond Lichy serving the Pringle amuse-bouche to her castmates, she's also excited about all the creative ways social media users are eating it at home.
Lichy told Modern Retail that she first tried the Pringles and caviar combo at an event hosted by caviar delivery service Caviar Mermaid about a year and a half ago, around the time when the trend took off on social media. "That was when I truly fell in love with the combo, it fully allows you to taste the caviar more than a traditional chip because the texture is so crisp and light," she said.
Lichy is just one of several reality celebs credited with helping popularize caviar among the masses, alongside other Real Housewives stars. "Everywhere you look on social media right now, someone is experimenting with the combo," Lichy said. "It's awesome to see how much of an impact social media has on trends like this one, and ultimately, inspire brands to take action and capitalize on them so quickly."
Caviar upstarts are also embracing all the new spins on how caviar is served, compared to traditional accompaniments like creme fraiche and hard-cooked eggs.
With social media at the forefront of all food trends these days, Caviar Russe's Panchernikov said the opulence of caviar has been refreshed by creators and influencers. As such, consumer-facing brands have shifted to creating more Instagram and TikTok-friendly campaigns to showcase their products.
To accommodate demand for this content, Panchernikov said restaurants are getting creative with their caviar presentations. These range from the aforementioned "bumps" (a term usually connoted with party cocaine use, now being adopted by fun-loving caviar connoisseurs) that complement cocktails like martinis, he explained, to being served in cones like Caviar Russe does during its "caviar hour."
The rise in interest also aligns with the growth of Roe Caviar, an online brand that started in 2015, said its founder Sarah Meyer. The company's engravable gift sets start at $120 for 30 grams of California-farmed white sturgeon. "We set out to make caviar more accessible," she said, adding that social media showed people caviar doesn't have to be stuffy. In fact, TikTokers have scooped caviar on everything from Doritos to ice cream. Meyer said the brand has always leveraged enticing overlay shots to showcase its caviar. "More recently we've embraced new trends, like presenting caviar on tinned fish boards," she said. 
Meyer said that the pandemic helped grow Roe Caviar's business, especially among gift buyers. She declined to disclose exact growth figures. "Our customers now range from people in their 20s and 30s, to the more mature crowds who've been eating caviar for a long time," Meyer said.
But not all players are experiencing the demand as a result of the dining trend, that's turned into a social media "flex."
Alexandra Du Cane, owner of luxury caviar brand Pointy Snout, said that while the company has experienced revenue increases since 2020 — the high price point has likely kept the clientele relatively older; Pointy Snout's ossetra caviar start at $250 and can go up to $8,000 for 1,000 grams. "We tend to sell primarily to either high-income individuals or a handful of high end restaurants," Du Cane said. "So I cannot say we're attracting this demographic, which I know is out there."
However, the documented indulgences by millennials and Gen Z online expose more people to different varieties. "Without disparaging anyone," Du Cane said, "much of the caviar that's enjoyed in bumps form isn't necessarily of the highest grade." It makes sense, as the cost to serve it would be too high for restaurants — given that the price of premium sturgeon spiked exponentially due to demand over the past few years. "But these experiences are an introduction to explore different varieties, and it's a huge step from buying a jar in the supermarket," she added.
Even if her business is still attracting the usual suspects, she's happy that more people are testing out the food. "Caviar was a big black hole for a lot of people until very recently, which is understandable because it can be a little intimidating," Du Cane said. "The exposure is fantastic, so I'm all for it."