Why Gen Z skincare brand Bubble launched its first eye cream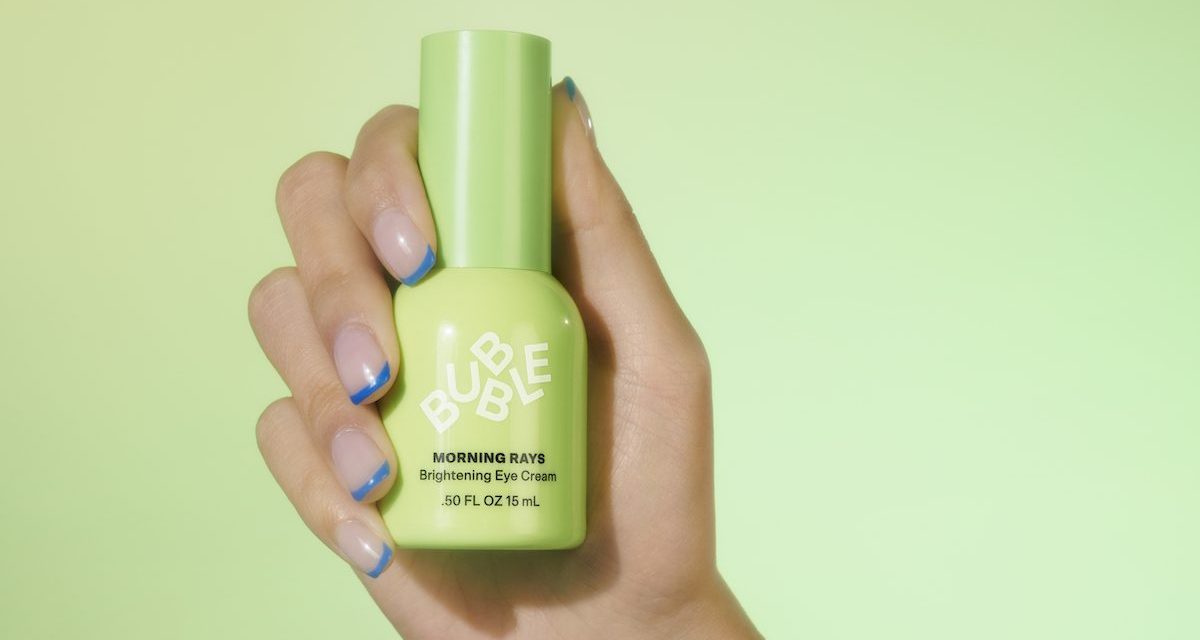 Bubble
Bubble, a Gen Z-focused skincare brand, is launching a new eye cream. It was something that was "not on the road map" when Bubble launched, the company's CEO Shai Eisenman told Modern Retail.
"We thought, 'very young people don't need eye cream,'" she said. "It's not a mandatory step in your skincare routine." However, after fans of the brand asked Bubble "again and again and again" for an eye cream, Bubble set out to develop one. It took about 20 months to make the product, which debuted last week for $16 on Bubble's website.
The cream, called Morning Rays, is the eighteenth product that Bubble has rolled out since launching at the end of 2020. In that time, the brand — which also sells moisturizers, masks and sunscreen — has gone into more than 12,000 stores across North America, including Ulta Beauty, CVS and Walmart. As of this summer, Bubble's online sales were up 1,000% year-over-year. Bubble's rollout of its eye cream is indicative of how it approaches product development: sourcing community members for feedback, and rolling out products in turn that are very specific about what skin conditions they purport to address.
The key to Bubble's business — and the driving force behind Morning Rays — is the brand's 12,000-strong ambassador program. Bubble uses messaging apps like Discord and Geneva, as well as the brand ambassador management app SocialLadder, to communicate with community members and gather their feedback on everything from product names to packaging. Multiple times, Bubble fans said they wanted an eye cream, especially for de-puffing and reducing dark circles.
Eye cream is a staple for many skincare brands — but they have long been marketed as anti-aging or restorative to appeal to people in their thirties, forties and up. Now, Gen Z is taking more of an interest in the product — and brands that cater to that demographic are responding. Sustainable skincare brand Kinship, which markets to Gen Z, began selling an eye cream in 2021. Glossier announced an eye moisturizer called Bubblewrap in 2019, although it abruptly discontinued the product less than two years later. The hashtag #eyecream has 1.1 billion views on TikTok, with #eyecreamrecommendations racking up 664,200 views.
Bubble positions Morning Rays as a perfect fit for college students staying up late. In a TikTok video, Bubble says Morning Rays makes users' eyes pop, "even if you low-key pulled an all-nighter." On its product page online, Bubble asks, "Are you at least 80% caffeine at this point? Perhaps! Are your under-eyes gonna shine brighter than the sun itself? You betcha!" Bubble's Morning Rays is also cheaper than other eye creams on the market, many of which retail for $40 to $60, making it more in line with a student's budget.
Unlike other eye creams, Morning Rays does not mention factors like anti-aging. Instead, it focuses on dark circles or, as Eisenman said, "specific concerns." Bubble's products are purpose-driven in this way, she explained. "We're very excited about incorporating something that truly helps you with something specific that a lot of people are struggling with," she said.
"For a brand like Bubble, which has a strong portfolio in the cleansing and moisturizing space, eye cream feels like a natural extension," Manola Soler, senior director at Alvarez & Marshal's Consumer and Retail Group, told Modern Retail. Soler also said the product's emphasis on dark circles "is in line with where Gen Z consumers may be on their beauty product journey."
"That said, just because Gen Z is young doesn't mean they don't think about anti-aging," she added. "For this generation, prevention is still on the horizon, and it's certainly something brands can lean into."
Bubble has another eye care product in the works, based on customer feedback. "There's one more concern that people had around the eyes that we want to be able to address," Eisenman said. That launch is still some ways off, though, she explained. "I don't think it will be released for somewhere between a year to two years."
Ultimately, Bubble seeks to meet its fans' needs with high-quality, low-cost products, Eisenman said. "We're just very excited to be able to provide really prestige skincare at a really affordable price point," she explained.