'Our e-commerce will always exist': Waterdrop CEO Martin Murray on exporting a European beverage brand to the U.S.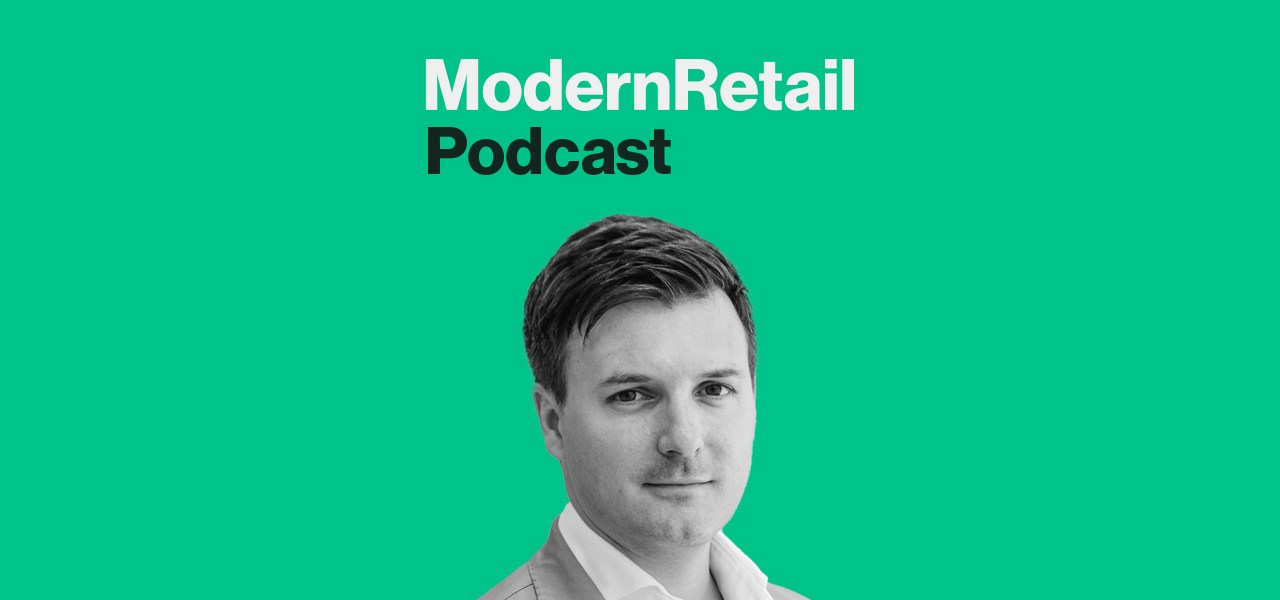 Ivy Liu
Subscribe: Apple Podcasts • Stitcher • Google Play • Spotify
Vienna-based Waterdrop, best known for its pressed tablets that make flavored water, has ambitions to become a global beverage giant.
The brand launched seven years ago in Austria and slowly expanded into other European markets like Germany and France. Now, the company has expanded in the U.S. and is working to become more of a household name. In 2021, Waterdrop said it brought in over $100 million in sales in Europe alone.
"There are very few European innovations that make it in the U.S.," said founder and CEO Martin Murray. "Typically, the innovations come from the United States." But Waterdrop is trying to buck this trend — and on this week's Modern Retail Podcast, Murray explained how.
Waterdrop is Murray's big vision to make what he calls a "micro-drink" brand. That is, it's a beverage sans water — meaning it has less of a carbon footprint and requires much less packaging and plastic. Murray wanted it to be cube shaped and he wanted it to be made with real plant and fruit extracts.
For months, Murray flew between Europe and Asia meeting with technicians to try and figure out how to make such a product. "Out of 20 meetings, 19 told me it's stupid and it doesn't work," he said. But while in these meetings, Murray was able to get a crash course in product manufacturing and formulation. Through this, he was able to figure out how to ask the right questions and fine-tune his pitch. He finally hit on a manufacturing partner who agreed to give him an R&D budget to try and make the product.
From there, Waterdrop was able to build a minimum viable product and bring it to market. Part of Murray's ethos has been to test and iterate. "To be honest, the prototype was really bad — like, it didn't dissolve, it didn't taste [the right way], you couldn't open the packaging," he said. "But it was a prototype."
"We started the company, we started the product then we iterated [while it was on] the market — got a lot of feedback and since then have been really changing based on what consumers are telling us," he said.
When it first launched, Waterdrop was predominately online. But in each country it launches in, it has been expanding more and more into retail — both wholesale and its own stores. And while retail is becoming a much bigger part of its business, Murray isn't going to pull the plug on DTC anytime soon.
"Our e-commerce will always exist because it allows us to test products very quickly," he said.
For now, the focus is on continuing to expand as well as refining its product.
"We started [like] a semi-broken Alcatel phone," Murray said. "Now we're looking at the iPhone 5 or 6 — we went through a progression of iterations. We know how to build the iPhone 10+, but we're on a journey of continuously making those improvements."
Here are a few highlights from the conversation, which have been lightly edited for clarity.
Waterdrop's country by country expansion
"We started in Austria, which is great — I love Austria, it's one of the best places to live. The good news about Austria is it's under the radar. So we were able to test the product quite a bit. As I mentioned, the first product wasn't any good at all. So we had to change a lot within the first year in the market. And we tested pop-up stores; we went into our first retailer, into 700 stores; we did DTC, of course. And then when we had the confidence that this could actually work… then we easily scaled to Germany, which is basically the same thing. Then we expanded into Eastern Europe because we wanted to know, okay, is this just a German-Austria thing? Or, do we work in other cultures and other kinds of buying power areas? Also, different tap water qualities. We discovered very early, it's literally the same. And then we expanded into France."
How the U.S. differs from Europe
"If you look at it objectively, there are very few European innovations that make it in the U.S. Typically, the innovations come from the United States and then become global. Local [U.S.] startups can get much much larger — there's more funding, and it's just easier to scale for many reasons… The U.S. is different because it's just so enormous. Within the U.S. there are several countries — [all the regions are] technically very different — but you can you can operate it out of one Shopify store and it's literally an English store. So that's different. What's very different is the level of competitiveness. The level of noise in the U.S. is just so much higher because there are so many other brands and so many other companies out there. There's just more marketing, more noise. It's much harder to stand out. That then leads to the other fact, which is that media prices are higher, so the acquisition costs are much higher. And also the [number of] companies pitching at retailers every day is also much higher. So just the general tension, level of competitiveness is higher."
Why Waterdrop will always keep its DTC site
"We'll always be on omnichannel. The channel shift will very strongly go towards retail. So I don't want to give you specific percentages, but it's the biggest channel — more than 50% will be third-party retail. When brands get very large, that's the shift. However, our e-commerce will always exist because it allows us to test products very quickly and find out does this work [or] does this not work. Because what you want to do as a brand is, of course, have best sellers that you give to third-party retailers. But, you also want to be long tail in your product range. So that consumers that are fans — or want to try different things or browse around the store — have the ability to shop more than the top four selling SKUs."