Inside True Religion's True Creators program: 'They gave us the tools that we needed'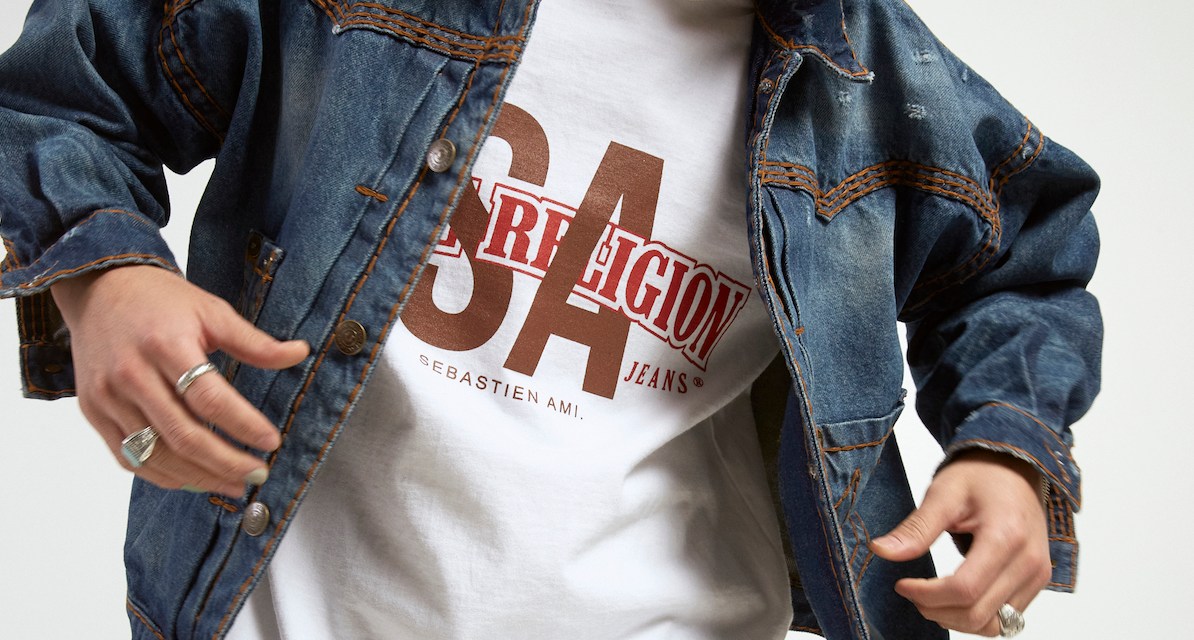 True Religion
Designer Sebastien Amisial remembers his first experience with True Religion jeans in the early 2000s. He was in Washington D.C.'s Georgetown neighborhood, at a trendy streetwear clothing store called Up Against the Wall. Amisial was in high school at the time and very much interested in fashion design and construction.
"I just remember… I saw the stitching and was like, 'This is crazy. I've never seen anything like this before,'" he told Modern Retail. "I wanted to be able to create a product that was just so unique like that."
Fast forward to this year, and Amisial is making good on that goal. Amisial, creative director and co-CEO of the brand Sebastien Ami, is one of several designers in True Religion's newly-created True Creators program. He and his co-CEO, Marianne Amisial, will launch a new public-facing collection with True Religion in October. Since their initial discussions with True Religion in the fall, the Amisials have created around 12 pieces that "are the best representation of both brands," Sebastien said. The items, which include jackets and jeans, will be available for purchase online.
True Religion has collaborated with artists, designers, musicians and influencers for quite some time. But it wasn't until its creative director Zihaad Wells — who had been with the brand from 2006 to 2017 — came back to the company in 2019 that it began to explore what would become the True Creators program. Under the True Creators program, True Religion selects several up-and-coming designers to put their own spin on the brand. It's a win-win for everyone involved; True Religion can connect with the next generation of talent and their dedicated fan bases, while the designers get access to unparalleled resources and a bigger platform in which to showcase their work.
True Religion first launched in 2002 and quickly became known for its horseshoe design, thick stitching and exaggerated silhouettes. While the company had a few recent hiccups — it filed for bankruptcy twice in less than three years — it's now surging in popularity, thanks to an interest in Y2K fashion. When it comes to its designers, True Religion "wants to be part of your journey the whole way through your creative career," Wells told Modern Retail. Last year, True Religion partnered with the Fashion Scholarship Fund to create a scholarship for "an L.A.-based student from an underrepresented community who desires to pursue a career in a fashion-related field." It also has a Street Drop program, in which it reaches out to young creators in U.S. cities to shoot campaigns and cast videos.
True Religion began working on True Creatives right before the coronavirus first hit, but put things on pause until 2021. Since then, True Religion has partnered with Jaffa Sabba, Blu Boy, Madeline Kraemer, Elijah Popo, Peder Cho and Soldier under the True Creators banner. Last year, it teamed up with Complex to create a True Creator shopping experience at ComplexCon. True Religion will launch new collections with Finessa Williamz, Rome Swimwear, Blu Boy, Sebastien Ami and Elijah Popo in 2023.
The program "is one of the most important things we do, because it's an extension of the legacy that we leave behind as a brand," Wells said. "We talk about the last 20 years and what got us to this point, and nostalgia has played a very big role in True Religion's rebirth. However, we're very focused on what the next 20 years looks like. And the next 20 years lies in how this brand shows up in partnership with young creatives and emerging artists."
True Religion knows that big names can sell clothes. But rather than turn to A-list designers for splashy collaborations, True Religion often turns to social media. True Religion finds many of its True Creators through Instagram and TikTok, often by reaching out to people who have reworked existing True Religion fashions. "It's people who love the brand already [and] already have an affinity for the brand," Wells explained. "I'm not trying to convince people that True Religion would be the right partnership for them. It's already something that's part of their portfolio." Interested designers can also sign up for program updates through a link on True Religion's website.
In terms of financing True Creator projects, True Religion fronts manufacturing and materials costs and gives all participants a design fee, as well as a portion of all sales. It aims for these partnerships to be "authentic," Wells said, stressing that he wants all designers to feel like they have a stake in the product. True Religion did not say exactly how much these fees are.
True Religion allows True Creators to work with their existing teams, including photographers, on joint products. The deals are not exclusive, and artists can go on to partner with other retailers as well. For True Religion, "they're long-term relationships," Wells said. "We don't just do one and done." Next year, it will launch another drop with Kraemer, whose personal line Gems by Madeline includes reworked jeans and denim skirts.
Sebastien Ami launched six years ago, in 2017. As a smaller brand — it has nearly 5,000 followers on Instagram — it is used to working quickly, the Amisials explained. True Religion made the process even smoother, they said, by lending them special sewing machines that had been sitting in one of their warehouses. Working with True Religion "gave us this ability to just move a lot faster than we normally would for our brand," Sebastien said. While many small businesses have struggled to regain momentum lost during the pandemic, True Religion "gave us the tools that we needed," Marianne said.
Today, more retailers are working with micro-influencers, rather than the biggest stars on social media. Amazon and DTC companies alike are courting influencers with thousands or tens of thousands of followers, because they believe that doing so is an effective way to reach dedicated audiences. Gabriella Santaniello, founder of A-Line Partners, compares True Religion's True Creators program to that of Ugg, which has worked with Telfar, Molly Goddard and Eckhaus Latta. But not too many apparel companies are following this approach, she explained.
For one, "it's hard to find something now that's so niche… and hasn't been diluted by the mass market," Santaniello told Modern Retail. For another, in the apparel and footwear realm, "most of what's been going on out there is more so like, 'Here's the brand, and you kind of influence around it,'" she said. "Whereas this is a bit more like, 'We're going to give you the opportunity to interpret it as you will, and then you get our backing.' It's almost like having an incubator."
The Amisials agree. "Right now, you have a lot of these older brands that are tapping young talent to be able to reinvigorate their ethos… through their vision," Sebastien said. "And what's interesting about True Religion is they're not just doing that, but they're doing it, in our opinion, properly… It's more on an artisanal level than it is just for the sake of putting young talent in a bigger seat."