How Uniqlo uses its lifestyle magazine to drive brand engagement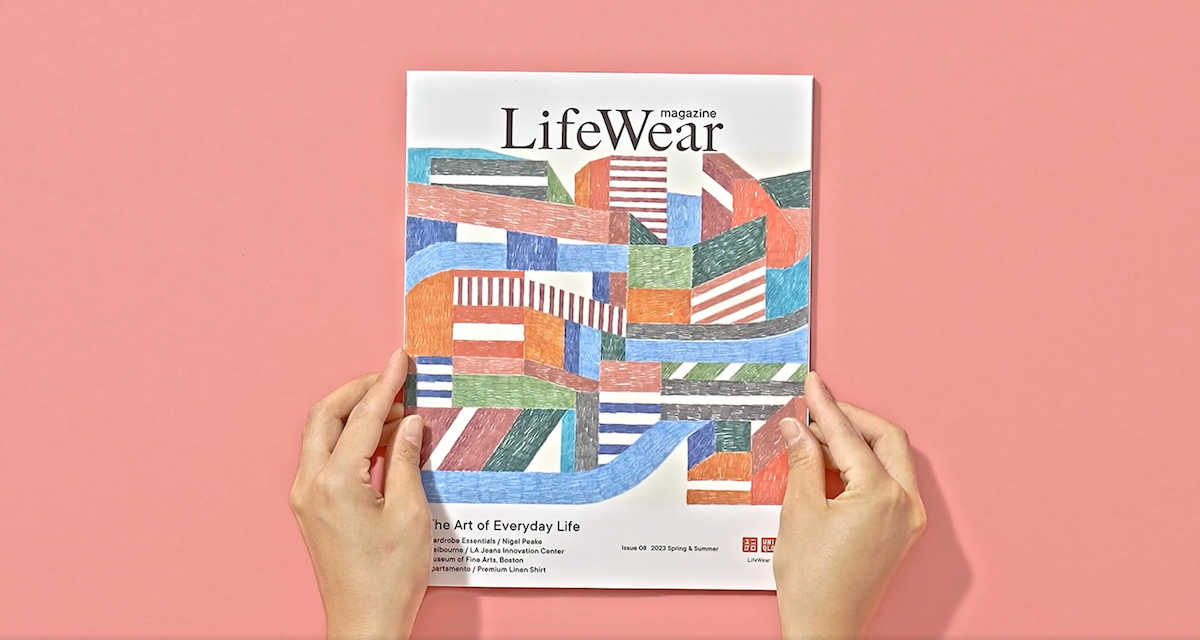 Uniqlo/LifeWear Magazine
As Uniqlo grows its presence in the U.S., it is betting on a lifestyle magazine to help raise its brand awareness.
The magazine, which is called LifeWear, comes out twice a year and is available online and in stores throughout the United States. Its most recent issue, whose theme is "The Art of Everyday Life," covers spring/summer 2023 and is 120 pages. LifeWear is mainly printed in English and Japanese and has a circulation of 1.5 million, the company told Modern Retail.
Uniqlo is careful to note that LifeWear isn't a product catalog. "We're not selling product through this publication," Michael Zakrzewski, head of communications at Uniqlo, told Modern Retail. Instead, he explained, LifeWear Magazine prints interviews, features and photo spreads that touch upon "the philosophy that Uniqlo creates, which is lifewear: not just clothing, but apparel that makes life easier for the everyday wearer." Uniqlo says the magazine — which it began in 2019 and has a full-time staff of four — is crucial for letting customers know what Uniqlo stands for. Uniqlo also uses the magazine as inspiration for in-store events and partnerships.
"The focus changes every issue, but we always try to hit on the same sort of touch points, like what's going to enrich the customer's life, what stories would they want to hear about or what element of the brand do we want to let them into?" Zakrzewski said. For example, the newest issue includes a piece about Uniqlo's denim facility in Los Angeles, interviews a glass artisan named Yoko Andersson Yamano and includes a recipe for spring cabbage pierogi from Warsaw, Poland, where Uniqlo has a pop-up store. All issues are free.
For the digital version of the magazine, "site traffic is really comparable to what we see for product pages," Zakrzewski said. "And that's grown consistently through the iterations of the publication, which is great." In addition, Uniqlo will typically post on digital channels about products or spreads in the magazine. "Because people understand the brand, and then we follow with product communication, sales are doing well for the products that we are featuring," Zakrzewski said.
Uniqlo International reported a 19.4% jump in revenue year-over-year for its first fiscal quarter of 2023. Boosting its profile in North America is a top priority for the company, where it is hoping to more than triple its number of stores in the next four years, CEO Daisuke Tsukagoshi told Bloomberg. Fast Retailing, Uniqlo's parent company, hopes that North America can eventually deliver $2.3 billion in annual revenue, Bloomberg reported.
Uniqlo promotes its magazine with in-store events and artwork. Its Fifth Avenue store in New York gets the biggest build out, Zakrzewski said, although the publication is distributed across stores in the U.S. These stores typically have some type of corresponding display, depending on the format of each space. Some, for instance, will display each page of the magazine on a wall. Customers can look at each spread and then pick up a hard copy nearby, if they'd like. The Fifth Avenue store features a large-scale wall image of the latest cover and a bookshelf filled with dozens of issues.
The newest issue of LifeWear Magazine will also be available at the Museum of Fine Arts in Boston. Uniqlo has partnered with the museum since 2017, and its Ukiyo-e UT Graphic T-Shirt Collection is inspired by woodblock prints from the MFA's collection. A new spread in the magazine explores the Uniqlo-sponsored exhibition "Hokusai: Inspiration and Influence," which will be on display at the MFA from March 26 to July 16.
When it comes to demand for LifeWear Magazine, "we get really positive feedback," Zakrzewski said. "Some customers have come back to say that they've collected every issue thus far."
A number of startups have experimented with lifestyle magazines over the years, but have shuttered them or let them fizzle out as their marketing priorities have changed. Casper launched a quarterly print magazine called Woolly in 2017, but its website only features one issue of the magazine for sale. In 2018, Airbnb rolled out "Airbnb Magazine," which has since been "paused indefinitely," according to its website.
Still, companies of varying sizes are moving to print for marketing because it helps them stand out in a crowded space, Chris Toy, co-founder and CEO of MarketerHire, told Modern Retail. "Offline marketing still has a sense of premium and prestige to it," he explained. "If you were to send some effective print collateral, it has much more impact than just seeing the $9 million ad on your phone. There's opportunity there to have a different viewpoint on the brand."
"If I got a cool little magazine from a brand, it would be a big deal," Toy added. "I'd… probably sit down and take a read because it's just very rare… From a marketing perspective, that's always a great opportunity… 'Let me be the only print brand lifestyle magazine that you get this month' — that's a pretty good place to be."