How men's body care brand Huron used custom bundles to drive up sales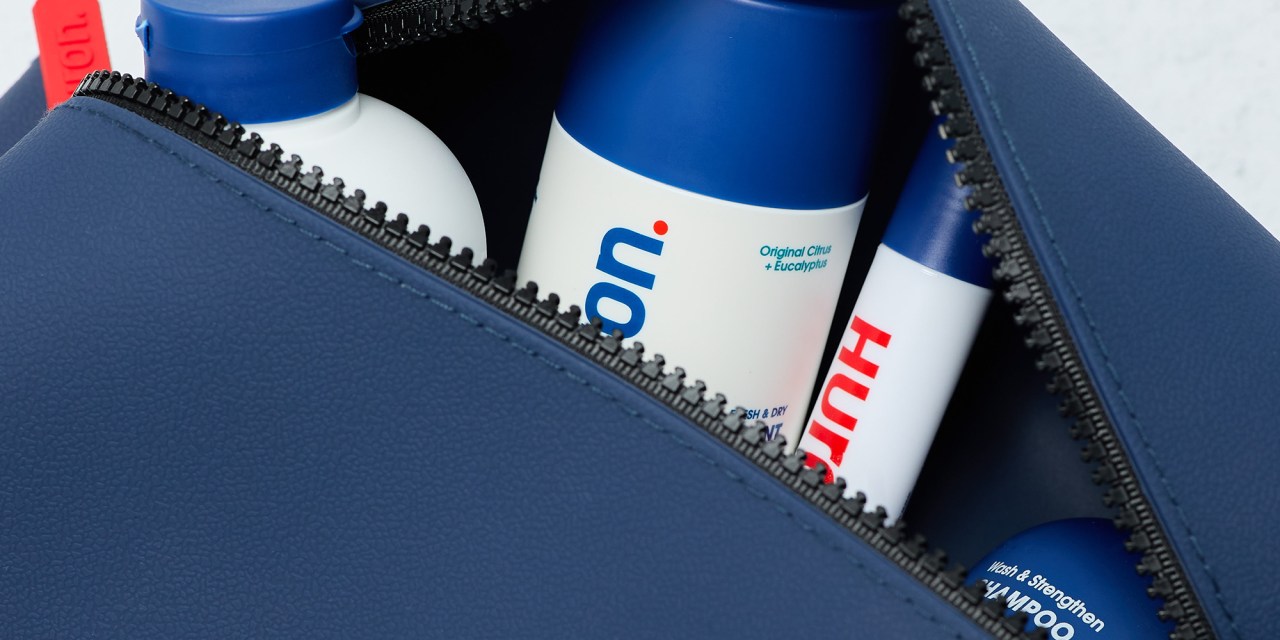 Huron
Men's body care brand Huron, like many direct-to-consumer brands, initially launched with a very limited set of products. When it first hit the market in 2019, the company sold just face wash, body wash and face lotion.
Now, Huron sells 16 different SKUs — including multiple types of moisturizer and styling gel — and getting customers to try new products has become a bigger priority. One tactic that the company recently found success with is promoting a "build your own bundle" feature on its website.
At the end of July, tied to the anniversary of Huron's third year in business, Huron released the BYOB feature, offering customers various incentives based on how much they spend. Customers get free shipping if they fill their cart with $40 worth of product, a free item of their choice if they spend $50 and a free toiletry bag if they spend $75. On the day that Huron released the BYOB feature to its full customer base, the company generated more sales than it did on Black Friday. Huron co-founder Matt Mullenax said that the company is now looking to "prioritize the build your own bundle, just based on the initial stickiness and attraction we've seen over the last 12 to 15 days."
He added that during the first five days that Huron featured BYOB on its website, the average order value for both new and repeat customers increased anywhere from 85% to 110%. "It's a very limited subset of data, but very very encouraging," he added.
Mullenax said that the company decided to build a BYOB feature based on recent results from a quarterly survey it sends out to customers. During the first quarter survey, Huron asked respondents to select, from a list of roughly 10 features, which initiatives they were most interested in seeing from Huron. Some of the initiatives mentioned ranged from new products to potential new website features. Build your own bundle — or some kind of personalization feature — was one of the most popular answers, selected by 83% of respondents.
Alex Greifeld, an e-commerce growth advisor and founder of the newsletter No Best Practices, said that she views build your own bundle features like the one promoted by Huron as a "new spin on the classic, buy more, save more."
Huron already sells various bundles on its website, such as a head and hair kit and a shampoo and conditioner duo. But Mullenax said that one of the things he learned early on in building Huron is that some customers didn't bundle products in the way that he anticipated given that many of them didn't have a go-to grooming or skincare routine.
"It's hard to say I am looking for a nighttime moisturizer with niacinamide when this customer wasn't even using a moisturizer to begin with," Mullenax said.
Mullenax said that the company didn't put any paid digital advertising behind BYOB, instead promoting the feature on its social channels, through emails and pitched some affiliate link promotions to various news outlets.
Greifeld said that when brands test out new bundling features, "I think it's always helpful for brands to think of things in terms of…. your more casual customers versus your loyal customers."
She added, "your loyal customers are always the ones who are likely to be spending more and leveraging higher tiers." Whereas for newer customers, she said certain incentives like a gift with purchase might not resonate as strongly with them because they don't know if they like the product.
But, she said that companies should A/B test; one client Greifeld recently worked with found that a gift with purchase was a more effective sales tactic than offering a percentage-based discount. "You can't always assume that a straight promotion is going to be what moves the needle the most," she said.
Mullenax added that while Huron is encouraged by the initial results, he acknowledged that "a lot of this is honeymoon phase — we're tapping back into our existing base of folks who wanted to see this feature anyways, and who were constant Huron supporters." He also said that the company was surprised by the number of new customers who opted to first buy the BYOB feature, "versus trying one product, seeing if they like it and then coming back, which has been very encouraging."
Over time, Mullenax said the company will look to do more A/B testing to see how best to promote BYOB on its own site, as well as whether or not to feature it in paid ads, particularly ones focused at acquiring new customers. The company also plans on experimenting with which incentives might be most effective at encouraging customers to spend more.
"The past two weeks have laid the groundwork for what we can compare future tests against, and then starting to understand, 'should we be pushing more products… should we introduce a new tier?' I think there's just a bunch of different opportunities for us." Mullenax said.