Hallmark is turning to Venmo to reach Gen Z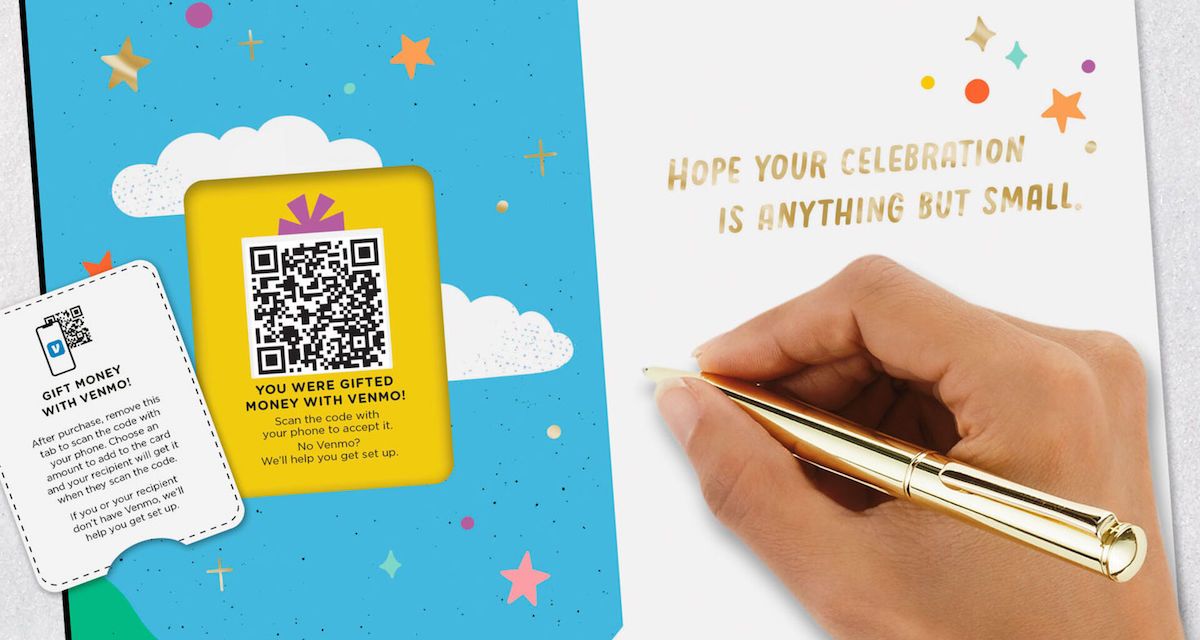 Hallmark
Legacy card company Hallmark is tapping into channels like digital payments and mobile apps to keep pace with how Gen Z shoppers view gifting.
At the end of August, Hallmark teamed up with Venmo on more than a dozen co-branded physical greeting cards. The cards — which are available online and in Hallmark, CVS and Walgreens stores — include a unique printed-on QR code that redirects to Venmo. The gift giver uses the code to send money to the recipient, and the recipient scans the code to access the payment. The cards retail for $4.99 and come in a variety of themes, including "Happy Birthday" and "Best Christmas Ever."
The partnership with Venmo is Hallmark's latest move to attract younger customers, a group that is the "largest and fastest-growing segment of greeting card senders today," according to Darren Abbott, svp of global product development, innovation & licensing at Hallmark Cards. Two years ago, Hallmark started incorporating personalized videos into its physical cards with a QR code, and earlier this summer, it launched an app that allows customers to customize a card on their phone.
Hallmark's Abbott told Modern Retail that "we recognize that consumers today have very different needs and ideas around what makes a good gift." "The experience itself is super important, particularly to some of these up-and-coming generations," he explained. "As we were looking at these gifting trends… so much of it is happening in a digitally-enabled space." At the same time, he explained, "we like to think of it as sort of the digital-tangible space. It doesn't have to be one or the other." Keeping the option of a physical card is therefore important, Abbott mentioned.
Hallmark approached Venmo about a potential partnership several years ago, before the pandemic, but it took time to get everything ready on the back end. Hallmark wanted to work with Venmo because "we knew from our own behavior, and what we were learning from our consumers, that these cash transaction apps… were becoming a big part of gifting," Abbott explained. According to PayPal, 78% of Venmo customers regularly turn to Venmo to gift money to friends and family.
"A big part of this is staying at the forefront of where we see gifting behavior moving," Abbott said. "We don't want to sit still in a space that is rapidly evolving, and we want to make sure that a solution like this is out there in front of the consumer and ready for her or him or them when they're ready for it."
Michael Brown, partner and Americas retail leader at Kearney, told Modern Retail that the partnership with Venmo is an "important way" for Hallmark to remain relevant in gifting, given how much interest younger consumers have in digital payments. Gen Z, in particular, has embraced buy now, pay later apps, peer-to-peer payment services and digital wallets. Twenty-eight percent of Venmo users in the U.S. are between the ages of 18 and 29 years old, according to PayPal.
As far as greeting cards go, "I think this is a great move for them [Hallmark], because right now, this space is occupied by emojis in our text messages… and there's not a payment or a cost for that," Brown continued. "So, for Hallmark to be relevant in that space, they're going to have to add this other wrinkle that… drives people to want to use their solution, just instead of characters in text messages."
Hallmark also uses social media to market its products to younger generations. Its TikTok videos include ideas for gift hacks, gift wrapping and do-it-yourself projects (like ways to decorate your graduation cap), and it regularly advertises giveaways with popular brands through its Instagram. This summer, it held six giveaways on the platform: One for a Disney calendar, three for ornaments, one for a back-to-school bundle and one in collaboration with Pura Vida.
Kearney's Brown says that there is "no doubt" that Hallmark has played an important role in the holidays and in sending communications to one another. Hallmark — which has several branches of its business, including Crayola and Hallmark Media — sells products in more than 30 languages, with distribution in more than 100 countries.
"That being said," Brown continued, "a lot of these types of business models and things we used to do have moved to digital platforms. Hallmark needs to, at this point in time, take what's been an important part of the American fabric and start to align it with the way the current generation communicates."