Curie founder Sarah Moret on leveraging QVC to be a national brand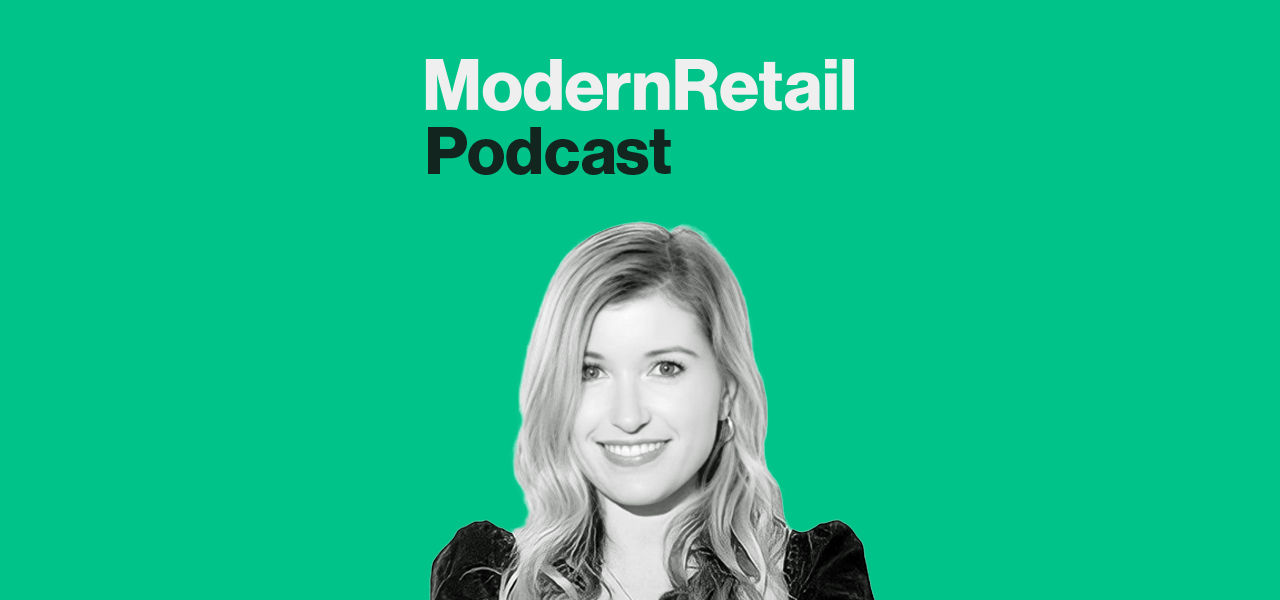 Subscribe: Apple Podcasts • Stitcher • Google Play • Spotify
Personal care brand Curie looks like a traditional DTC brand at first glance, but has grown thanks to a variety of unorthodox channels.
For one, the company has been featured over a dozen times on QVC, and that has helped it reach a brand new and eager audience. What's more, Curie founder and CEO Sarah Moret pitched her brand on Shark Tank — which gave her both a boost thanks to a deal with Barbara Corcoran, as well as viral sales.
"We've grown 10x since we aired on Shark Tank," Moret said.
She was a speaker at last week's Modern Retail Commerce Summit, held in New Orleans. The conversation was recorded, and is this week's episode of the Modern Retail Podcast. During the session, Moret spoke about growing a predominately DTC business to include other retailers, as well as the trials and tribulations of being an online personal care company.
In its early days, Curie was sold only online. Now, it's sold at Anthropologie, Nordstrom and Bloomingdale's, and has a big-box partnership soon to launch this summer. But one of the biggest sales boosts that got Curie on the map — beyond Shark Tank — was QVC.
"We aired on QVC for the first time in 2021. I've now been on air 15, 20 times — and that's really changed my business," Moret said.
But selling on QVC isn't as easy as looking at a camera and saying "buy this now!" Indeed, Moret had to relearn how to pitch her product and make it something truly enticing for the audience. "What QVC taught me is nobody really cares about the features of your product," she said. "They care about what it's going to do for them."
She's used that knowledge to further grow the Curie brand. With that, the focus for Moret is on expanding the company beyond its digital roots. Much of that ties back to marketing. For years, Curie sold predominately via Facebook ads. But now, Moret realizes she needs to focus more on top-of-funnel as a way to get more people to recognize the brand.
"We're bootstrapped, we're profitable, we are very, very ROI driven in all of our decision-making," she said. "So this is a big shift for us about thinking: all right, we don't want to just rely on these PPC ads."
Here are a few highlights from the conversation, which have been lightly edited for clarity.
Curie's three big inflection points
"What have been the biggest inflection points in my journey of running Curie these last four years? I would say the first one was [pivoting to] hand sanitizer during Covid, because that was my first experience in — wow, this is what product market fit feels like; this is what it feels like when you have a product that people really, really want and need. We couldn't make enough inventory, [that] was that was our biggest issue. And that was my first taste in what that feels like. And, prior to that, I had just been slogging along, showing modest growth but nothing crazy… The second inflection point was QVC. We aired on QVC for the first time in 2021. I've now been on air 15, 20 times — and that's really changed my business. And then the third and biggest inflection point was Shark Tank. Shark Tank will change your business essentially overnight."
Learning to sell on QVC
"QVC does a training. They do a two-day training before you go on air, where they train you not only on who their customer is, but it's sales training. They teach you how to sell your product, how to speak in front of a camera, how to be persuasive. And that was like a little mini-MBA. It was really interesting, they focus a lot on the psychology and all that. So QVC has… obviously brought us lots of new customers and revenue. But I think the coolest thing that I've taken away from QVC is it's taught me how to talk about our products… Before QVC, we would be like we're aluminum-free, we have clean ingredients, we're made with, you know, coconut oil and arrowroot powder. What QVC taught me is nobody really cares about the features of your product. They care about what it's going to do for them."
A new focus on brand marketing
"Most of our sales right now are driven by Facebook ads. A lot of our customer acquisition is through Facebook and Instagram, Google. And then, of course, Shark Tank is still driving a lot of sales. And we have our fitness studios, we have some QVC. And those are really our main channels. We are launching in our first big-box retailer in August. And so now we are thinking beyond just DTC into how do we grow the brand? How do we grow brand awareness — which is something we've never really focused on. We're bootstrapped, we're profitable, we are very, very ROI driven in all of our decision-making. So this is a big shift for us about thinking: all right, we don't want to just rely on these PPC ads."