Away to open its first new retail store since 2021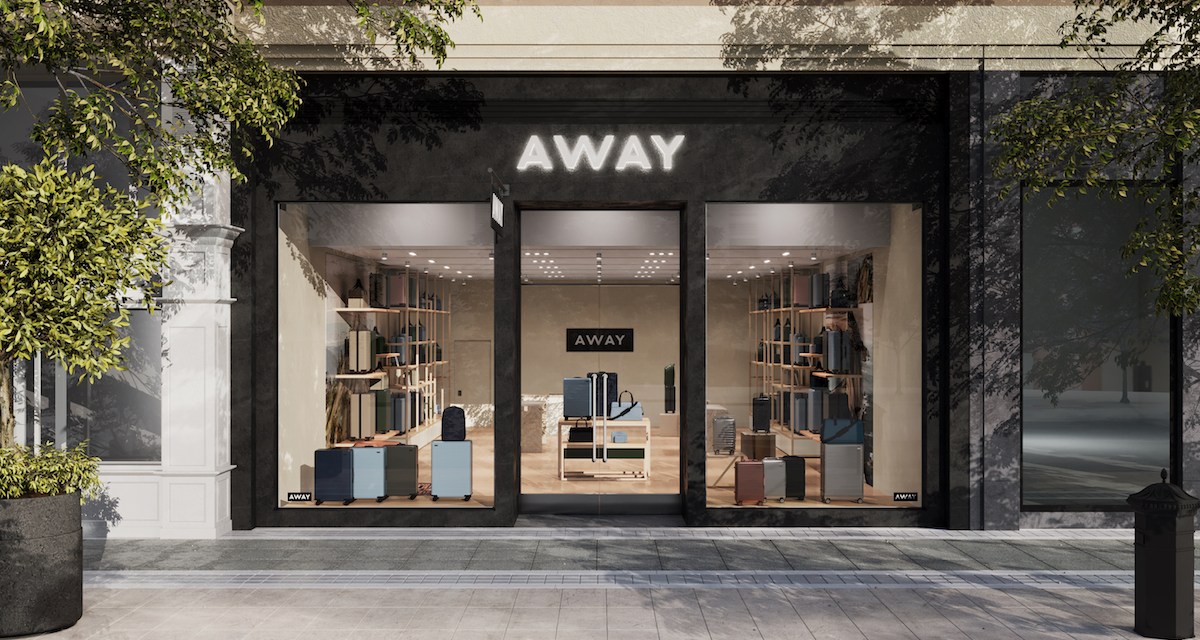 Away
After putting retail expansion on pause during the pandemic, Away is opening a new store in San Jose, California later this week. 
It's one of a few new store openings the travel brand has slated for this year, as the company says it is making brick-and-mortar expansion a bigger priority in 2023. Prior to this latest announcement, the last store that Away opened was in Seattle in 2021. 
In addition to the San Jose store, Away is also opening a location in the Georgetown neighborhood of Washington, D.C. later this summer and others that are yet to be announced. Retail stores are projected to generate close to 20% of Away's revenue this year, with new stores generating at least $3 million in revenue. With this bigger focus on retail expansion, Away is joining other DTC counterparts like Allbirds, Parachute and Warby Parker, who are counting on stores to drive a bigger percentage of growth. 
The San Jose store is slated to open on April 28, with a grand opening event to be held on May 6. On that day, all sales proceeds from the store will be donated to Global Glimpse, a nonprofit organization that provides opportunities to high school students from diverse backgrounds to travel internationally.
"Retail is a super important part of our overall business, not just for the revenue that it provides itself, but also for the immense lift that it gives to the entire business," Away President Catherine Dunleavy said in an interview with Modern Retail. She added that anytime Away opens a retail store, its e-commerce business experiences a 150% lift in that market. 
Away currently has 13 retail stores, mostly congregated in the biggest U.S. cities like New York, Los Angeles and Houston, as well as in international hotspots London and Toronto. Dunleavy said that when considering where to open a new store, Away looks at factors like where people are spending money on travel, where the "style centers" are in different cities, and what the foot traffic is like on various streets.
"We need to make sure that we have the right brand experience and need to be in the right markets with the right street. We need to have attractive financials. When all these things come together, we open a store," she added. 
She acknowledged that coming out of the pandemic, Away's thought process was "let's put [retail expansion] on — I wouldn't say on hold, but we were slow."
Rebekah Kondrat, founder of Kondrat Retail, said that the appetite among direct-to-consumer brands to open new stores has varied significantly over the past few years depending upon what category they operated in. 
A number of home goods brands, for example, made new store expansion a significant priority in 2022, following two years of explosive growth in the category. Parachute doubled its store count last year, while Brooklinen tripled its physical footprint. 
But travel was one of the industries that was most severely impacted during the pandemic. In April 2020, Away said that sales fell  by more than 90% after the first few weeks of coronavirus restrictions. 
Away's retail expansion also comes on the heels of some executive reshuffling. Co-founder Jen Rubio was named CEO in May 2021, after former CEO Stuart Haselden departed. Dunleavy, who was previously the company's chief financial officer, was promoted to president late last year. And Carla Dunham, who was previously the chief marketing officer at Foxtrot, was named CMO of Away in January. 
In addition to retail expansion, Dunleavy said that one of her big priorities for the year is expanding Away's product assortment to "give [people] more choice as they build out their travel uniform." Last year, Away company released a new line of outdoor gear called F.A.R. Improving omnichannel services like buy online, pickup in-store is another area of focus.
Kondrat said that one of the big challenges a company like Away will have to contend with is the fact that it sells a product — luggage — that people don't replace frequently. "If I'm not buying another suitcase for — I don't know, probably 10 years — how do you keep the consumer coming back to stores?" she said. 
It's a challenge that becomes even more pressing as inflation is still leading some shoppers to cut back on spending. Kondrat added that a number of startups she spoke with decided to slow down or pull back on plans for new store openings after "they got really spooked after that soft [fourth quarter] we just had." 
Dunleavy, for her part, touted the fact that she feels like the past couple of years have proven that travel "is a very durable business."
"People have moved up travel in their priority to [take up] a larger share of wallet because it has now become a crucial part of their self care," she said.