Why big and tall menswear brand Good Counsel moved from a subscription model to a website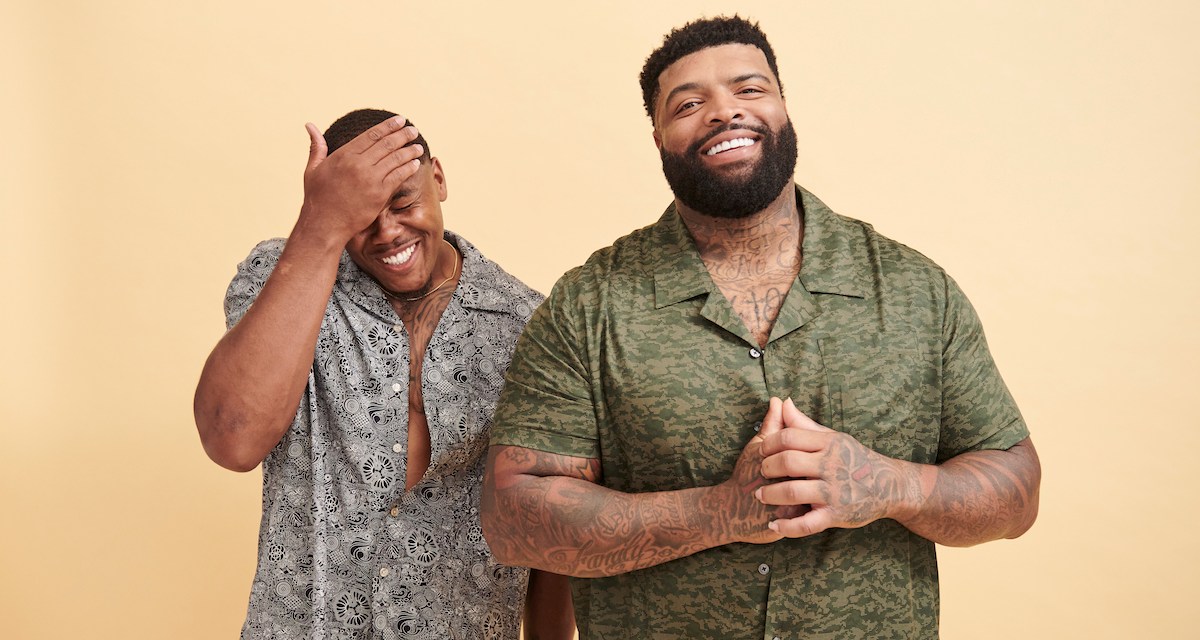 Good Counsel
Good Counsel, a clothing brand for men wearing sizes medium to 8XL, is giving its business a new look with its first complete e-commerce site.
For years, Good Counsel was a subscription-only business. Customers could pay $30 a month to receive a curated box of items like T-shirts and jackets, which they could try on before purchasing. Now, fans of the brand can buy individual pieces, as well as "shop a look" to complete an outfit.
Good Counsel is launching its website with a select number of menswear essentials like sweatsuits and chinos but will soon offer T-shirts, denim, linen and other pieces. It is relying on a drop model to roll out new collections every week or every other week. In lieu of a subscription, Good Counsel is offering a $30-a-month membership with several perks, including a 30% discount, early access to drops, exclusive products, help from Good Counsel's styling team and free shipping. While Good Counsel could not give an exact member count, it put the number in the thousands. Previous subscribers will be offered the first 90 days of the new membership program for free, according to Good Counsel's website.
Good Counsel serves a community that's often overlooked in the fashion industry, creative director Courtney Mays told Modern Retail. "There's been a misstep in the market in that the fashion community hasn't really opened its doors to consumers that are considered plus size, or big and tall," she said. "Once you get above a certain size, the clothes get really homely and downbeat… rather than just being cool and interesting, just like your smaller counterparts. Our goal here is to really be the answer to that problem and also just broaden the gap for what's available for all sizes."
For Good Counsel, launching a website has been years — and hundreds of data points —  in the making, Chief Brand Officer Patience Ramsey told Modern Retail. "We launched with a subscription membership model because we were seeing brands do that with wild success," she said. "But also, we knew that we were not a brand that could scale immediately."
It took some time, for instance, to find a factory that could manufacture clothes up to 8XL, she said. Good Counsel also asked its customers for feedback on every item to "perfect the fit." Good Counsel wanted to "stay small," Ramsey said, until it felt like it had its sizing and production capabilities in place. The company now feels prepared to go forward but is not abandoning that personalized approach or the member feedback piece, she stressed.
"Our whole goal is to collect data, figure out what our members like, what they don't like, where we should go deeper, where we should move away from," Ramsey said. "We're not going to be sitting on a ton of inventory. We'll keep it light and nimble and do quick replenishments when we've realized we've hit something really popular."
Over the last decade, many DTC brands have introduced subscription boxes to appeal to consumers looking to save time, money and effort. Big names like Birchbox, BarkBox, Fab Fit Fun, Dollar Shave Club and Blue Apron amassed tens of thousands of customers, and other companies followed their leads.
Now, though, the subscription market has gotten crowded, Katie Thomas, lead of the Kearney Consumer Institute and co-author of "The Subscription Apocalypse," told Modern Retail. "As more have sort of flooded the market, it pulls consumers' attention in a lot of different ways," she said. "But also, the challenge with a subscription over time is continuing to stay relevant to the consumer. And that's been really hard in the last couple of years, because consumers' needs have been somewhat changing on a dime."
To that point, what shoppers needed in the early days of the pandemic might be different than what they need now, for instance. And apparel subscriptions, in particular, can be tricky to sustain because of shifting trends and styles. Stitch Fix lost 445,000 active clients from a year ago. Rent the Runway had a 10% year-over-year increase in subscribers for its fourth fiscal quarter of 2022, although it lost 10,000 active subscribers from its first quarter to its second quarter.
Apparel subscription boxes also share a challenge similar to food subscription boxes, Thomas said. "With food subscription services, you order them for a while — call it a year or two — and then you learn how to cook," she said. "I think you see that with apparel boxes as well. You order them for a while, they're useful, but then you actually learn what brands you like, styles you like, fits you like."
To keep business afloat, several subscription companies have started to pivot over the last several years. BarkBox, for instance, expanded into pet food and dental care and began selling products directly via Target, Costco and Petco. Stitch Fix also moved into direct buying. Good Counsel's decision to start with a subscription model, but then move into a direct-purchase model, makes sense, Thomas explained.
"I think a subscription is actually a good way to get people into the fold, learn about the consumers, learn about what they want," she said. "And then, think about the lifetime value and how that plays out over time and giving them a little bit more latitude to, once they're familiar with the brand, choose their own products."
As a subscription business, Good Counsel curated a "uniform" for its customers, Mays said. Good Counsel wants to continue that approach, even though it's now selling individual SKUs, she said. For instance, Good Counsel's website will recommend complete outfits, show how to combine new items with past ones and demonstrate ways to take a look from day to night.
"Not only do we want to offer you cool pieces and things that are interesting… but we also want to show you how to wear it," Mays said. "There's an education component that's so important to how we interact with our consumer, how we interact with our member, so that we're not just leaving you hanging with, 'Okay, now you bought the shorts, what do you do next?'"
Good Counsel is relying on a few different methods to advertise its new site. One of these involves social campaigns, which the company will roll out in the coming days and weeks. Another involves professional athletes, many of whom might have trouble finding clothes in their size. Good Counsel has worked with Trent Williams, Andre Iguodala and Travon Walker on campaigns and "will continue to expand on those relationships," Ramsey said.
Good Counsel also uses everyday customers in its marketing materials. "What works really well for us is guys seeing themselves in the advertising," Ramsey said. "We work with a lot of regular guys who aren't necessarily models… We'll continue to do a lot more of that, because we know that works."