Pinterest revenue growth slows amid rise in shopping investments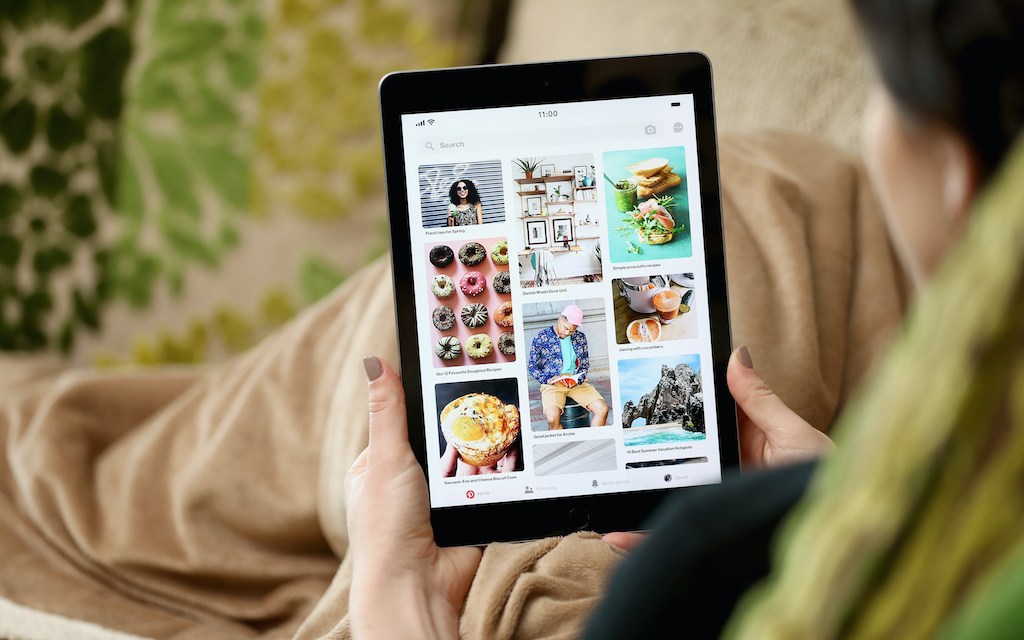 Image via Pinterest
Pinterest's revenue growth slowed dramatically during its second-quarter earnings, following in the footsteps of other major tech companies that recently reported declines in digital advertising.
The San Francisco-based company reported a 9% increase in revenue to nearly $666 million. But that represents a dramatic slowdown from the same period last year, when the image-sharing social media platform had more than doubled its revenue during its second-quarter earnings in 2021. Pinterest also swung to a loss of $43 million for the three months ended June 30, compared to a profit of $69.4 million during the same period a year ago. "Our total costs and expenses grew 29% year-over-year due to headcount growth as well as increased infrastructure spend," the company said.
The tech company in June appointed senior Google executive Bill Ready as chief executive officer to lead a new phase of growth for the social media platform by encouraging more shopping on Pinterest. Previously, Ready was the president of payments and commerce at Google, where he was in charge of developing its marketplace and testing out videos and ad units conducive for shopping across Google's suite of platforms. As such, Ready put a positive spin on the earnings results by touting all the investments the company is making to encourage more shopping on Pinterest.
"We accelerated our investment in shopping and e-commerce this quarter, and I am thrilled by the dedication of our leaders and employees to continue to build a positive place on the Internet," said Ready in a statement. "Pinterest is uniquely positioned to tackle unsolved problems in our industry, capitalize on long-term digital commerce trends and help people go from inspiration to realization."
In a letter to shareholders, Ready said that Pinterest remains "the home for personalized, taste-driven shopping."
"Since 2019, we've amassed over one billion catalog items by adding merchant partners, making it easier for merchants to upload their products, and driving gross merchandise value (GMV) for businesses," said Ready. The tech giant has made investments to make it easier for sellers to upload and manage a product feed as well as update merchants' metadata, such as price and availability, in real time. "We are making progress with the beta test of Your Shop, a customized shopping page powered by our taste-driven algorithm informed by Pinners' unique preferences and styles," added Ready.
User growth remained flat compared to the March quarter at 433 million global monthly active users, but dropped 5% compared to a year ago. The company offered muted sales guidance for the third quarter and said revenue is expected to grow in the mid to single digits.
Pinterest hasn't been the only tech giant to report muted financial results this quarter. Facebook parent Meta posted a 0.6% decline in overall second-quarter revenue to $28.8 billion and a 1% drop in advertising revenue to $28.1 billion in it latest earnings. Meta's revenue growth slowed from 56% in second quarter last year to 0.6% at the end of June 30. Meanwhile, Snap's revenue growth declined from 113% last June to 13% in its latest second-quarter earnings.
"Given what we've seen from Meta, Snap and Twitter, all havingx advertising pullbacks, this report from Pinterest is better than feared," said Sahak Manuelian, managing director, head of trading at Wedush Securities.
Last month, The Wall Street Journal reported that activist investor Elliott Management had taken an over 9% stake in Pinterest.
"Most importantly Elliott Management is now the largest shareholder in the company and very firmly behind this new CEO which bodes well for the company," added Manuelian.
This quarter, Pinterest also completed the acquisition of shopping platform. The Yes founder Julie Bornstein, now the chief shopping officer at Pinterest, told Modern Retail that the company will overhaul its e-commerce experience starting with a focus on women's fashion.
"These guys have to be more than just a social media platform and they have to get e-commerce up and running for them to move into their next phase of growth," said Manuelian.