How Instacart's 'Connected Stores' will help the middle-sized grocery players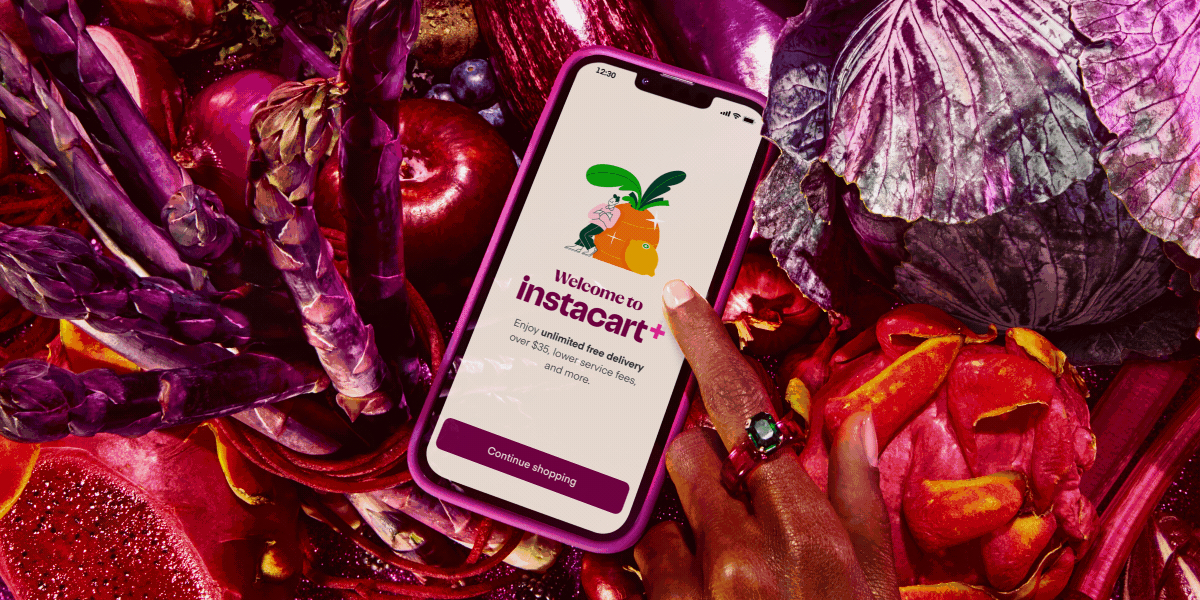 Instacart
Ahead of its highly-anticipated IPO, online grocery delivery company Instacart has launched a slew of new tech features called 'Connected Stores' to assist grocers in merging their online and in-store shopping experiences.
Instacart unveiled six new capabilities on Monday under the umbrella of 'Connected Stores' to make it easier for grocers to implement new technology into their existing stores in physical infrastructure. One of the features is a new AI-powered smart cart equipped with scales and sensors to enable self-checkout. Another is Carrot Tags, which allows grocers to connect electronic shelf labels to the Instacart platform.
"The launch of Connected Stores is another exciting step for Instacart as we partner with retailers to help invent the future of grocery. Through these technologies, we can now offer consumers the best of online shopping inside physical stores, and vice-versa," said Instacart CEO Fidji Simo in a statement.
Grocers and brands told Modern Retail that the new services will help them make grocery shopping more convenient and efficient by offering customers a seamless experience both online and in-store. Meanwhile, analysts said that Instacart is building an integrated platform to provide all the digital tools that retailers in the grocery space might need for their business.
"This, to me, is the progression of a strategy that they laid out six months ago, which I have started calling the Shopify-cation of Instacart," said Andrew Lipsman, principal analyst at Intelligence Insider. "Instacart is building a platform like Shopify, to provide digitization capabilities for the grocery industry, and more specifically, for small- and medium-sized chains, regional grocers and the like."
In the second quarter that ended on June 30, Instacart reported a 39% increase in revenue to $621 million. The company's growth was driven by a 25% rise in the number of orders placed on the app to more than 60 million. The company, founded in 2012, has partnered with more than 800 brands across its 10-year history. Instacart, which filed a confidential S-1 draft registration statement with the Securities and Exchange Commission in May, is aiming for a fourth-quarter listing, another report from the Journal stated.
Over the last year, Instacart has acquired companies to help build out its tech offerings — like Rosie, an online startup for local grocery chains and wholesalers, and Caper AI, a platform for checkout and shopping cart technology driven by AI. According to a Bloomberg report, the Caper AI deal cost Instacart $350 million.
"These features open up new capabilities that we wouldn't be able to build on our own leveraging the scale of the Instacart Platform to aggregate all the power of regional grocers to compete at the level of a national operator," said Schnucks Chief Information and Supply Chain Officer Bob Hardester in an emailed response. Schnucks is a family-owned grocery store with 110 outlets across Missouri, Illinois, Indiana and Wisconsin and has been on Instacart since February 2017.
"By leveraging what Instacart has already built, it greatly improves our time to market and allows us to focus on building a superior user experience while they handle the heavy lifting of backend capabilities and technology development," Hardester added.
These latest innovations will be compatible with Storefront Pro, Instacart's e-commerce solution that uses the shopper's smartphone to showcase products on shelves and provide helpful product details, and other Instacart e-commerce features. Instacart said these features have already been tested by supermarkets of all sizes in the United States and Canada, and others, such as Wakefern Food Corp., Schnucks, and Joseph's Classic Market, will shortly roll out Connected Stores components. Instacart works with more than 900 national, regional and local retail brands to enable online shopping, delivery and pickup services from more than 75,000 retailers.
Hardester said these features will allow the Missouri grocer to focus on building unique customer experiences within its stores and digital properties. "We are tapping into one of the industry leaders in grocery e-commerce through an open API approach allowing us to grow, learn and better serve our customers," added Hardester.
Grocery retailers will be able to provide a more seamless experience for shoppers making grocery shopping "more convenient and efficient", said Courtnie Alvear-Beceiro, head of marketing at sauce startup Haven's Kitchen. "It also gives more support for omnichannel shoppers as most shopper experiences are a mix of online and in-store," added Alvear-Beceiro. Haven's Kitchen has been selling on Instacart since August 2020.
Alvear-Beceiro said Haven's Kitchen was the most excited for Instacart's Out of Stock insights feature, that aids merchants in instantly alerting staff members when things are getting low or out of stock. "We believe this will be the most highly used tool of the new features. Retailers, vendor partners and shoppers will all benefit from less out of stocks and more accurate ordering and forecasting," said Alvear-Beceiro. "We're also looking forward to seeing how the out-of-stock insights can help improve ordering efficiency for retailers and product availability for brands," she said.
"These features are very valuable to our retail partners and we're really excited to see how they get implemented on a more national scale," said Alvear-Beceiro.
Schnucks meanwhile has already started using some of these new features. "In the case of Carrot Tags, we are already live in four stores piloting ESLs [Electronic Shelf Labels] and we will continue to add the Carrot Tag capabilities to these and additional stores over the coming months," said Harster. "We plan to have Carrot Tags in every store that has digital shelf tags by the end of 2023, and will continue to expand the capability as we bring the tags into more stores in the future."
In terms of areas of improvement, Alvear-Beceiro said she would love to see more retailer-specific data, more development with the optimized bidding AI capabilities and more accurate sales data on display ads.
In April, the company introduced Instacart Platform, a suite of services and technology for retailers, which includes data tools, e-commerce development and in-store technology like smart carts. Instacart also expanded its marketing capabilities into advertising consumer products.
These new services will likely help mid-sized players trying to figure out their digital strategies. Regional grocers need "out of the box solutions" that help them run their operations efficiently and increasingly drive incremental revenue streams, said Insider Intelligence's Lipsman. "So much of what Instacart is doing is enabling them to run their businesses that way, enter into retail media revenue streams," added Lipsman.
Ultimately, this strategy ties into the larger retail media advertising landscape which is having a moment of its own. "The more things they digitize and the more opportunities they give for retailers to implement retail media solutions, the more that fuels their advertising business, the stickier their platform becomes the more that Instacart will become the entry point for an e-commerce order," said Lipsman.