Despite investments from tech giants, live shopping is still struggling to take off in the U.S.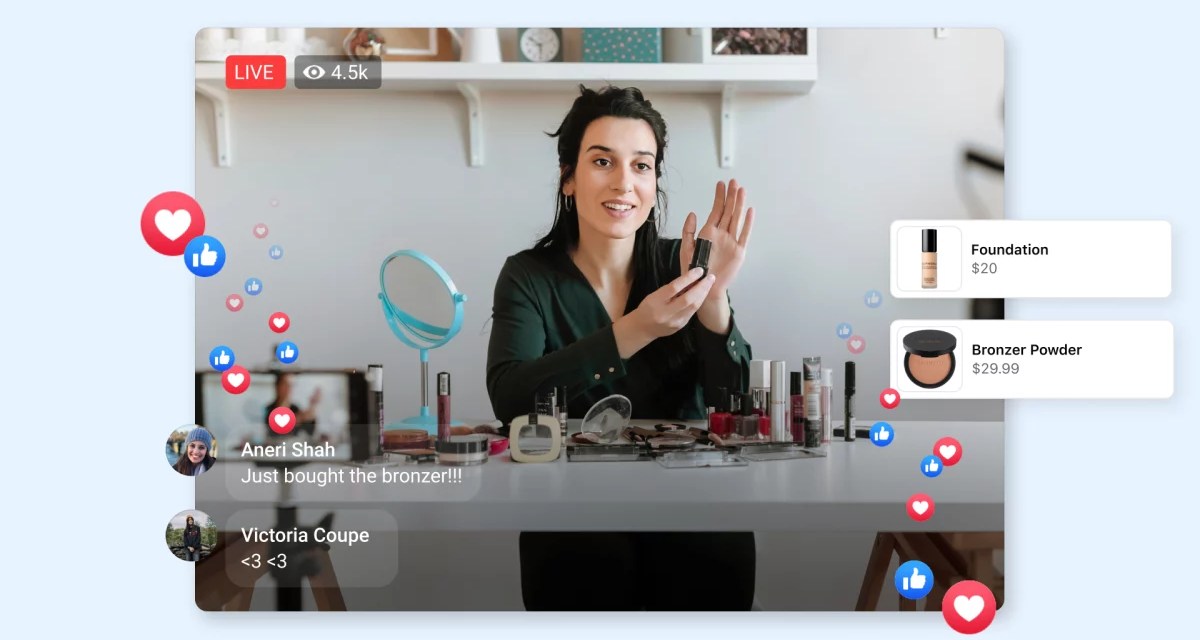 Facebook/Meta
Large tech companies in the U.S. have started to abandon live shopping efforts, once touted as the future of retail in America.
Last week, Facebook parent Meta said it will shut down its live shopping feature on October 1. Facebook started experimenting with Live Shopping in December 2018, and in May 2021 launched a Live Shopping Fridays project. Participating brands and retailers will no longer be able to curate product playlists or tag products in their Facebook live videos, the company said. "As consumers' viewing behaviors are shifting to short-form video, we are shifting our focus to Reels on Facebook and Instagram, Meta's short-form video product," Facebook said in a company blog post.
A number of technology giants like Meta as well as Amazon started experimenting with live shopping several years ago, encouraged by the format's success in China, as well as by accelerated e-commerce sales during the pandemic. However, as the recent news from Meta shows, these investments are slowly starting to fizzle out. To be sure, some tech giants are still investing in the medium: eBay, for example announced in June the launch of a new dedicated shopping platform that gives users a new way to browse and buy products in a live, interactive environment. But most of these efforts have failed to attract large audiences.
Tech giants often promoted live shopping as a way to help e-commerce businesses reach a small but growing set of shoppers with high purchase intent.
Platforms like Facebook, TikTok and YouTube partnered with retail giants like Macy's, Walmart and Sephora to promote shoppable live broadcasts. They also made a steady stream of product announcements tied to live shopping.
Pinterest launched Pinterest TV in October last year to enable live shopping experiences on the image sharing social platform, offering users discounts from brands every Friday. In May, Pinterest also launched its Pinterest TV app with an improved set of livestreaming capabilities for creators. In July, e-commerce giant Shopify introduced YouTube Shopping for merchants in an effort to compete in the livestream commerce market.
Experts who work with retailers to help formulate their online strategies said brands are beginning to use more tried-and-true content formats, instead of trying to replicate shopping habits developed in China.
"Brands that were using the Facebook-specific feature, were really just in a test and learn mode," said Jason Goldberg, chief commerce strategy officer at Publicis. "As far as I heard, nobody got particularly outsized results from it. And now, Facebook's moving on. So, those brands will mostly reallocate that budget to other testing and learn-type activities, but I wouldn't expect it to be a disruption to anyone's business," he added.
Goldberg estimated that brands would have spent roughly 1% or lesser from their marketing budget on Facebook's live shopping feature. "Nobody was attributing a major part of their budget to it or making it a key pillar of their growth strategy," said Goldberg.
Another expert pointed to a lack of livestream shopping appetite in the U.S. "It was surprising to see Facebook abandon Live Shopping so quickly, but at the same time, we're seeing that live shopping hasn't picked up as much steam in the US as it has in China," said Algolia's Chief Strategic Business Development Officer, Piyush Patel in an emailed response to Modern Retail. Algolia is a tech company that helps retailers layer in AI-powered product recommendations to their site, among other features.
"Livestreaming, by its very nature, is much lower scale, because people are only watching it for the moment that it's live. And so they can't time shift it. So each piece of content that's produced reaches far fewer people in the United States. Plus there are no pre-existing livestream shopping habits," said Goldberg.
According to Algolia's Patel, beauty and cosmetics brand Sephora, one of the first brands to jump into Facebook's live shopping offering, hosted weekly "Facebook Friday" livestreams, but stopped its Facebook Fridays in July 2021. Other retailers decided to invest in live shopping more in-house. Macy's for example, launched its own live shopping features on its website and app last year.
"Macy's has reported that they're seeing an increase in demand with the live shopping experiences they host on their own website, called Macy's Live, where hosts and stylists can respond in real time and consumers are engaging with the retailer in real-time," added Patel.
According to Juozas Kaziukėnas, founder and CEO of Marketplace Pulse, the U.S. needs to stop chasing China's success blindly.
"The e-commerce industry has been talking about live shopping for years, hoping to replicate its success in China. However, most attempts have failed to attract shoppers so far. Amazon is the largest retailer experimenting with live commerce, but its lackluster content is embarrassing, and few Amazon shoppers are even aware it exists. There are also live commerce-focused startups, but they tend to lack the selection of products and it's unclear if there is great demand from users to use separate apps for live commerce," said Kaziukėnas.
After the success of its Prime Day last month, Amazon said, its Live Prime Day streams had more than 100 million views. "In terms of live shopping, Amazon has utilized TikTok greatly by partnering with influencers on the platform to sell products for them and I don't anticipate that strategy will go away anytime soon," said Patel from Algolia.
But Kaziukėnas agreed that Facebook's decision to pivot is in line with changing consumer behavior.
"Facebook made a comment that customers are enjoying short-form content (reels, stories, etc) a lot more than live video. I think that's 100% correct. It's a media format that's winning," said Kaziukėnas.
"We should listen to the users and build from there — retailers and platforms are pushing live commerce because it's big in China, users are saying they instead like short-form video," added Kaziukėnas.