At Accelerate conference, Amazon continues to open up its logistics network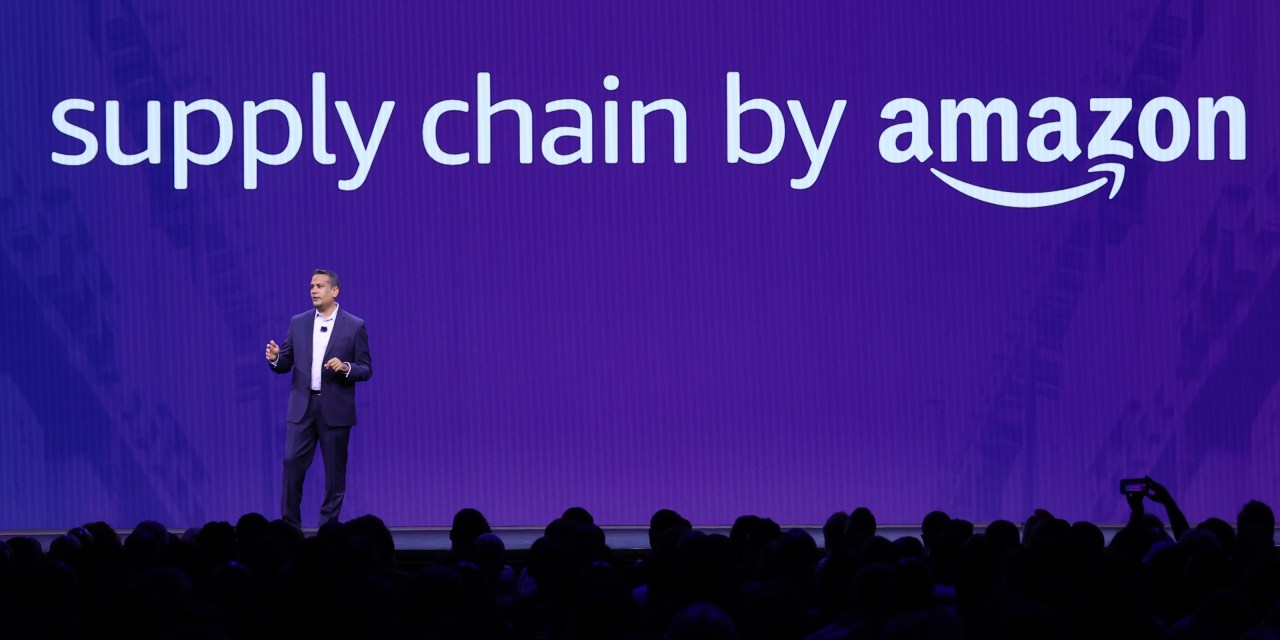 Amazon
Amazon is expanding its logistics network with a new end-to-end supply chain offering that will fulfill even orders placed outside of its third-party marketplace.
The service 'Supply Chain by Amazon' was introduced this week at Amazon Accelerate, the company's annual seller conference hosted in Seattle. Amazon sellers can now use its new 'Multi-Channel Distribution' capability to transfer goods in bulk to physical stores, online marketplaces, and even warehouses managed by other logistics companies. The tool is being tested by a select set of sellers and is expected to roll out to all sellers by the end of this year. The tech giant also announced a wider rollout of its Amazon Warehousing and Distribution centers for longterm bulk storage at deep discounts to all sellers. Lastly, Amazon also announced new a ground package delivery service for independent sellers who manage and fulfill their own orders.
Put together, these moves signal that Amazon wants a piece of every single part of the supply chain. The e-commerce giant wants to find more ways to monetize the vast network of warehouses and transportation it has built over the past couple of decades — even if that means helping merchants deliver goods to businesses that aren't Amazon.
The goal is to find more ways to grow Amazon's revenue from seller services, which generated $32.3 billion revenue in the second quarter of 2023, a year-on-year increase of 18% from the same period last year.
"For over 10 years or so, they [Amazon] were living and dying based on the growth of AWS. Then they shifted the narrative to the growth through advertising. Now, I believe they're shifting the growth to further seller services," said Ryan Craver, founder of Commerce Canal and Amazon analytics platform Purvey.ai.
Amazon has been on a mission to find ways to monetize its fulfillment network, after it was left with too much warehouse space following the pandemic. The company had added more than 450 facilities to stock, sort and move items over the last three years.
Last year, for example Amazon announced a new paid service to let sellers use its fulfillment centers and warehouse space for long-term stockpiling and automated distribution. Amazon also had plans to renegotiate contracts or sublease up to 30 million square feet of warehouse space last year, The Wall Street Journal had reported in May 2022.
Craver added that whether or not these new offerings make sense for sellers depends on the pricing, which hasn't been released yet. "But overall the offering is pretty comprehensive," he said.
Mark Power, CEO at Amazon consultancy Podean said these are some of the biggest announcements he's heard coming out of Amazon in a long time. But, he added "I think Amazon has now got a big job of educating folks with how this stuff is going to work," he added
Power said he would be more interested in seeing some of the use cases of some of these new programs and how they can really benefit merchants. "I'm just looking for more detail," he added.
Phil Masiello, founder of powdered superfood brand Uplift Florae and CEO of revenue acceleration agency Crunchgrowth said with these announcements Amazon is eliminating pain points for a lot of sellers. "They've been offering this in the past like piecemeal, but now they're just integrating it into the supply chain end-to-end," added Masiello.
"They're basically replicating what they did with AWS, which is just broadening the offering," he added. "I think that brands and sellers are going to start migrating over probably in 2024."
The way Craver, sees it these new services that Amazon is offering can help merchants distribute products to a greater variety of places and eventually deliver it to the customer as well. For example, a merchant could tell Amazon to ship two pallets' worth of product to Nordstrom, two pallets to TJ Maxx, and reserve 10 for Amazon's warehouses. "Think about all those individual touch points and at every single touch point they [Amazon] are making money," he added.
Ultimately, Craver said Amazon wants to be the "toll booth" of e-commerce. When you go on a highway, you have to go through a toll booth at every single stop. They [Amazon] want you to stop and pay them at every single stop."