'We haven't changed the way that we do it': MìLà co-founder Jennifer Liao on transforming from a restaurant to a frozen food brand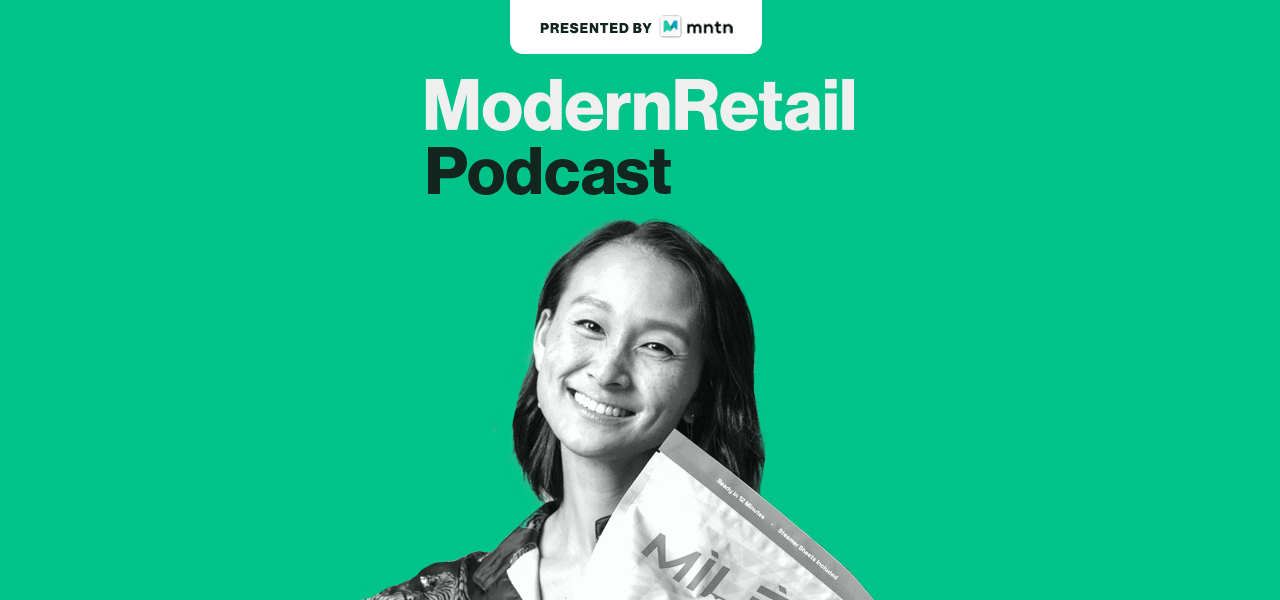 Subscribe: Apple Podcasts • Stitcher • Google Play • Spotify
For frozen food startups, direct-to-consumer is a difficult channel to make work. But for MìLà, which makes food products like Chinese soup dumplings and noodles, being able to ship directly to customers is a core part of its business strategy.
"DTC is very important to us because we do have a direct connection to our customers," said Jennifer Liao, co-founder and president of MìLà. She joined this week's Modern Retail Podcast to talk about the brand's growth.
MìLà began as a Chinese food restaurant but transformed into an online food business when the pandemic first began. Using a Google Form and messaging apps like WeChat, in 2020 Liao and her husband would take soup dumpling orders and locally deliver them throughout Washington. But the dumplings became more and more popular, and so the couple decided to expand its domain.
First, it started shipping to more areas. Then, the company brought on a 3PL to ship frozen dumplings across the country. Today, MìLà has expanded its facilities, employs over 100 people and has grown its product line beyond just dumplings. It's also expanded sales channels with a recent launch in a Bay Area Costco with plans to sell in Central Market in Texas and Wegman's on the East Coast.
The company has also caught the eyes of celebrities — actor Simu Liu recently joined MìLà as chief content officer.
Even with the growth, Liao said the brand has remained consistent with its recipe. "We haven't changed the quality of the ingredients," she said. "We haven't changed the way that we do it, but we have obviously scaled much more efficiently."
But figuring that out comes with growing pains. For example, when MìLà first began shipping nationwide, it offered a "melt-free guarantee." That is, the dumplings were supposed to arrive at people's doorsteps still in their frozen state. But the brand ran into issues in 2020 with supply chains backed up and deliveries bottlenecked.
"We had actually about 20% failure rate for our soup dumplings, where they would arrive melted," Liao said. After some trial and error, as well as tweaking its fulfillment strategy, MìLà was able to overcome this issue.
And even though DTC presents issues like this — Liao is insistent that the company will continue to use it as a sales channel. While grocers are increasingly interested — and the it's easier to ship frozen food to grocery aisles than it is to individual customers — the brand has a direct line with its biggest fans, and that's helped MìLà grow.
"I don't think we would stop DTC," Liao said. "I think we would try to figure out what is the right ratio of distribution."
Here are a few highlights from the conversation, which have been lightly edited for clarity.
The difficulties shipping frozen food in 2020
"Our first year, we had worked with a single shipping provider who had three different warehouses that we could utilize… And we had actually about 20% failure rate for our soup dumplings, where they would arrive melted. And that was obviously very painful because we established pretty early on a melt-free guarantee. That way, people could actually have the product as intended, since you can't really return a melted dumpling and then have it replaced. So we had a melt-free guarantee [where] we would reship it. But the 20% failure rate was just very painful. And it wasn't necessarily all from the warehouses — it was also because UPS and FedEx were just slammed during 2020 since they were set up for more commercial deliveries and not everyone was residential. And so they had to build out their networks for that. But then guaranteed on time deliveries, they took that away during that time period. So we had to just really really hustle in terms of putting together the right supply chain for it to arrive not melted."
On testing out Costco as a sales channel
"We have beat [Costco's] estimates by about 40% already. So I think that's going well as our first rollout right now. And it is very different — they do have a much larger freezer section than some of the other grocery stores. So that works [to] our benefit. I think a lot of shoppers also go to Costco for frozen items versus some of the other grocery stores. It kind of just depends on how other grocery stores have positioned themselves, how large the section is. Maybe it's a little bit of a chicken and egg problem as well in terms of what's available and interesting to shoppers. But for Costco, I think that's worked out well for us."
Why MìLà will continue to offer DTC
"I don't think we would stop DTC. I think we would try to figure out what is the right ratio of distribution. But I think DTC is very important to us because we do have a direct connection to our customers. And we're able to ask them direct questions. Like, we do email surveys to ask what kind of product they're interested in, [have them sign] up for beta tests, [have] qualitative field interviews with them. Also, [there are] quantitative surveys that we're sending out to them. So I think it is very important to maintain that line and then test out different products."