DTC underwear startup Knickey is rebranding as Subset as it expands into men's, more sizing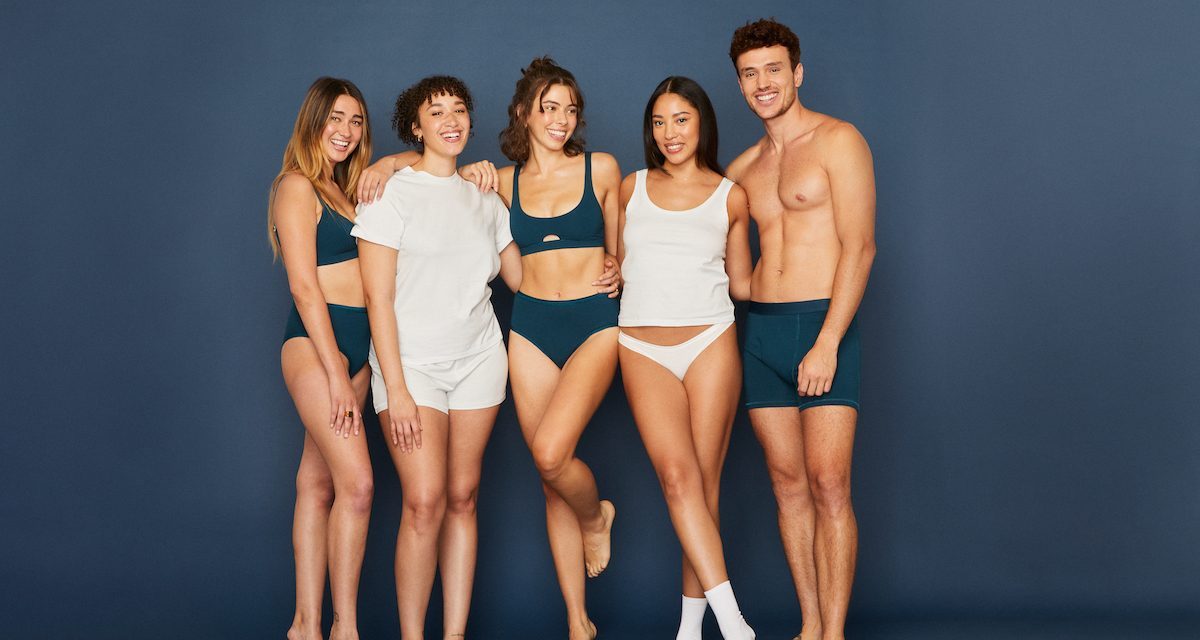 Subset
Knickey, a DTC sustainable underwear startup founded in 2018, is rebranding itself as Subset as it expands into new categories and looks to woo new customers.
The company decided to change its name to something that better encapsulated its growing product assortment. In addition to its traditional women's intimates, the brand now sells men's boxers and boxer briefs, as well as lounge pieces such as robes and wide-leg pants. Subset is also introducing two new styles of soft bras and a mid-rise shortie style of underwear. As part of the relaunch, Subset is expanding its size range to 2XS to 4XL, launching three new colors and offering extended cup sizing for its new soft bras.
CEO and Co-Founder Cayla O'Connell Davis calls Subset "a grown-up version of what Knickey used to be."
"We're really going beyond intimates and trying to own this space of what we're calling essential innerwear in organic cotton," she told Modern Retail. "We've definitely had a lot of consumer interest in going beyond the top drawer, going beyond women's, just answering the question of having an organic offering that is… your everyday basics."
As Knickey, the brand launched in 2018 online-only with four core styles of cotton underwear. The brand had a small team, with O'Connell Davis shipping product from her apartment. She and her co-founder Lauren Sagadore saw sales "explode" during Covid, although the company has maintained a similar level of revenue this past year compared to the year before. "But, that was actually a huge win to us, [because] we were going through so many changes in the economy," O'Connell Davis said. Subset is "completely bootstrapped" and doesn't accept outside funding, she added.
Subset is continuing one of its major projects it began as Knickey: an underwear recycling program. Back in 2018, "we weren't sure if people would be into this idea of recycling your old underwear," O'Connell Davis said. However, many clothing donation centers and homeless shelters will not accept used underwear and bras, so Knickey's service gained steam. "From the day we've launched it, it's grown so much," O'Connell Davis said. To date, the company says people have sent some 1.5 million items to the brand.
Subset works with a logistics partner to recycle the products into new uses like furniture batting and carpet pads. It is bringing on a new partner, SuperCircle, as part of the rebrand, as well as expanding the service to Canada. The recycling program is free (although it has come with a fee in the past), and customers who send back their used underwear, bras and loungewear can get a $15 credit towards their next order. 
Subset's new products can be recycled through its service. They range in price from $18 to $22 for a pair of women's underwear, $30 to $32 for a pair of men's underwear, $48 to $62 for a bra, $38 for a tank and $168 for a robe. Multiple pairs of underwear and bras also be bundled together for a discount.
When deciding what categories to expand into, Subset relied on a combination of online reviews, interactions with its customer service desk and active outreach to shoppers. "Overwhelmingly, people wanted lounge," O'Connell Davis said. "They love the softness of our product."

Subset also drew on positive feedback to its existing bralettes, which offer more support than a typical bralette, according to the company. For the relaunch, Subset decided to build new soft bras that are wireless and come with double-lined cups. It also expanded into bigger cup sizes, in response to customer requests.

It's not uncommon for apparel brands to rebrand when the opportunity is right, Gabriella Santaniello, founder of A Line Partners, said. In 2022, the adaptive intimates brand Intimately changed its name to Liberare, and in 2019, Michael Kors changed its name to Capri Holdings after purchasing Versace for €1.83 billion. Based on how much Subset is changing its assortment, "I think the rebrand is great," Santaniello said.

However, venturing into new categories like men's or extended sizes does come with some risk, Santaniello said. "There's always the chance you take when you are expanding your offering that you're taking on too much in maybe one category, or several may not work, and it's easier to take a measured approach… I wouldn't be surprised if they launched and and maybe had to go back and make some tweaks. There's always growing pains."

With this rebrand, O'Connell Davis is optimistic about Subset's future in an increasingly-consolidated intimates market. "We're definitely hoping to grow," she said. "We have larger-ticket items in our assortment now than we had before. So, we'll see how that impacts the business. We're hoping positively."