Why the NFL is collaborating with fashion brands on merchandise drops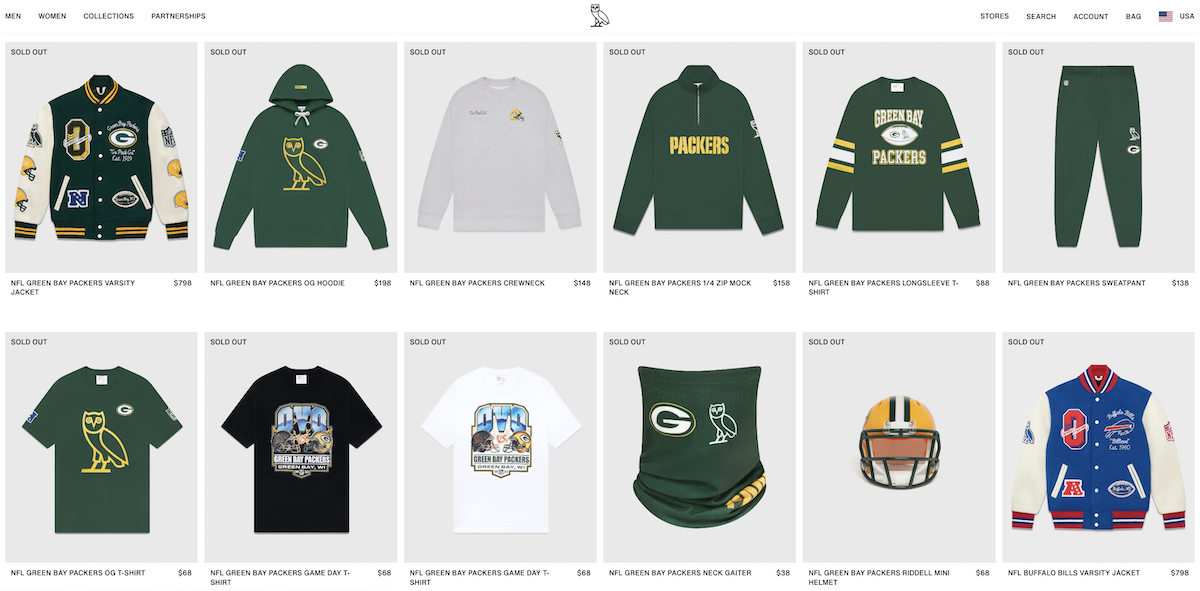 Via OctobersVeryOwn.com
The NFL is taking a page out of fashion brands' playbooks and launching buzzy "drops."
The football league is investing more in collaborations and "drops" when it comes to merchandise to better reach wider audiences. During the last seven months alone, the NFL rolled out co-branded products with Hugo Boss, OVO and Kith; this past week, it teamed up with BaubleBar and Erin Andrews for a line of jewelry inspired by the colors and logos of the 32 NFL teams.
Collaborations are not the NFL's cash cow when it comes to licensing and merchandise. In fact, collaborations account for "low single digits, if that even, in terms of what it would represent as our total business," Ryan Samuelson, vice president of consumer products at the NFL, told Modern Retail. (The majority comes from NFL-licensed products with NFL trademarks alone.) For the NFL, these collaborations are "not necessarily done as a volume driver," Samuelson said. Instead, the league is putting more of an emphasis on these partnerships — especially when done with non-sports brands — because they put the NFL in touch with an audience outside of core football fans.
One of the biggest spaces the NFL has focused on for collaborations has been streetwear. "I think that's one where we've made some significant strides and had a lot of success," Samuelson said. In September, the league joined forces with Kith on a collection of bomber jackets, T-shirts and accessories. And in January, the NFL worked with October's Very Own (OVO), the Canadian lifestyle brand co-founded by Drake, on a co-branded capsule collection of everything from sweatpants to crewnecks to mini helmets. The NFL and OVO marketed their collection via a social media campaign featuring rappers Lil Wayne and Benny the Butcher.
Audiences have embraced the streetwear collaborations, often snapping up products as soon as they've become available. The Kith collection had a 98% sell-through rate, with most items selling out in minutes, according to the NFL. All 85 NFL pieces on OVO's website are sold out. The majority of the NFL's collection with Hugo Boss is still available online, although seven products are being advertised as "almost gone."
The NFL is also teaming up with designers, artists and activists on merchandise. In August, the league launched its first licensed merchandise collection featuring American Sign Language with the deaf civil rights lawyer and entrepreneur Alexis Kashar. In June, it collaborated with fashion designer Humberto Leon on its first-ever pride capsule collection. Last October, it paired up with the visual artist Chito on two limited-edition jerseys. Earlier this month, the NFL became the first pro sports league to issue a collection of adaptive apparel, which it developed with G-III Apparel Group.
Football has been the most popular sport in America for half a century, and millions of people watch NFL games around the world. Average regular-season home game attendance for the NFL's 2022-2023 season was 69,389 people — much more than the MLB (26,808), NBA (17,947) and NHL (16,877), according to FiveThirtyEight. Meanwhile, its TV viewership exceeded 26 million last week, per Nielsen. But, not everyone watching wants splashy, bold, team-centric merchandise — which is where some of these collaborations can come into play. "Some people might want something a little bit more subtle," Samuelson said. "We have a lot of licensees that make that type of product, but these collabs have allowed us to connect to different customers."
NFL's new partnerships come as players themselves are becoming fashion icons, Kassi Socha, director analyst at Gartner, told Modern Retail. "Consumers are often looking at what players are wearing when they're off the field, when they arrive at the stadium, after the stadium" and then following suit, she pointed out.
The collaborations also launch at a time in which the NFL's games are becoming more shoppable. Amazon owns the rights to Thursday Night Football, and much of its advertising strategy has focused on the intersection of culture and commerce. Many brands (including Columbia Sportswear) have featured QR codes in their game day ads that lead to Amazon brand pages.
As the NFL occupies a bigger role in fashion, brands are taking notice when athletes wear their clothes. In a now-viral video clip, Kansas City Chiefs tight end Travis Kelce was spotted wearing a blue and white splatter paint suit from the brand KidSuper while walking with Taylor Swift. KidSuper jumped on the hype, adding "1989" to the name of the product. That jacket is now entirely sold out.
Sales of Kansas City Chiefs merchandise have skyrocketed in recent weeks, thanks to Swift attending the games. When asked whether the NFL plans to issue a collaboration with the singer, Samuelson said, "We don't have a partnership with Taylor Swift right now or with her team. I can't speak for the future. But I can say as of right now, we have nothing in the works that's planned in that regard."
Many NFL players (past and present) have launched their own apparel brands in the past decade. Russell Wilson, the quarterback for the Denver Broncos, co-founded Good Man Brand in 2016. Marshawn Lynch, former running back for the Seattle Seahawks, launched Beast Mode apparel during the 2014/2015 NFL season. Drew Brees, former quarterback for the New Orleans Saints, created Nine Brand with his wife in 2012.