'There's Barbie fever and people are catching it': How Barbie collaborations took over retail marketing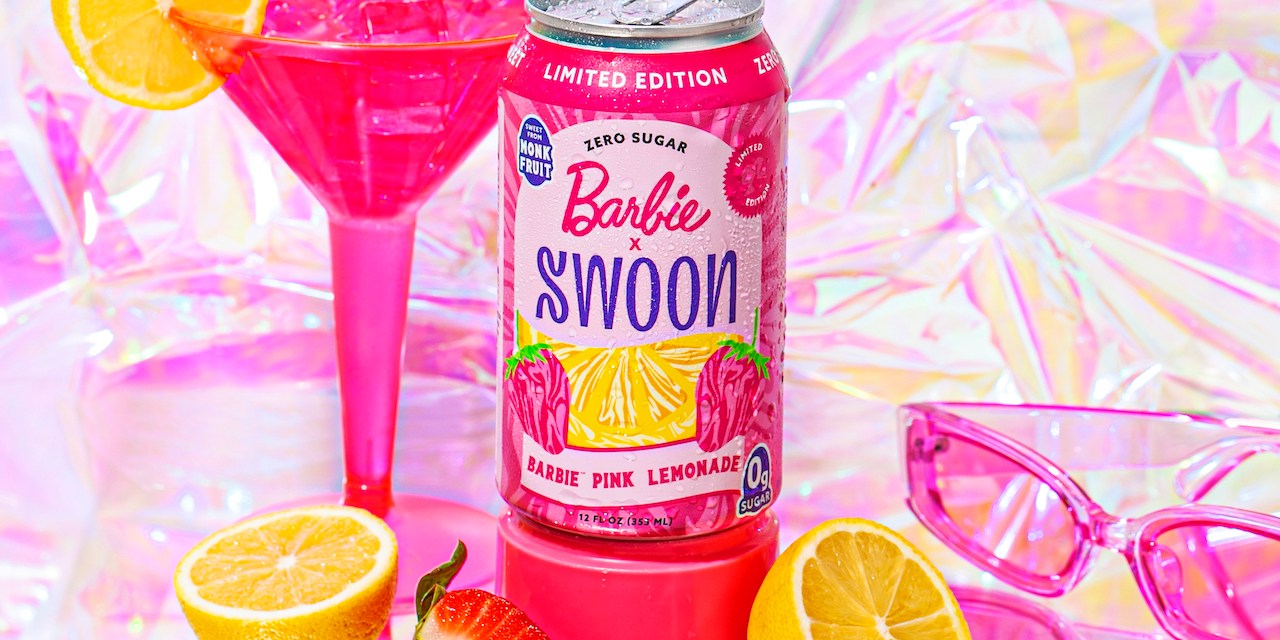 Swoon
Barbie has been having a moment for a few years, but the Barbiecore trend hit a fever pitch this year in anticipation of the upcoming live-action film, directed by Greta Gerwig and starring Margot Robbie.
As such, dozens of brands have been releasing limited-edition Barbie merch over the past few months. There is no official count of the number of Barbie brand collaborations, but according to official Mattel releases, over 100 brands are participating leading up to the movie's July 21 release. 
From fast fashion to food and beverage to department stores, it feels like almost every retailer is jumping on the pink bandwagon. Multiple apparel retailers have released collections celebrating the new movie's release — including Gap, Aldo, Forever 21, Primark, Hot Topic and Spirit Halloween. Startups are also joining the pink wave, with direct-to-consumer brands, like Béis and MeUndies, releasing limited-edition Barbie-themed collections. Meanwhile, beverage startup Swoon merchandised its Barbie pink lemonade in Target's toy aisle. 
The Barbie takeover comes as no surprise, as the toy company has been ramping up its IP business over the past year. Mattel's investment in IP licensing deals helped the company swing to a profit in the second quarter of last year, and increase sales by 20%; Some of Mattel's largest licensed franchises include Hot Wheels and Barbie. And collaborations, in general, have become more popular among brands as a way for startups to reach new customers. But brands were especially excited about doing Barbie tie-ins due to the big pop culture spotlight the doll is having this year, allowing them to get in front of a particularly massive new audience.
In designing the zeitgeist-y products for these collaborations, companies had to take into consideration factors like logo placement, packaging and the overall representation of Mattel's brand.
"As one of the most buzzed-about film releases in recent times, 'Barbie' has dominated the zeitgeist for months," Josh Silverman, Mattel's chief franchise officer and global head of consumer products, said in a statement. "This historic moment for Mattel creates incredible fanfare for our partners and consumers alike; we are eagerly looking forward to the film's release and sharing the multitude of new ways Barbie fans worldwide can celebrate this iconic moment." 
Barbie collaborations have been steadily dropping for the past couple of months, but the next step many of these brands are taking is to doll up retail stores with their Barbie-themed products. On July 13, for example, Bloomingdale's is unveiling its Barbie The Movie Pop-up Shop in select stores, featuring Barbie-themed products from brands such as sneakers by Superga and pool floats by Funboy. 
One of the companies participating is Australian home fragrance maker Glasshouse. Glasshouse founder Nicole Eckels told Modern Retail that its new Barbie Dreamhouse Strawberry & Dream Candle is exclusive to Bloomingdale's and Glasshouse's website. During the soft launch phase earlier this month, the $55 candle sold out at Bloomingdale's and the company had to air freight more inventory in for the official launch this week, underscoring just how much of a fever there is around Barbie-themed products. 
"Barbie is having a moment, but this was a new fragrance challenge for us," Eckels said. Glasshouse tried to capture a "new doll smell" that invokes the Barbie unboxing moment, Eckels explained, "which is an actual scent that the manufacturers use in the packaging." As such, Glasshouse infused notes of raspberry, fresh strawberries and plastic doll accord to achieve the effect.
When the concept was brought up to buyers 18 months ago, Eckels said that at the time department stores were hesitant about a luxury Barbie-themed candle. "As soon as we actually showed them the product and the movie buzz started, they jumped at the chance to carry it," Eckels said, adding that the past few months have been a testament to Mattel's marketing vision. "There's Barbie fever and people are catching it, even if they aren't the biggest fan of the doll." 
While these collaborations have touched all corners of retail, beauty brands in particular have been among the most eager participants, given the foothold the doll has had on beauty. For example, hair care company Chi has a new collection of hair treatments and hot tools, available exclusively at Ulta's new Barbie salon pop-up. Other brands including skincare company Truly and hairbrush maker Tangle Teezer have released products featuring the iconic doll's branding. 
Richard Rivas, president of marketing at Chi's parent company Farouk Systems, said this is the company's fourth Barbie collaboration over the last four years, "so we were ahead of the trend." Previous collections featured the same products, such as the travel styling kit, but in different Barbie-inspired patterns and colors.
"Barbie is iconic when it comes to beauty, but beauty standards are so different now so we developed tools that every consumer can use," Rivas said of the various products aimed at different hair textures. "The [Barbie] releases do extremely well for us," Rivas said, who didn't disclose sales figures but said the products tend to sell through with each run. "We're able to reach a wide range of audiences with it, whether it's a child or someone who grew up with Barbie."
The Chi x Barbie R&D is heavily done in house at Chi, Rivas said, with strict criteria on the licensed Barbie colors and logos. "Mattel is very specific on the way their brand is represented, but we appreciate that," he said.
In early June, candle brand Homesick also released a limited-edition Barbie Dreamhouse candle, inspired by the beloved doll house. Homesick general manager Lauren McCord said that Mattel has been chatting with Homesick's parent company Win Brands for a few years. "But the movie's release was a perfect time to do a collaboration," she explained. Homesick has done a string of licensed IP partnerships, most recently with titles like "Toy Story," "Harry Potter" and "Star Wars."
"The challenge was figuring out the nailing down of logo placements, the right Barbie pink shade and packaging, all in time for the deadline," McCord said. The candle box especially took many iterations to get right, she added, which is meant to mimic the Barbie Dreamhouse with cutouts and a clear panel.
But the effort paid off, with the bright floral and citrus scent already popular among Homesick fans. The Barbie Dreamhouse candle generated Homesick's biggest waitlist sign ups for 2023, with the brand's website experiencing a 90% traffic increase on launch day. "That's significant especially during the summer, when there's usually a dip in candle sales," McCord said. The candle is also being teased at Urban Outfitters and Barnes & Noble, where it will be released closer to the movie's release date. 
For emerging brands, McCord said Barbie tie-ins are a great way to widen their audience and benefit from the buzz and coverage of all the collaborations this summer. "It's been fun being part of this wave and seeing all the other brands' rollouts," McCord said.
Glasshouse's Eckels said the industry-wide tactic has been a bright spot amid the grim retail landscape. "I admire Mattel's cleverness to get on top of the excitement," Eckels said. "It's a brilliant marketing move."